Northern Directions
Event Date: November 16, 2022 to November 18, 2022 8:00 AM to 4:30 PM
Event Location: Best Western North Bay Hotel & Conference Centre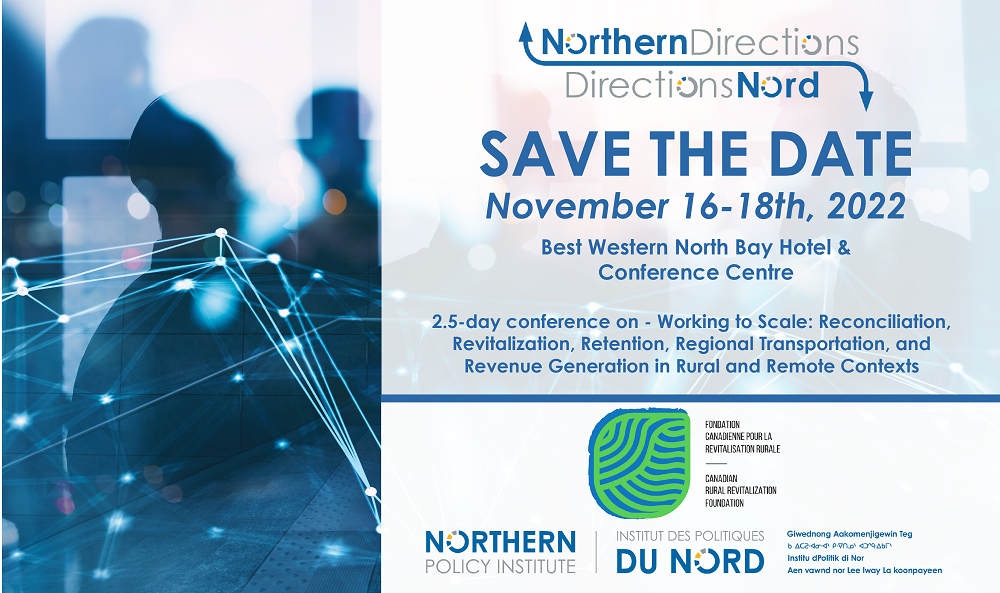 ---
About Northern Directions
Northern Directions is an initiative from Northern Policy Institute that starts conversations and instigates discussions between all types of parties to propose actions, priorities, and solutions that can address the challenges faced by regions of Northern Ontario. By doing so, Northern Directions stimulates social, sustainable, and economic development in the regions of Northern Ontario.
---
Northern Directions Conference 2022
The 2022 Northern Directions conference is scheduled to be a two-and-a-half-day event on November 16, 17 and 18, 2022. This year's conference will be held in combination with the annual meeting and conference of the Canadian Rural Revitalization Foundation.
The main theme of Northern Directions 2022 is "Working to Scale." This theme touches on how rural and remote communities, especially those in Northern Ontario and similar locations, can scale best practices, initiatives, and programs to best fit their communities. Discussions will develop around subthemes such as reconciliation, revitalization and reinvestment, population retention and welcoming, regional transportation, and revenue generation; all focused on rural and remote contexts.
The event will consist of 3 keynote presentations, multiple paper presentation sessions, 2 panels, chance for a community visit and a poster competition.
More Details Coming Soon!
---
Networking Event
Mark your calendar for a fun and refreshing evening of networking opportunities happening this November during the Northern Directions conference!
More Details Coming Soon!
---
Northern Policy Institute 10th Anniversary Gala
We are extremely proud to share that 2022-23 marks Northern Policy Institute's 10th year of operations. Thank you to everyone who has worked with us and supported us to make NPI the go-to think tank for issues affecting the regions of Northern Ontario. This will be taking place in North Bay at the Grande Event Centre.
Celebrate this exciting milestone with us this November at our 10th Anniversary Gala!
More Details Coming Soon!
---
Get Involved
---
Sponsorship Opportunities
Sponsoring the event puts your business in the centre of the conversation about economic growth and diversification. Partnership in this event will bring return to your organization in many ways. Click here to learn more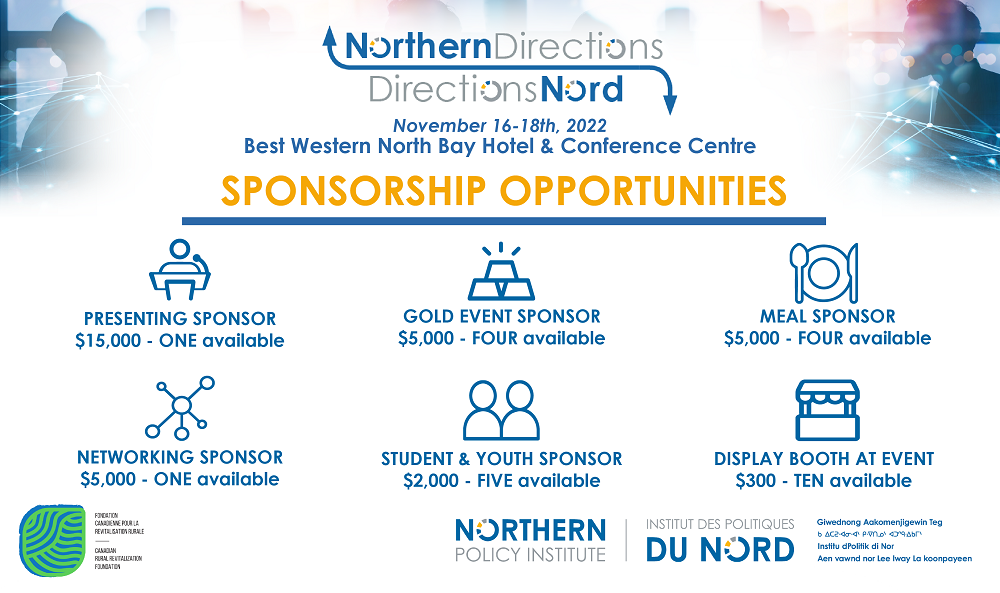 ---
Our Partners