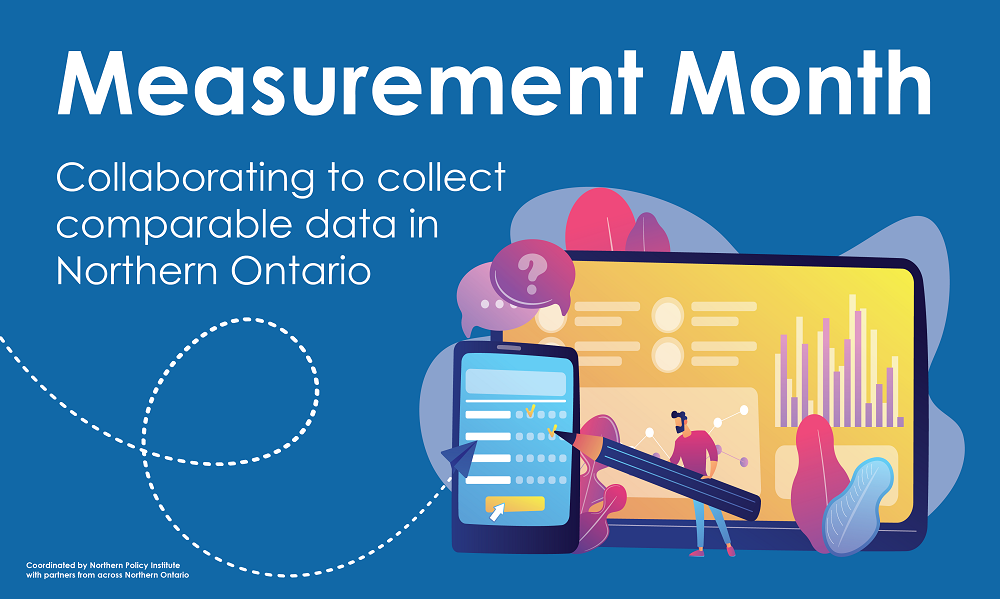 ---
This February, Northern Policy Institute, in partnership with organizations across Northern Ontario, is launching Measurement Month. Measurement Month is an effort to leverage our individual resources to collect consistent, comparable data to inform decision-making at the local, regional, provincial, and national level. Given the demographic challenges facing our regions, this inaugural Measurement Month will focus on racism, reconciliation, and welcoming.
Surveys are now closed!
Thank You everyone who participated by completing a survey
---
Employer preparedness
Measuring and assessing the ability of employers to meet the unique needs of immigrants and diverse groups.

Eligible respondents: Organizations/businesses in any industry, that have at least one employee.
---
Individual Experience Survey
Measuring and assessing individuals' satisfaction with support services and related resources in their communities, as well as the welcoming efforts of each community.

Eligible respondents: Any individual currently residing in a Northern Ontario community.
---
Service provider capacity
Measuring and assessing the capacity of service providers to meet the needs of immigrants and diverse groups.

Eligible respondents: Any service provider in Northern Ontario.
---
Exit
Measuring and assessing perspectives of individuals who have migrated out of a Northern Ontario community.

Eligible respondents: Any individual who has lived in a Northern Ontario community previously, but has since left the community (even if they moved within Northern Ontario).
---
Experience with racism
Measuring and assessing individual experiences with community racism and potential interventions.

Eligible respondents:

Any individual currently residing in a Northern Ontario community.
---
Partner Information:
PROMOTE the surveys, on social media, on your website, in your newsletters or other regular communications you may distribute.
PARTNER on a survey. Pick one survey (there are five to choose from), distribute it to your clients and contacts, encourage them to respond.
If your organization is interested in partnering in this initiative and distributing one of five surveys to your networks, please let us know by replying to this email – leveraging our resources means we can collectively do more with less. Thank you to those who have already pledged their support.
If you have questions or would like more information, there will be three information sessions held this week. If interested, please sign up via Eventbrite (links below) for the session that best works for you. The information sessions will prepare you for Measurement Month and give you all the necessary tools you need to make this initiative a success.
---

Information session presentation
Surveys will be distributed to partner organizations prior to the information sessions. Northern Policy Institute will provide promotional graphics and language to use in distribution efforts. By working together, we can maximize the opportunities that every voice will be heard.
---
How does Measurement Month help

YOU?
Alignment of Northern Ontario data collection efforts, i.e.:

A collective effort to increase response rates

Comparable data across regions collected simultaneously

Using a consistent survey tool

NPI will prepare the messaging and graphics

Your organization's logo will be displayed on this master survey landing page and your organization will be listed as an informal partner in NPI's annual report

NPI will analyze the data and will provide, for your use, the anonymized data for your region (pending appropriate response rates)
---
Any questions? - Contact Us
This does not work without you. Any organizations that are interested in helping with the survey effort are encouraged to reach out to our Lead Policy Analyst - Mercedes Labelle, either over email (mlabelle@northernpolicy.ca) or by phone (1-705-806-3464).
---
Partner Organizations