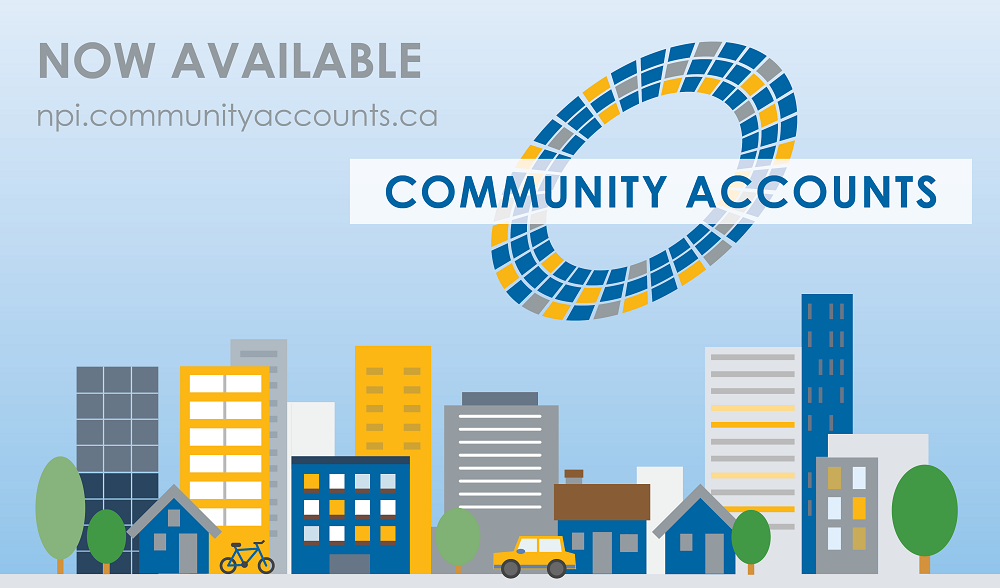 About Community Accounts
Community Accounts is an innovative information system providing Northern Ontarians with a reliable source of community, regional, and provincial data on key economic and social indicators. This is the latest resource from NPI that aims to encourage information sharing and provides communities with a greater understanding of their local area and Northern Ontario as a whole.
Community Accounts provides users with a single comprehensive source of data that would normally not be readily available, too costly to obtain, or too time consuming to retrieve and compile.
This innovative system allows users to custom generate a limitless number of tables and illustrative graphics, organized by geography and data topic within a system of distinct accounts. Free to use and explore, the online resource uses four different interactive tools including well-being indicators, community profiles, tables and charts, and maps. The tools provide users with information on topics such as income, education, health, and employment. These four tools can answer questions such as:
How does employment in one region compare to Ontario and the rest of Canada?
How do education levels in one community compare to another?
How do people rate their mental health throughout Northern Ontario?
Who can use Community Accounts? The short answer is, everyone! Community Accounts is free to use and available and open for use to the general public. Community Accounts is a great research tool for economic development, University academics, professors, and more!
Visit Community Accounts Website
---
The Research Tools
Well-Being Indicators:
This tool explores and measures well-being concepts and indicators. The resource contains a collection of comprehensive tools to evaluate and explore the indicators in greater detail. Our concept of well-being includes more than economic indicators and takes the approach that other factors, such as health and education, play a part in determining a community or region's well-being.
Profiles:
Community Profiles allow users access to information contained in the tables throughout the site. Community Profiles highlight Marital Status, Income, Education, Mental Health, and more!
Tables and Charts:
This section has a complete listing of the tales and charts contained throughout the site, allowing users to easily compare communities and analyze data in bulk.
Interactive Maps:
The mapping centre allows users to see and compare community and regional data visually in the form of interactive maps. For example, maps can show population density of females aged 25-29 throughout Northern Ontario.
Founding Partners
---
npi.communityaccounts.ca is modeled after the award-winning Newfoundland and Labrador Community Accounts, a model designed by Dr. Doug May of Memorial University in collaboration with the Newfoundland and Labrador Statistics Agency.