May 6, 2020 - Getting from point A to point B can be a struggle for some communities in Ontario's Far North. With limited or no road access, receiving supplies and visiting neighbouring communities is almost impossible. Aside from winter roads, the one thing keeping these communities connected are airplanes. With organizations such as North Star Air, accessing the Far North is made easier.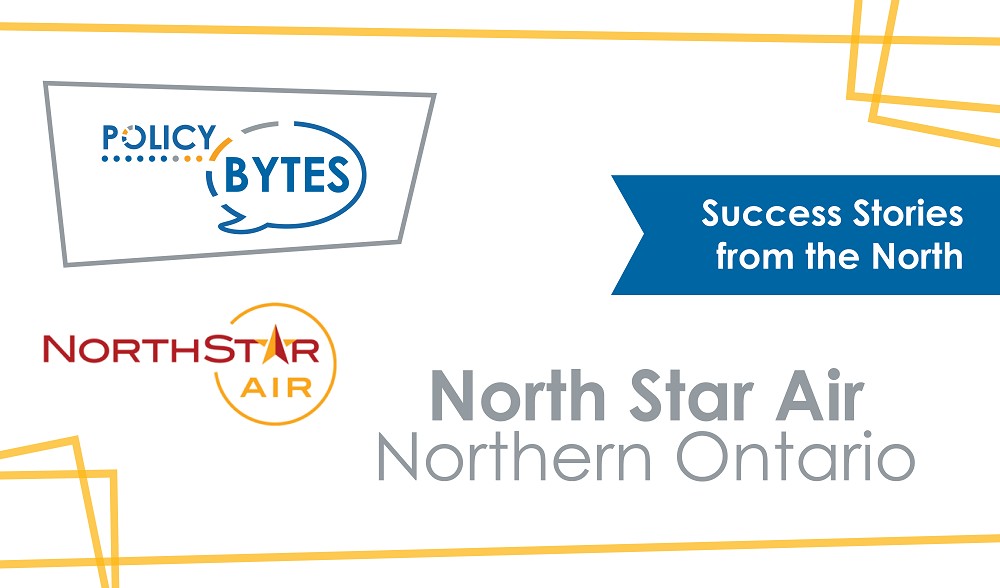 North Star Air started in Pickle Lake with only two single-engine Beaver aircraft on floats in 1997. They flew fishermen and paddling enthusiasts to the northern part of Pickle Lake. They moved from water to land in 2001 and bought Canadadirect in 2005, acquiring more aircrafts in the process.
It was when Frank Kelner joined the team in 2012 that North Star Air grew. North Star Air doesn't just fly to remote communities, they partner with them. Their first revenue-sharing agreement was created in 2013 with Muskrat Dam and Sachigo Lake First Nations and launched their Flex Flight service from Sioux Lookout. Flex Flight is an innovative program that helps connect neighboring communities. Instead of having to fly to a 'community hub' and take a connecting flight, passengers can request a direct flight instead. "You don't see too many airlines our size accommodating these requests for individual people," said Jeff Stout, vice-president of commercial operations to Northern Ontario Business. "You don't see many airlines our size saying, 'Yes, not a problem. We'll reroute the airplane for you.'"
As they grew, North Star Air headquarters moved to Thunder Bay and they partnered, through revenue-sharing agreements in 2014, with more First Nations communities located in Northwestern Ontario such as Cat Lake, Deer Lake, Neskantaga, North Caribou Lake, Bearskin Lake, Poplar Hill and Webequie.
In 2015, North Star Air was awarded the delivery contract for six North West Company stores and kept a 95 percent on-time performance record. North Star Air was bought by the North West Company in 2017 giving North Star Air the possibility to buy larger passenger aircrafts to meet the growing demand of its partner communities. The agreement was also when North Star Air made it to Manitoba with the opening of a Thompson, MB base. To this day they serve over 54 remote Northern communities and have over 240 employees. Furthermore, the revenue sharing program has generated over $3 million for its partners since September 2019. This revenue funded a variety of projects ranging from youth initiatives and construction.
Today the company hires Indigenous employees within the communities it serves. They also provide service in the customers' preferred language. As well, North Star Air connects more than just passengers to Ontario's North, they also connect charitable organizations to the fly-in communities such as Thunder Bay RCMP's 'Toys for the North', the Regional Food Distribution Association and CBC Thunder Bay's 'Sounds of the Season'. They also fly dogs out of the communities for the Ontario Society for the Prevention of Cruelty to Animals' dog rescue program. This program provides pet-food deliveries and transports stray dogs from the fly-in communities to larger urban centres where they have better access to medical care and a greater chance of being adopted.
North Star Air also helped distribute a special screening of the film Indian Horse where they delivered the movie to over 30 First Nations communities. The movie is about residential schools and the effects of colonialism. The movie was distributed to the communities before the official release in September of 2018.
Everything North Star Air does can be classified as socially conscious which is why they won Company of the Year (51+ employees) at the Northern Ontario Business Awards in 2019.
For individuals living in isolated communities in Ontario's Far North, there are different needs and realities from those living in larger urban centers. Companies such as North Star Air helps to fill some of those gaps by keeping communities connected and providing an essential service to supply chains. As well, through partnerships with communities, North Star Air is helping to grow the North one stop at a time.
Evelynn Hoffman is the Communications Officer at NPI.
---
The content of Northern Policy Institute's blog is for general information and use. The views expressed in this blog are those of the author and do not necessarily reflect the opinions of Northern Policy Institute, its Board of Directors or its supporters. The authors take full responsibility for the accuracy and completeness of their respective blog posts. Northern Policy Institute will not be liable for any errors or omissions in this information, nor will Northern Policy Institute be liable for any detriment caused from the display or use of this information. Any links to other websites do not imply endorsement, nor is Northern Policy Institute responsible for the content of the linked websites.
Northern Policy Institute welcomes your feedback and comments. Please keep comments to under 500 words. Any submission that uses profane, derogatory, hateful, or threatening language will not be posted. Please keep your comments on topic and relevant to the subject matter presented in the blog. If you are presenting a rebuttal or counter-argument, please provide your evidence and sources. Northern Policy Institute reserves the right to deny any comments or feedback submitted to www.northernpolicy.ca that do not adhere to these guidelines.
0 Reader Comments