Experience North 2022 Summer Wrap up Blog
Here we are again. Another summer finished with our Experience North summer placements. You'd think we'd have toughened up by now, but if you could pass the tissues to us, that'd be great, thank you.
The staff at Northern Policy Institute are so very proud of this cohort and every cohort before them. Their enthusiasm, drive, and keen minds make the team stronger. We cannot wait to see how the rest of their careers unfold and wish them nothing but the best of luck and to keep in touch with us.
We also want to thank our 2022 partners for supporting this year's Experience North: the RBC Foundation, the Northern Ontario Heritage Fund Corporation, Canada Summer Jobs, Algoma University, Confederation College, Collège Boréal, Lakehead University, and the Economic Partners Sudbury East / West Nipissing Inc.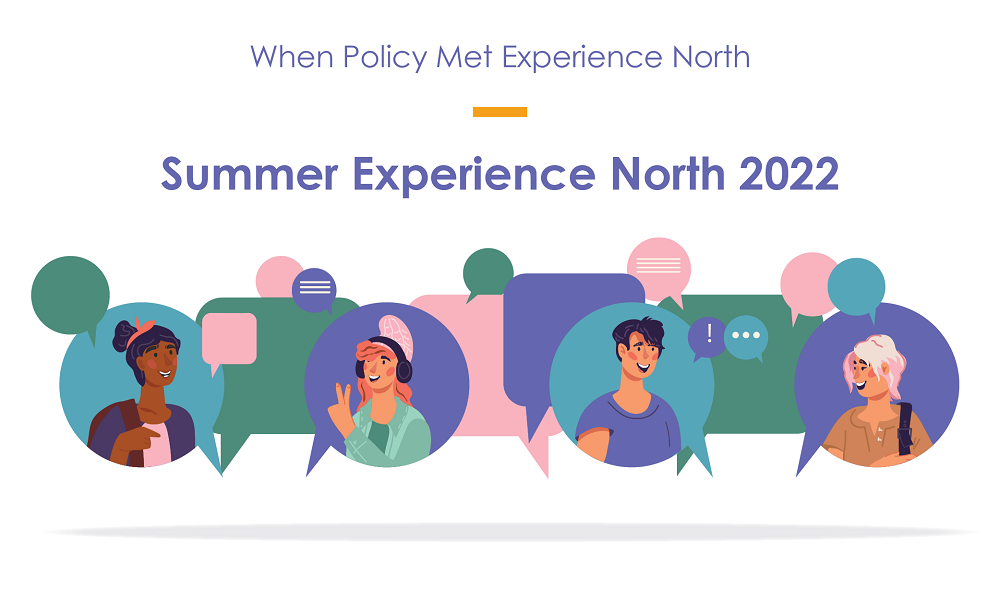 William Dunstan, Timmins
This summer was my second go with the Experience North program. In 2021, I spent four months in Hearst, and I returned to the northeast this year to spend the summer working in Timmins. I first applied for Experience North because, as a public policy student who grew up in Ottawa, I wanted to learn about another part of the country and get a chance to work outside of the "Ottawa Bubble". During my first summer with NPI, I learned a lot about the regions that make up Northern Ontario and I grew tremendously as a writer and researcher. Because I found my first experience with NPI to be so rewarding, I decided to "Experience North" for a second time.
Even though this was my second Experience North placement, I feel like I have learned as much as I did the first time. I have had the chance to work on new projects and explore new communities in Northern Ontario. The primary deliverable that I have worked on this summer is the State of the North Report Card, which involves identifying comparable geographies for Northern Ontario and comparing their economic, social, and environmental performance. The Report Card has been a great project to work on during my second Experience North placement. All that I have learned at NPI about public policy, Northern Ontario, and the countless data sources available has helped guide my work on the Report Card.
I would strongly recommend the Experience North program to other students. For me, it has been an invaluable professional development experience, and a great introduction to the many wonderful regions and communities that make up Northern Ontario.
Amelia Spacek, Kenora
As an engineering student, I had never seriously considered working in policy. That was before I saw the Experience North job posting. NPI was looking for a student to research opportunities and challenges for electric vehicles in Northern Ontario. Now that was cool. Having grown up in Sault Ste. Marie, staying in Northern Ontario and having a great job opportunity was my idea of a perfect summer. My position as a Policy Analyst meant I got to read about the latest EV news from around the world as part of my research to better understand Northern Ontario's situation with regards to electric vehicles. I compared sales, charging infrastructure and government incentives both globally and within Canada. This was not what would have come to mind if you had asked me a year ago what policy work looks like.
During my time at NPI, I had the freedom to direct my research towards what I thought was relevant and important to share with community members and policy makers through NPI publications. As a bonus, Kenora, like Sault Ste. Marie, is surrounded by beautiful lakes and rivers which means endless opportunities for swimming, kayaking and exploring a part of the province I had never visited before with my fellow Experience North intern Vanessa! This program allowed me to practice writing and researching with the support of an amazing team. I could not have asked for a better introduction to the world of policy and would definitely encourage anyone who is interested in Northern Ontario to apply whether you live here or not. There is always more to learn!
Vanessa Gould, Kenora
When the opportunity to come north came across, I was really intrigued. Wait, what? There is a world beyond big cities? Yes! An immense, beautiful, and diverse one. Traveling throughout Northern Ontario, and discovering its local communities was a unique adventure that expanded and deepened my worldview and perspective of Ontario to so many levels.
To start with, my project was all things population and community mapping. For a data enthusiast, social justice crusader, and poverty advocate like me, the topic was not attractive at first. Lest I understood its linkage to sustainable economic development. But truth is, population or I would rather say "people" are the bed of all economies. The 2022 Magnetic North (MN) Conference well encapsulated this for me. I heard from experts and learned about Northern Ontario's current challenges, connecting these lessons to my own short-lived experience here.
Getting to know NPI staff was also fun. I learned new expressions. On a car ride, one of my colleagues talked about doing groceries and getting some eggs, milk "and what-not". We had a brief chat about the meaning of this expression and lots of laughter. It sounded so gangster to me. I loved it 😊. "Miigwech" – thank you in Ojibwa language – is another word that I first heard at MN's traditional opening ceremony. The tone, pronunciation, emotions, and tenderness in this word hit me. It was as if I opened myself to the world, culture, history, and struggles of another community whom I re-discovered.
I enjoyed myself this summer. I met interesting people and learned a great deal about Northern Ontario. I liked the bigger picture framing in NPI work, learned a more down-to-earth facet of policy work, and discovered a plethora of career paths I could follow. 100% I would recommend Experience North to anyone.

Emma Dingle, Sault Ste. Marie
Working with Northern Policy Institute as an Experience North intern has been nothing short of spectacular. Coming back to NPI for a second summer was so rewarding; not only was I able to continue previous projects, but also start new and exciting ones as well.
As a Graphic Designer, my main responsibilities included laying out research reports, creating graphics for social media, as well as designing and updating websites for company conferences. I was also a photographer for NPI events, which allowed me to capture many lovely moments throughout the summer. NPI actively fosters a positive team environment, which makes work and travel so enjoyable. My time in Sault Ste. Marie was filled with many laughs, and I am thankful to have been given the opportunity to collaborate with such brilliant and talented individuals.
I would recommend the Experience North Program to anyone looking to expand their research, communications, or finance skills, all while being able to explore the beauty of Northern Ontario. Big thanks to the amazing NPI team for their kindness, guidance, and encouragement – it was definitely a summer well spent!
Matthew Jackson, Sault Ste. Marie
Northern Policy Institute has provided me with an amazing opportunity to see and help Northern Ontario in the best way I can. I was born and raised in Sault Ste. Marie and have lived here my whole life up until I began post-secondary studies in London, Ontario where I am completing a Bachelors of Commerce (Digital Marketing). The Experience North Program has allowed me to shift my perspective from someone looking out, to now looking in at Northern Ontario and using the skills I have learned in school to help aid in NPI's efforts to make the North a better place for everyone.
As a communication officer, I had a wide variety of tasks that applied to the work I was completing in school helping me sharpen my skills. Throughout the summer I had larger tasks with a long turnaround time such as the Annual Report, and some shorter term tasks such as building landing pages, website edits (links, buttons), social media (posting, communications plans) and much more. Not only was I able to complete work directly related to my field of study I was also able to immerse myself in a very positive work environment. I was able to strengthen my communication and workplace skills, which was another reason I loved my summer placement. Personally my favorite part of the summer placement was having the opportunity to attend NPI's Magnetic North, I loved it because I was able to see firsthand the leg work it takes to conduct such an event, working on social media live as the conference was occurring, and of course just being able to listen and learn from all of the individuals who spoke and shared thoughts on Northern Ontario at the event!
I recommend the Experience North program to anyone because of the diversity of the program offered by NPI, the team is made of up of such a diverse group of people from all around the world who have studied different fields. Whether you're in finance, communications, marketing, or research you will find a spot to fit within NPI. A very big thanks to everyone at NPI for the compassion and guidance throughout my placement and I wish everyone on the team the best in whatever their bright futures hold.
Michelle Pocion, Thunder Bay
As a lifelong resident of Northwestern Ontario, I didn't really know what else there was for me to experience when I accepted my "Experience North" internship. Four months later, I am reflecting on my time at NPI, and I find myself with a long list of new knowledge, great memories, and a deeper appreciation for the place I am lucky to call home.
While completing my commerce degree, I realized the value in gaining practical work experience that is relevant to my education. My role as the Operations Assistant this summer provided me with just that, as I gained hands on experience managing the day-to-day activities of a complex, multi-site research institute.
My daily tasked included communicating with our offices, ordering supplies, IT support, tracking inventory, and booking travel and/or accommodations. Major highlights of my placement included traveling to our offices in Kirkland Lake and Sudbury, where I completed office inventory and had the chance to meet the rest of our team. Similarly, I was fortunate to assist and attend with the hybrid Magnetic North conference in Sault Ste. Marie. This was a very memorable event, where I was able to see how our research and projects come to life.
Looking back, I couldn't be happier with my experience as an intern this summer at NPI. I am grateful for all the opportunities that have come my way, and to be able to contribute to the positive work being done in my community. Thank you to everyone at NPI for making this possible, and a special shoutout to my dream team: Krissie and Gill.
Gillian Sgambelluri, Thunder Bay
If someone told me when I started at NPI that I would become the longest Experience North intern, I probably wouldn't believe them. But here I am, defying all odds and creating new job titles for myself along the way. I am the Accounting Assistant here at NPI but also respond to Finance Officer when called.
Overtime, I have been able to work much more closely with the day-to-day financial tasks of the institute and develop a good routine. I spend my time working on various projects like preparing the monthly financial package, paying, and processing invoices, assisting with interim and yearend audit, and most recently, working with forecasts and budgets. I have been able to gain professional experience related to my field that helps me with my studies at Lakehead University in the Honours Bachelor of Commerce program.
This summer I got the opportunity to travel to many different Northern Ontario communities. Specifically, Sault Ste. Marie for the annual Magnetic North Conference. I feel very fortunate to have met the NPI staff in its entirety at the conference and learn about the projects they are all so passionate about working on. Being Thunder Bay born and raised, the staff has gifted me an understanding of public policy in my community and a new perspective about where I grew up.
I would like to thank everyone at NPI and want to especially extend my thanks to Krissie Rose for taking me under her wing, challenging me and continuing to keep me employed. See you in the fall!
---
The content of Northern Policy Institute's blog is for general information and use. The views expressed in this blog are those of the author and do not necessarily reflect the opinions of Northern Policy Institute, its Board of Directors or its supporters. The authors take full responsibility for the accuracy and completeness of their respective blog posts. Northern Policy Institute will not be liable for any errors or omissions in this information, nor will Northern Policy Institute be liable for any detriment caused from the display or use of this information. Any links to other websites do not imply endorsement, nor is Northern Policy Institute responsible for the content of the linked websites.
Northern Policy Institute welcomes your feedback and comments. Please keep comments to under 500 words. Any submission that uses profane, derogatory, hateful, or threatening language will not be posted. Please keep your comments on topic and relevant to the subject matter presented in the blog. If you are presenting a rebuttal or counter-argument, please provide your evidence and sources. Northern Policy Institute reserves the right to deny any comments or feedback submitted to www.northernpolicy.ca that do not adhere to these guidelines.
0 Reader Comments