Magnetic North 2023 Conference
Thank you for joining us!
These two days were full of the most thought-provoking conversations, best practices, and ideas. We had two keynote speakers, a plenary session, four roundtables, three panels, fourteen project or paper presentations—and we presented the Magnetic North 2022 Report!

We learned more about each other's work, highlighting projects, initiatives, and best practices on reconciliation and anti-racism, attraction and settlement of domestic and international migrants, and retention of the existing populations.
The presentations from the conference participants are available below.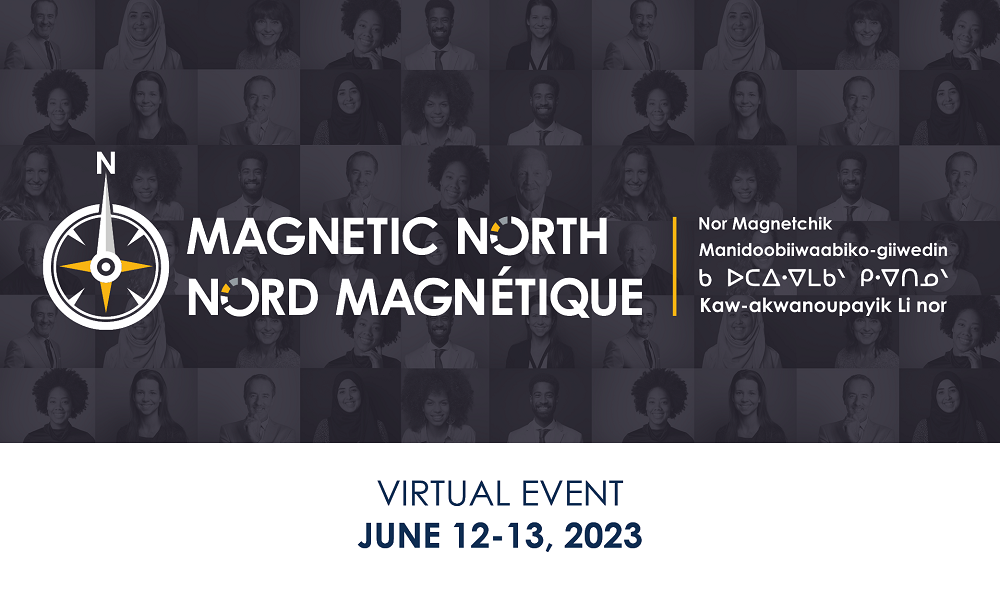 ---
A special thanks to this year's Conference Student & Youth Participant Sponsors:
---
Keynote Presentations
1. First Nation, Métis, and Inuit Cultural Education (Stéphane Paquette)
Stéphane Paquette works with Sudbury's French public-school board as a cultural mediator in Indigenous education. Stéphane has developed a project titled "Vous l'savez astheure" an archive of educational videos throughout the years in order to engage students and community members in discovering Indigenous culture as well as raising awareness to the history of First Nations peoples.
2. Bridging the Gap to Meaningful Employment for Newcomers (Cameron Moser)
ACCES Employment works to facilitate immigration outside of the MTV by providing immigrants with information and job opportunities in small, northern, and rural communities. What are the biggest barriers facing immigrants in securing meaningful employment? How can we support employers in navigating the international hiring process?
3. Setting Priority Action Items for Northern Ontario Population Growth Efforts (Mercedes Labelle)
---
Field Trip Plenary Session: Welcoming Practices from Greater Sudbury
1. McEwen School of Architecture (Aliki Economides)
2.
NOBEEP - Northern Ontario Black Economic Empowerment Program (Charles Bekaj)
3. Sudbury Multicultural and Folk Arts Association (Bela Ravi)
No presentation available.
---
Concurrent Paper & Project Presentations
These concurrent sessions presented research, case studies, and project updates from Northern Ontario or other rural, remote, and northern communities on the four themes listed below. Each session featured four 15-minute presentations.
1. Antiracisme, diversité et inclusion
1.1 Habitus sanitaires des immigrants francophones à Sudbury (Boroma Sanou)
1.2 Parcours et expériences des femmes immigrantes vivant dans le Nord-Ouest de l'Ontario et les effets de la pandémie sur leur bien-être (Claudette Gleeson)
1.3 Diversité culturelle au service de l'excellence en emploi (Achille Kaba)
1.4 État des lieux de la discrimination à Sudbury (Ines Bouguerra)
2. Reconciliation & Anti-Racism, Diversity, and Inclusion
2.1 Promoting Diversity, Inclusion, and Social Integration: Best Practices from Global Case Studies (Anthony Scaffeo)
2.2 Reducing Racism Through Shared Experiences (Ivy Guevarra-Segura & Sandra Reygada Licuime)
2.3 A Proposal for Change: Dialectics for Indigenous Peoples (Koral Hamilton)
2.4 Kʌ tho i:kéhse̲': I am here (Michelle Kennedy)
No presentation available.
3. Welcoming & Retention
3.1 Creating a thriving multicultural community: The case of Kirkland Lake Multicultural Group (Anna McPherson & Sarah Phillips)
3.2 The accessibility of autism services for children in Northern Ontario: The role of spatial factors and children's travel behaviours (Julien Bonin)
3.3 Culture of the North (Kamilah Francis & Kerry Yang)
3.4 Being proactive in rural Canada: Creating mechanisms for inclusive workplaces that support employers and employees (Elaine Flores & Dr. W.Y. Alice Chan)
4. Population Attraction, Settlement & Support
4.1 L'accès à la main d'œuvre francophone et bilingue : une stratégie qui fait ses preuves dans le Nord de l'Ontario (Stéphanie Cotnoir)
4.2 À la rencontre de la Nordicité : le cas de l'Université de Hearst (Samantha Losier & Michael Djeazet)
---
Gallery
Magnetic North 2023 was our fourth annual Population Growth Forum. Attendees had the option to join virtually from across our regions. The discussions included topics such as reconciliation, anti-racism, attraction, settlement of domestic and international migrants, and retention of the existing populations.
---
Thank you to our partners!
---
This project is made possible in part through the support of the Federal Economic Development Agency for Northern Ontario (FedNor) and the Northern Ontario Heritage Fund Corporation (NOHFC)