Why You Should Donate in Hard Times
December 2, 2020 - Charities play a large, but often unrecognized, role in our everyday life. Did you know, when you go exercise at your local YMCA, go see a play at the Capitol Centre, or check out a book at the library, you are interacting with, or using services provided by, a charity?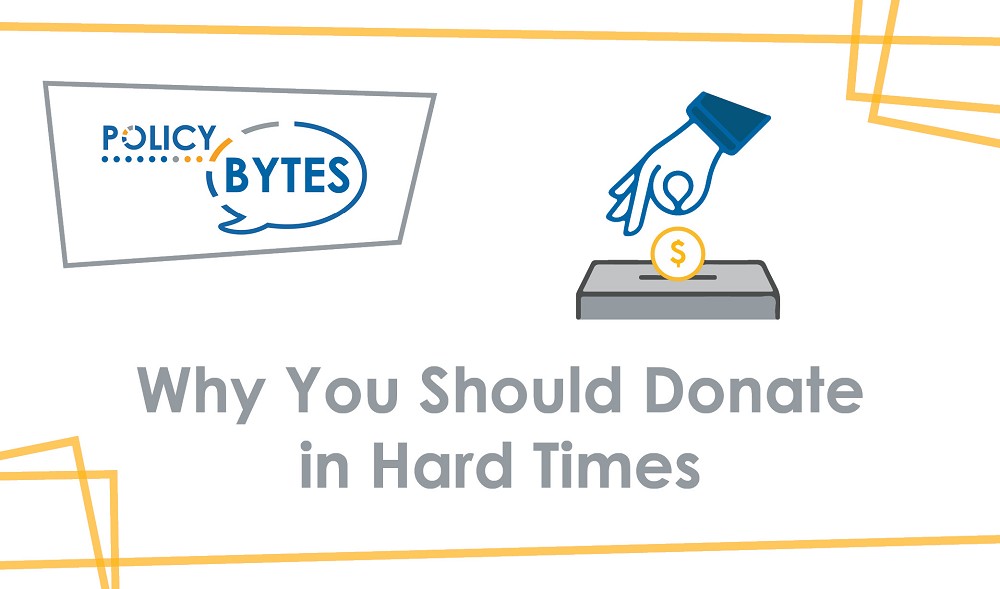 Charities can have environmental, health, or youth-centred missions, or work to fundraise, provide social services, or help the homeless. In addition, charities can also be hospital foundations and/or conduct research. General examples of charities include food banks, places of worship, animal shelters, and volunteer fire departments.
Non-profit organizations differ slightly. They are associations, clubs, or societies that are not charities and are organized and operated exclusively for social welfare, civic improvement, pleasure, recreation, or any other purpose except profit. Examples of non-profits include recreational groups like curling clubs, certain festival organizations, and some amateur sports organizations.
In the midst of COVID, charities are experiencing a decrease in revenue sources and a drop in volunteers. Though many are also facing increased demand for their services. For example, Meals on Wheels delivers groceries and medication to seniors, a vulnerable population advised to avoid unnecessary outings amid the pandemic; think tanks provide community-specific COVID-19 data to inform public policy decisions; food banks provide assistance to those who need it. Without a concrete recovery plan and a monetary flow increase, many charities are facing the risk of becoming unsustainable, leaving many vulnerable members of the community without the resources and support they need.
There have been programs enacted to increase funding for non-profits and charities, like the Ontario Trillium Foundation Non-Profit Grant. But, charities and non-profits still rely on donations from everyday people, including the people reading this piece.
Looking at the charities and non-profits that operate in Ontario's northern, western, and central regions (Figure 1), there are plenty of local organizations to support. Some charities local to our regions include Roots to Harvest in Thunder Bay, Northern Initiative for Social Action (NISA) in Sudbury, Meno Ya Win Health Centre in Sioux Lookout, CHADWIC Home Inc., and of course, Northern Policy Institute.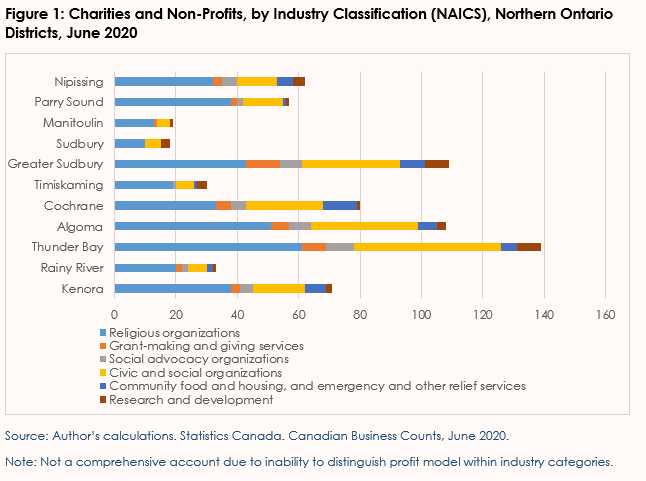 Who Gives Now?
Across Ontario's northern, western, and central regions, the 65 and over age group has the highest average donation. When comparing across the regions, the average donation for the senior age group is $1,509 in the 2017-18 fiscal year. Average donation amount does increase with age in Ontario's northern, western, and central regions, as shown in Figure 2.
The average age of donors in 2018 ranges between 56 in Timmins and 66 in Elliot Lake, again emphasizing the significance of the higher age brackets in terms of quantity of donations. Additionally, in all 11 Northern Ontario districts, the percentage of the population that is over 65 is larger than the population under 24. Since there is a larger portion of older residents, there is a larger potential pool of donors to drive up average age.
Giving patterns of younger Canadians in our regions tends to align with a Giving Report done by Imagine Canada in 2019, where they found that younger Canadians (15 to 24) are less likely to donate, tend to make smaller donations, and support fewer individual causes. But, it is also important to look at income differences between the age groups, and alternative ways in which younger Canadians might have supported the charitable sector. Again, it is important to emphasize that monetary donations are just one of many ways to donate to and support a charity, and that giving time is often a more accessible way for young Canadians to contribute.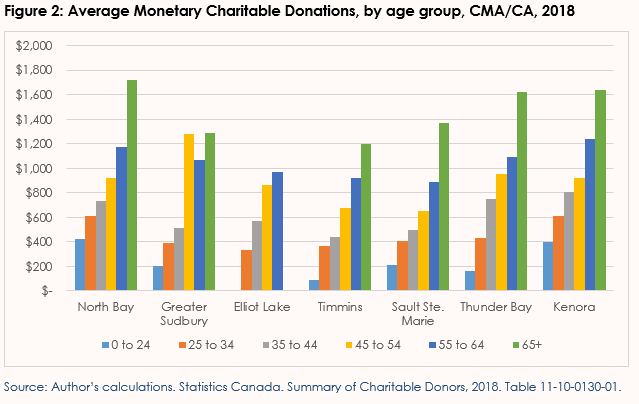 When looking at the percentage of the population that made charitable donations (Figure 3), Sault Ste. Marie saw the highest percentage in 2016, with 24.1% of all taxfilers making a charitable donation. Elliot Lake, despite having the highest median charitable donation ($320.00), has the lowest percentage of their population donating.
The median charitable donation value indicates that exactly half of the donations reported are greater than or equal to the median, and the other half are less than or equal to the median amount. This indicates Elliot Lake has a smaller pool of donors, but those who do donate, donate in large amounts. It could alternatively indicate the presence of a few very large donations; with a smaller total number of donations, the average is more vulnerable to being influenced by a few large donations.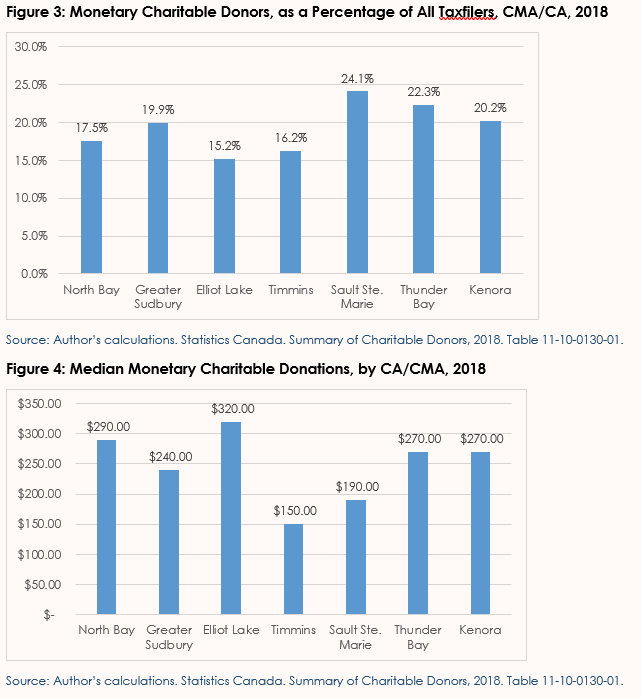 Takeaway:
No matter how you donate, whether it be money, time, or another avenue, it is greatly appreciated by the charities and non-profits who often do thankless work. There is no lack of organizations to give to. Every donation counts. If you are able, find a charity whose purpose speaks to you and donate time, resources, share their work, or simply say thanks.
If you would like more information on making a donation, please follow this link.
Mercedes Labelle is a Policy Analyst at NPI.
---
The content of Northern Policy Institute's blog is for general information and use. The views expressed in this blog are those of the author and do not necessarily reflect the opinions of Northern Policy Institute, its Board of Directors or its supporters. The authors take full responsibility for the accuracy and completeness of their respective blog posts. Northern Policy Institute will not be liable for any errors or omissions in this information, nor will Northern Policy Institute be liable for any detriment caused from the display or use of this information. Any links to other websites do not imply endorsement, nor is Northern Policy Institute responsible for the content of the linked websites.
Northern Policy Institute welcomes your feedback and comments. Please keep comments to under 500 words. Any submission that uses profane, derogatory, hateful, or threatening language will not be posted. Please keep your comments on topic and relevant to the subject matter presented in the blog. If you are presenting a rebuttal or counter-argument, please provide your evidence and sources. Northern Policy Institute reserves the right to deny any comments or feedback submitted to www.northernpolicy.ca that do not adhere to these guidelines.
0 Reader Comments