The Road to Recovery: OTF's Resilient Communities Fund
September 10, 2020 - Have you heard about the Ontario Trillium Foundation's newest grant? The Resilient Communities Fund (RCF) is a one-time fund to support the non-profit sector recover and rebuild from the impacts emerging from COVID-19 so the recipients can effectively meet the needs of communities across Ontario.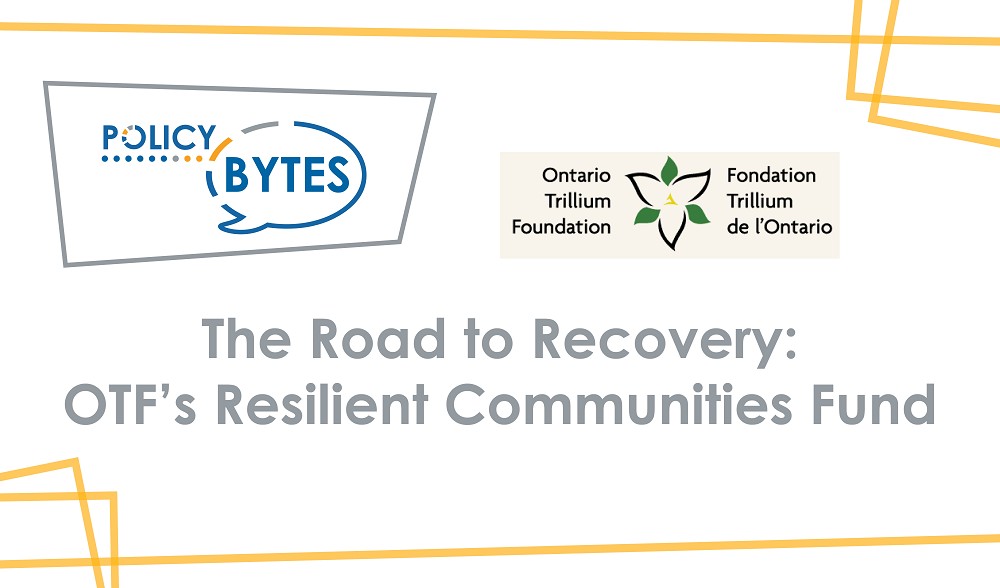 The Ontario Trillium Foundation is an agency of the Government of Ontario and is geared towards building healthy and vibrant communities in Ontario. In fact, just last year, 629 projects were awarded funding by the OTF.
Now you may ask, what types of investments are there?
OTF has several investment streams: Seed (new projects), Grow (building on the success of a proven program or model), Capital (broadening access to and improving community spaces), and the Youth Opportunities Fund (focusing on child, youth, and family wellbeing).
Some organizations that have benefitted from the OTF include Curl Sudbury, which used the grant to convert their sand floor into a concrete floor so the facility can host pickleball and other summer activities when there is no ice. Another organization is Hospice Northwest who used the funds to hire a coordinator to research and develop culturally sensitive and responsive grief support for Indigenous residents in Thunder Bay.
The goal of their latest RCF program is to aid medium to longer-term recovery efforts, help with stabilization and build capacity and resilience in the aftermath of COVID-19. You can find more information about how to apply and the requirements on the Ontario Trillium Foundation's website here.
Some eligible projects are:
Equip board members and employees with supports to implement new approaches, prepare for change and build resiliency (e.g. organizational training and coaching, strategic planning and implementation, research & development; mental and physical health and wellbeing supports)
Improve and increase the ability to access financial resources and develop new and/or alternative sources of revenues (e.g. develop fundraising plans, identify fundraising and financial technology resources, seek opportunities for public-private partnerships and social finance)
Adapt or re-imagine the delivery of programs and services to meet the needs of the community, employees and volunteers (e.g. identify new health and safety processes and required personal protective equipment; technology supports; staffing and volunteer recruitment and training)
Procure equipment or renovate spaces to meet the changing needs of the organization; its programs and services, and adapt to new ways of working (e.g. equipment and/or renovations to meet changing technology health and safety, and service delivery requirements)
Create and/or adopt new approaches for organizations to work together to meet the needs of communities (e.g. peer learning, professional development, networking, resource, knowledge and data sharing)
Supports like these are important for the continued impact of many non-profits. Along with the grant, the Ontario Trillium Foundation is also offering a free coaching call with a program manager to help non-profits develop their application for the grant. You can sign up for a coaching call here to see if your project is eligible.
Interested? The next deadline for the Resilient Communities Fund is December 2nd. Finally, eligible non-profits can request between $5-150K for a grant term between three and 12 months.
Evelynn Hoffman is the Outreach and Development Officer at NPI.
---
The content of Northern Policy Institute's blog is for general information and use. The views expressed in this blog are those of the author and do not necessarily reflect the opinions of Northern Policy Institute, its Board of Directors or its supporters. The authors take full responsibility for the accuracy and completeness of their respective blog posts. Northern Policy Institute will not be liable for any errors or omissions in this information, nor will Northern Policy Institute be liable for any detriment caused from the display or use of this information. Any links to other websites do not imply endorsement, nor is Northern Policy Institute responsible for the content of the linked websites.
Northern Policy Institute welcomes your feedback and comments. Please keep comments to under 500 words. Any submission that uses profane, derogatory, hateful, or threatening language will not be posted. Please keep your comments on topic and relevant to the subject matter presented in the blog. If you are presenting a rebuttal or counter-argument, please provide your evidence and sources. Northern Policy Institute reserves the right to deny any comments or feedback submitted to www.northernpolicy.ca that do not adhere to these guidelines.
1 Reader Comments
Rural and Remote Climate Chang

Posted By Ambrose Raftis on 3/3/2021 11:45:36 AM

I did a quick review of your recent papers but didn't see any study on adaptation of rural and remote communities to climate change.  These communities are dependent on an energy source that they will soon not be able to afford and further down the road won't be availble.  What will their economy look like in 10 or 20 years if they do not achieve the adaptation quickly and effectively.  With renewable energy avilable everywhere and incresed access to high speed internet rural communities could, and will have to develop drasticly different economies and communities in the near future.  

The current state of affairs is reasonably clearly understood and sort of depressing.   How about some future focused research to help inform Northerners  about the potential for development so they can better understand the challenges before them and the opportunities that exist.  

Re: Rural and Remote Climate Chang