Northern Ontario's Opportunities and Benefits – Why Keep them a Secret?
December 7th, 2020 - Ontario's central, western and northern regions have a lot of myths and misconceptions associated with them. One being that we are just one region that can be defined as "Northern" Ontario.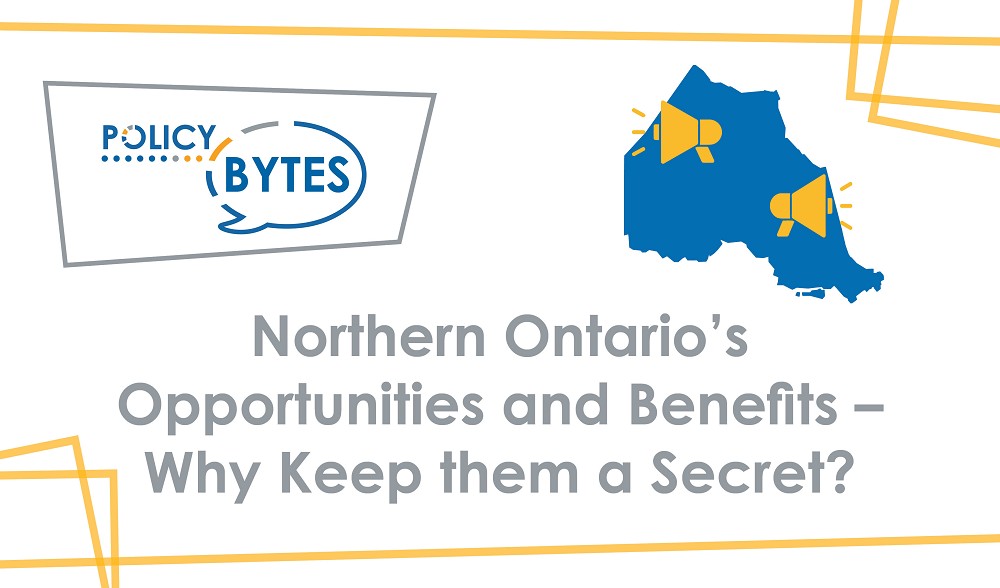 However, we are made up of 278 census subdivisions and 11 census districts. The reality is we are more than just a homogenous "Northern Ontario". We have multiple regions, all of which have their own unique characteristics and opportunities that are important to appropriately represent in marketing materials.
So how should we be marketing our regions? And who should we be marketing to?
First and foremost, we could strategically market the earning potential and lower housing costs. In a commentary written by Anthony Noga he compares key costs for a family of four in urban areas of Northern and Southern Ontario. In this piece, he states that northern homeowners can save upwards of tens of thousands of dollars on their home over a five year period, and those savings are not offset by a lower income. This kind of information can motivate individuals such as young families and couples that are looking to start off.
In addition, other important factors we need to advertise are things like shorter commutes to work, job demand in occupations such as health and management, and quality education. These are some of the things families and individuals take into consideration before moving which is why it's important that they are at the forefront of marketing materials.
Knowing your target audience is important in marketing effectively and utilizing social media analytic programs can help you understand your audience. This allows you the opportunity to tailor the information that is published and when it is published, so that it catches the attention of your intended demographic.
An example of a promotional video that includes these factors is this one here, which is meant to encourage people to move to Thunder Bay. Not only does the video showcase outdoor living, they also make sure to mention low housing costs, having a world class health care system, the amount of employed health care professionals and their various educational institutions.
The information in the video is presented in a way that attracts potential newcomers and gets them excited about the opportunities in Thunder Bay. Choosing to market the social and economic benefits of our regions, is ultimately what will help encourage families to move to one of our many regions, or at least pique their interest to find out more.
So why is marketing our regions as more than just outdoor living so important?
Well, if we continue to mainly market the great outdoors, it allows for misconceptions about our regions to continue. In Christina Zefi's 2019 commentary, she identifies some of these misconceptions as lack of employment opportunities, lack of quality educational facilities, and a lack of other amenities that are similar to those in Southern Ontario.
These misconceptions can be easily dispelled with the right information and the right marketing being put forward. It can start by including more of the social and economic benefits of our regions in our marketing materials, as well as making this information easily accessible to those individuals in Southern Ontario, other provinces or even different countries who are considering moving. Further, it promotes long-term retention, which is the ultimate goal.
Finally, we must remember that marketing is but ONE step in a successful newcomer attraction and retention strategy. In Zefi's "Thinking local: Best practices and solutions for Northern Ontario communities", she provides a detailed outline of step by step strategy communities can follow. She discusses marketing as a part of the pre-migration strategy and asks communities to think about several questions:
What features/attributes of the community are we going to market?
How are we going to make the message sound inviting?
What tools are we going to use to target our desired audience?
Does our community have a website?
These questions touch on other aspects of the wider strategy – creating targeted partnerships, ensuring the community is ready for newcomers, identifying strategic issues, and so on.
Overall, Northern Ontario has tons to offer and while those of us living here know it, we need to ensure that others know too.
Christina Fera was a Communications Officer at NPI.
Thank you to our Experience North Sponsor

---
The content of Northern Policy Institute's blog is for general information and use. The views expressed in this blog are those of the author and do not necessarily reflect the opinions of Northern Policy Institute, its Board of Directors or its supporters. The authors take full responsibility for the accuracy and completeness of their respective blog posts. Northern Policy Institute will not be liable for any errors or omissions in this information, nor will Northern Policy Institute be liable for any detriment caused from the display or use of this information. Any links to other websites do not imply endorsement, nor is Northern Policy Institute responsible for the content of the linked websites.
Northern Policy Institute welcomes your feedback and comments. Please keep comments to under 500 words. Any submission that uses profane, derogatory, hateful, or threatening language will not be posted. Please keep your comments on topic and relevant to the subject matter presented in the blog. If you are presenting a rebuttal or counter-argument, please provide your evidence and sources. Northern Policy Institute reserves the right to deny any comments or feedback submitted to www.northernpolicy.ca that do not adhere to these guidelines.
0 Reader Comments