November 23, 2015 - Northern Policy Institute President and CEO, Charles Cirtwill, was once introduced as hailing from the far north. Charles is actually based out of Northern Policy Institute's Thunder Bay office, which hardly qualifies as "far north." According to Ontario's 2010 Far North Act, the far north is defined as the lands located north of the Woodland Caribou and Wabakimi Provincial Parks. Thunder Bay sits approximately 200 kilometers below the southern boundary of Wabakimi, which is definitely not the far north. When Stephen Leacock wrote Adventures of the Far North in 1914, he certainly wasn't talking about Fort William or Port Arthur, his backdrop was unquestionably the Canadian arctic. Moreover, there are dozens of communities in Ontario that are situated farther north than Thunder Bay. Fort Severn First Nation is arguably the most northerly community in Ontario, located near the western shore of Hudson Bay. The most polar community accessible by year-round road transportation is Pickle Lake and it is still 538 kilometers northwest of Thunder Bay. Let's also not forget that places such as Kenora, Neskantaga, and Marten Falls are all farther north than the Lakehead but also do not qualify as "far north." As a helpful reference guide, we will outline some of the limitations associated with the term "north," and most importantly, we will be reviewing what Northern Ontario is, where it is located and hopefully, dispel some misconceptions about the region. So please take a seat, Northern Policy Institute's geography lesson is now in session.
Northern Ontario is a catchall term that is used to define the lands north of Parry Sound. In fact, this is precisely the definition that the Northern Ontario Heritage Fund Corporation uses, although it is slightly more nuanced as it treats Northern Ontario as the area "North of, and including, the districts of Parry Sound and Nipissing." Northern Ontario is 802,000 square kilometers and makes up nearly 90 percent of the province's total land mass. It also contains 803,000 people, 278 census subdivisions, and 11 census districts. In a word, it is huge. But does it qualify as northern? The government of Canada's definition of the North is more rigid and does not even encompass any of the provinces. As outlined in the Northern Strategy, the territories of Yukon, the Northwest Territories, and Nunavut are the only places defined as Canada's North.
But how truly north are we? On a national level, with the exception of far northern communities such as Moosonee and Webequie, the five largest centres in the region are all located at more southerly latitudes than major Canadian cities that include Winnipeg and Vancouver. Globally speaking, many of these so-called northern communities are situated south of Paris, France and London, England, and well below other cities in the Scandinavian region and Russia (see chart and map below).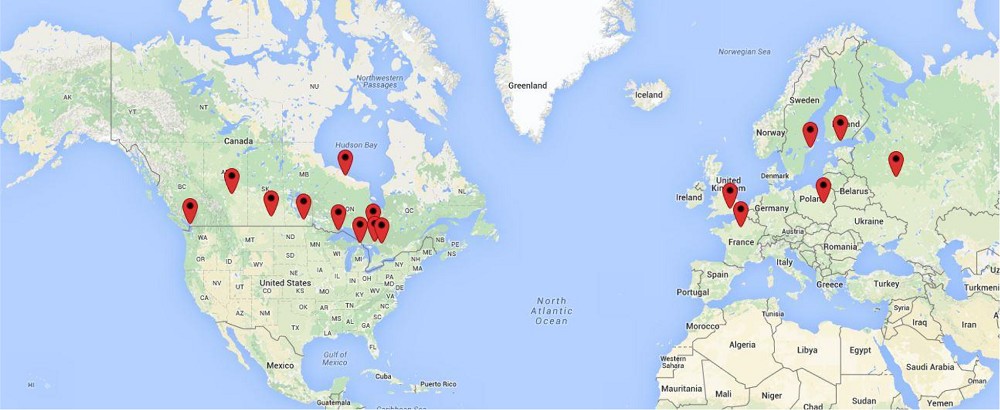 Screenshot of global northern latitudes. Created using Multiplottr
This past August, the Rhinoceros Party of Canada, a satirical political party, unveiled their 2015 election platform that included moving the federal capital to Kapuskasing, Ontario. According to party leader Sebastien Corriveau, Kapuskasing is a more ideal location because "it's better-placed strategically in the centre of Canada." Unsurprisingly, the Rhinos are a tad off the mark, but another Northern Ontario community, Thunder Bay, makes a pretty good case to be dubbed the heart of Canada. The Lakehead is approximately 2,700 kilometers west of St. John's, Newfoundland and Labrador and roughly the same distance east from the western shore of Vancouver Island, which begs the question, are we actually Northern Ontario? Perhaps it would be more appropriate to refer to the region as Central Canada? Stephen Colbert once referred to Canada as America's hat. I'm sure Northern Ontarians would be equally unimpressed if we referred to our region as Toronto's toque.
Solving this northern identity crisis is timely given that "The North" has been popularized in the mainstream media recently, thanks in large part to a rebranding campaign launched by Canada's lone NBA team, the Toronto Raptors. As part of a new look and attitude, the Raptors rolled out the slogan "We the North" for the 2013-14 season. If you can get past the fact that it is grammatically incorrect, it has become quite popular and has rallied basketball fans of all stripes above the 49th parallel, especially during playoff season. Nevertheless, it is worth noting that the slogan is still employed by a Toronto-based sports team. The Raptors are located approximately 2.5 hours below the most southerly defined boundary of Northern Ontario (Parry Sound). Moreover, the only major Canadian cities that are more geographically south of Toronto are Hamilton and London. Nearly every other major Canadian city could make a more credible claim for "We the North." After the Raptors lost to Portland Trail Blazers on 30 December 2014, the Blazers took to Twitter to extend an olive branch to Toronto fans. Attempting to find common ground, the team's account suggested "We the North, Too" as Portland is actually located nearly a full two degrees farther north than Toronto. This then prompted the Minnesota Wolves to join the fray, pointing out that they should be part of the conversation since Minneapolis is also a more northern clime than Toronto. Even in the world of professional basketball, the North can be a point of contention.
While the Tragically Hip have adoringly referred to Saskatoon as the "Paris of the Prairies," no one views the latter as the "far north" of Europe. If we don't refer to la ville lumière as a northern clime, why do we insist on reserving it for cities in Northern Ontario that sit at a lower latitude? Not to mention the fact that North Bay is south of Sudbury and the Nickel City is less north than Sault Ste. Marie. The Soo is south of Thunder Bay and the Lakehead is below Timmins. Meanwhile, Timmins is south, yes, the City with a Heart of Gold, is more southern than Edmonton, Regina, Winnipeg, and Calgary. If you were to breakdown the population distribution of Canada along latitudinal lines, as David Taylor did here, you'd notice that many Canadians live well north of many cities that are typically referred to as northern. Which begs the question, is our region really north? Maybe it's about time for us to usurp the Central Ontario designate.
By Mike Commito, Policy Analyst with Northern Policy Institute
The content of Northern Policy Institute's blog is for general information and use. The views expressed in this blog are those of the author and do not necessarily reflect the opinions of Northern Policy Institute, its Board of Directors or its supporters. The authors take full responsibility for the accuracy and completeness of their respective blog posts. Northern Policy Institute will not be liable for any errors or omissions in this information, nor will Northern Policy Institute be liable for any detriment caused from the display or use of this information. Any links to other websites do not imply endorsement, nor is Northern Policy Institute responsible for the content of the linked websites.
1 Reader Comments