September 3, 2019 - Every year we are blown away by the enthusiasm and skills each of our Experience North interns bring. Located in Timmins, Sudbury and Kenora, these bright individuals worked on projects ranging from housing affordability and availability to the economic impact of international students. We will certainly miss their creativity and research capabilities as their insights have helped contributed toward a self-sufficient and prosperous Northern Ontario.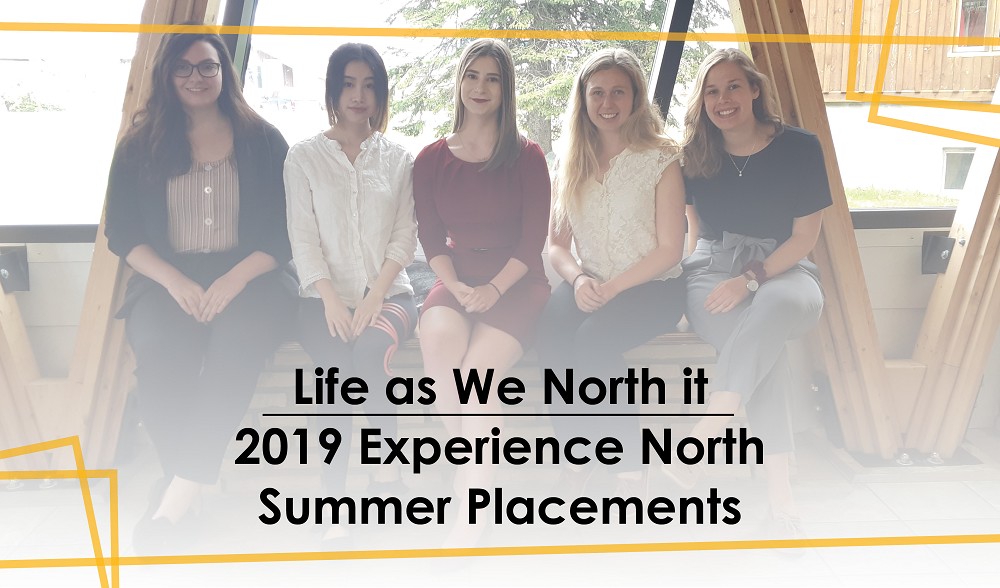 Sudbury: Hilary Hagar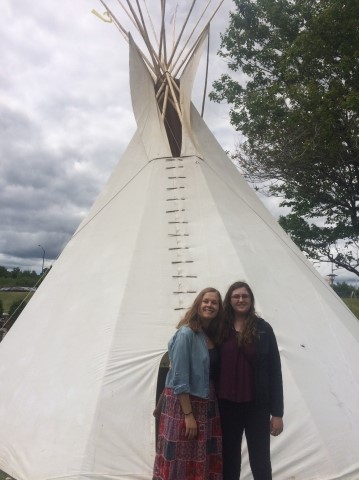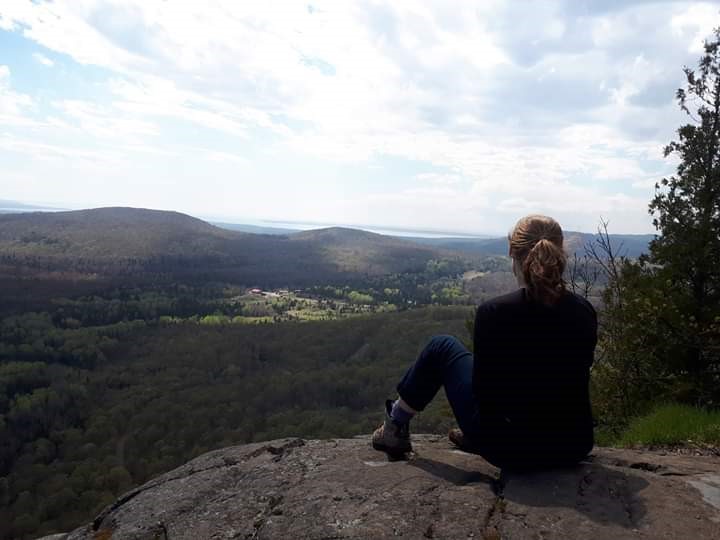 Nervous laughter and puzzled faces. That was usual response when I told my friends and family I would be moving to Northern Ontario for the summer. Southerners, myself included, are largely unfamiliar to anything that exists north of Barrie. For me, I prefer smaller cities and tight-knit communities, and I've always known that I wanted to work in community economic development and social policy. All this, combined with my love of the outdoors, meant that there was no better fit for me than NPI.
Experience North is the best summer job! Interns are project-focused and given the freedom to really dig into their topics. Not only do you finish the experience with published pieces, but also with many community connections you make along the way. Working on northern immigration allowed me to dive into an interesting topic that is timely and relevant. And I, along with my summer placement colleagues, can see the direct impacts our work will have on communities.
Living in the North for the summer also provided the opportunity to visit other communities. Mattawa, North Bay, Blind River, Sault Ste Marie, and Bachawana Bay were some of the places I visited in my free time. We also travelled to Hearst for our annual staff week. Now, I'm an avid traveler and have had the privilege of experiencing the beauty of four different continents. Yet, Northern Ontario has some of the best, seemingly untouched landscapes I have ever seen!
I could not have asked for a better summer experience. I have fallen in love with the North and hope to continue to call it home in the
future.
Kenora: Gabbi Rabaa and Jessica Bevilacqua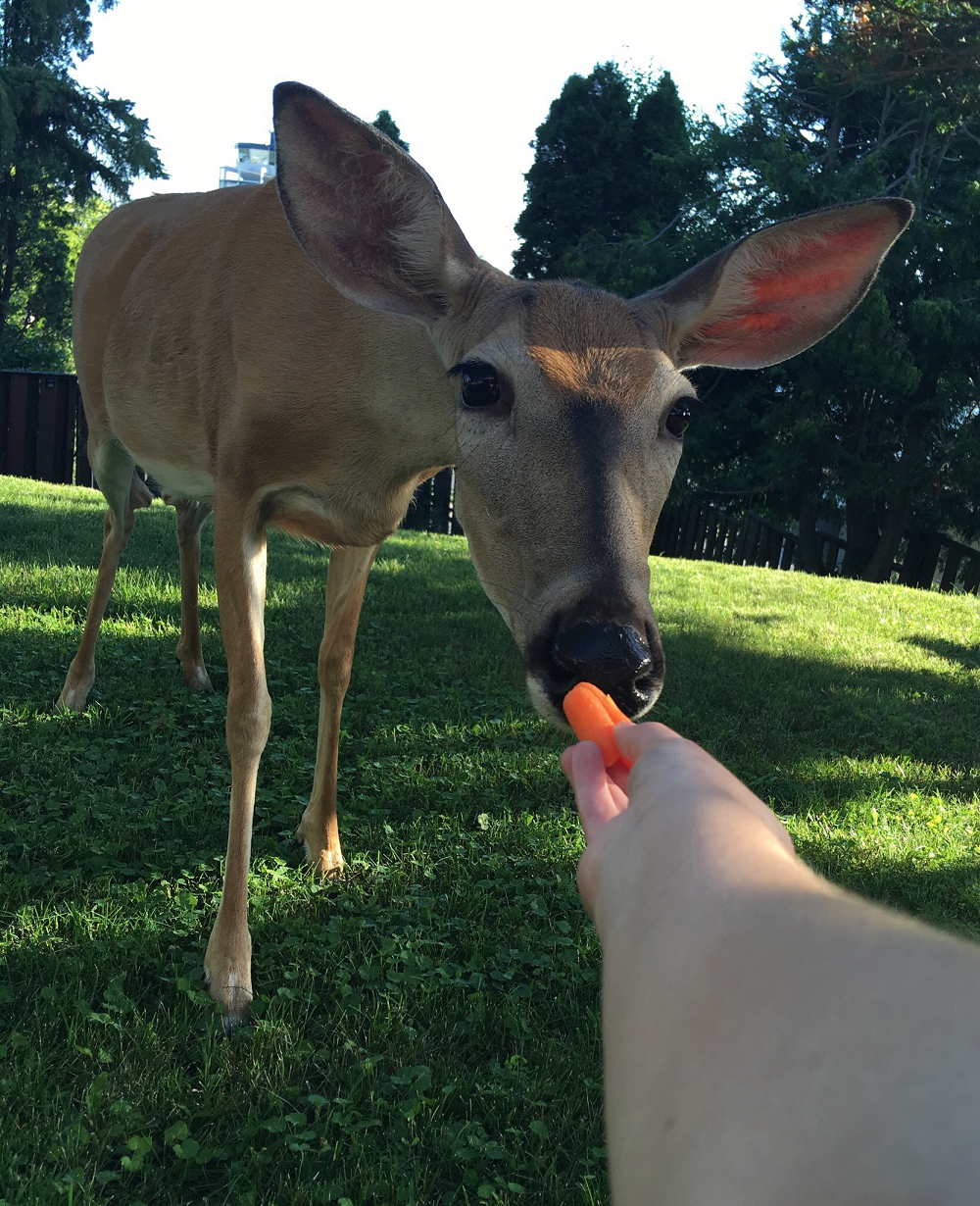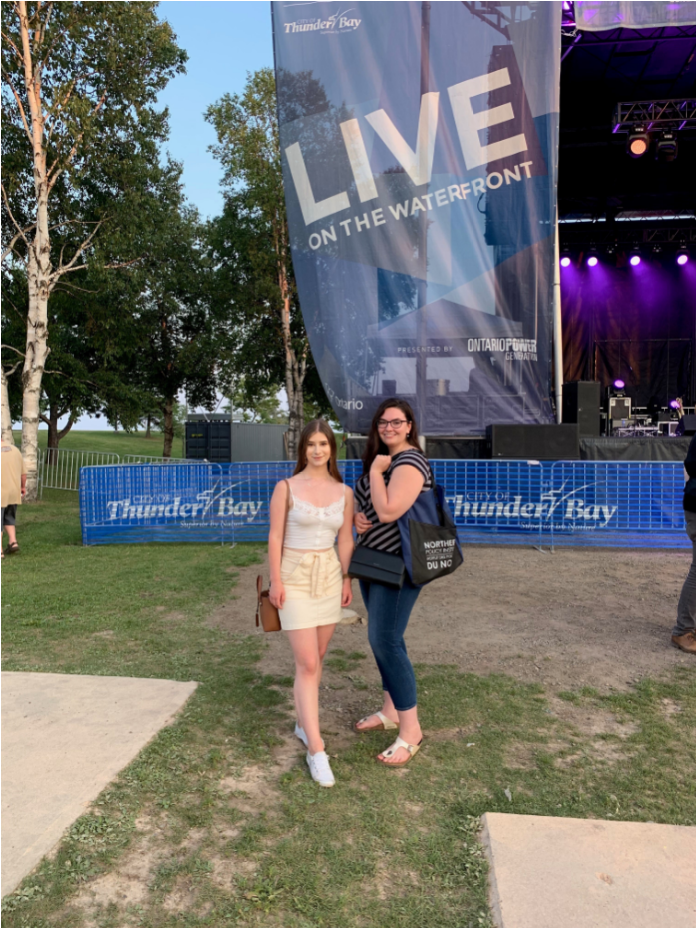 First off, let us share our Kenora 'Survival Kit': A Kenora dinner jacket, carrots to feed the deer, a boat (or a friend with a boat), hiking boots, and LOTS of sunscreen. For two city girls, one from Ottawa and the other from Thunder Bay, learning to adapt to the 'great outdoors' proved to be a rewarding challenge (mostly for Gabbi.)
Every morning, we would greet our 'deer' friends, two fawns and a momma deer as they grazed on the Confederation College foliage. Our buddies repaid the favour with company and amusement. Inside the building, the friendly college staff were just as warm and welcoming. Over the summer, Jessica worked on studying the availability and affordability of housing in Ontario's North, while Gabbi analyzed the strategic alignment of organizations in Kenora and Thunder Bay. Both projects were fascinating and left us a newfound appreciation for policy and research. While many heads were scratched, it was a rewarding challenge that provided us with a greater understanding of both the struggles and successes of Northern Ontario.
The experience was also filled with opportunities outside the office, including trips to Hearst and Thunder Bay. In Hearst, we got the opportunity to meet our co-workers and other Experience North colleagues while developing our networking and public-speaking skills. In Thunder Bay, we had the pleasure of meeting various community members to gather more a comprehensive perspective for our projects. While both trips were informative, we were also able to make memories that will last a lifetime.
Overall, the Experience North program has provided us with a wealth of invaluable skills situated in a summer full of exciting opportunities. If you are looking for a summer job that will allow you to enjoy everything Northern Ontario has to offer while developing research and analytical skills, then NPI is for you!
Timmins: Maia Kvas and Irina Chen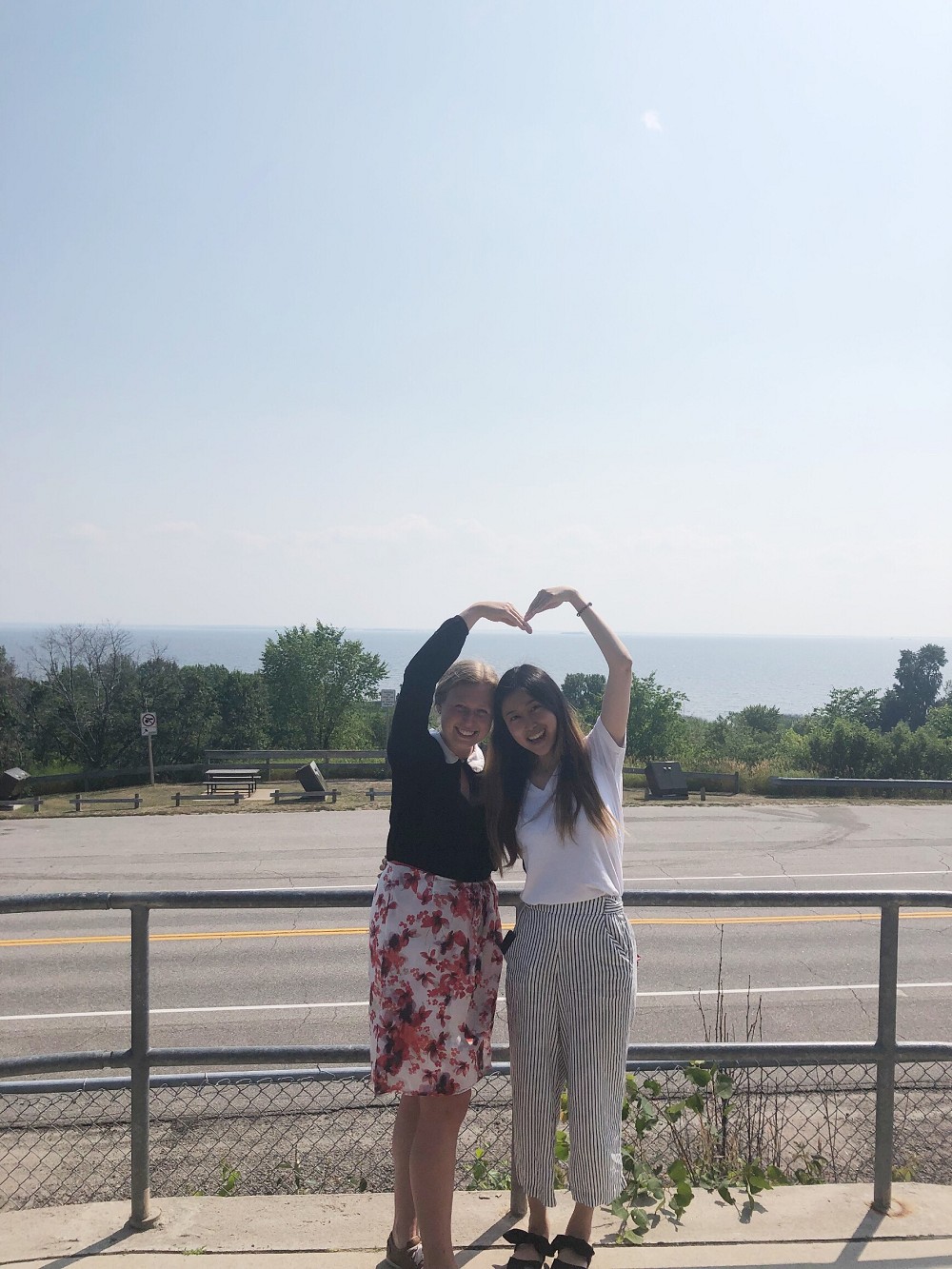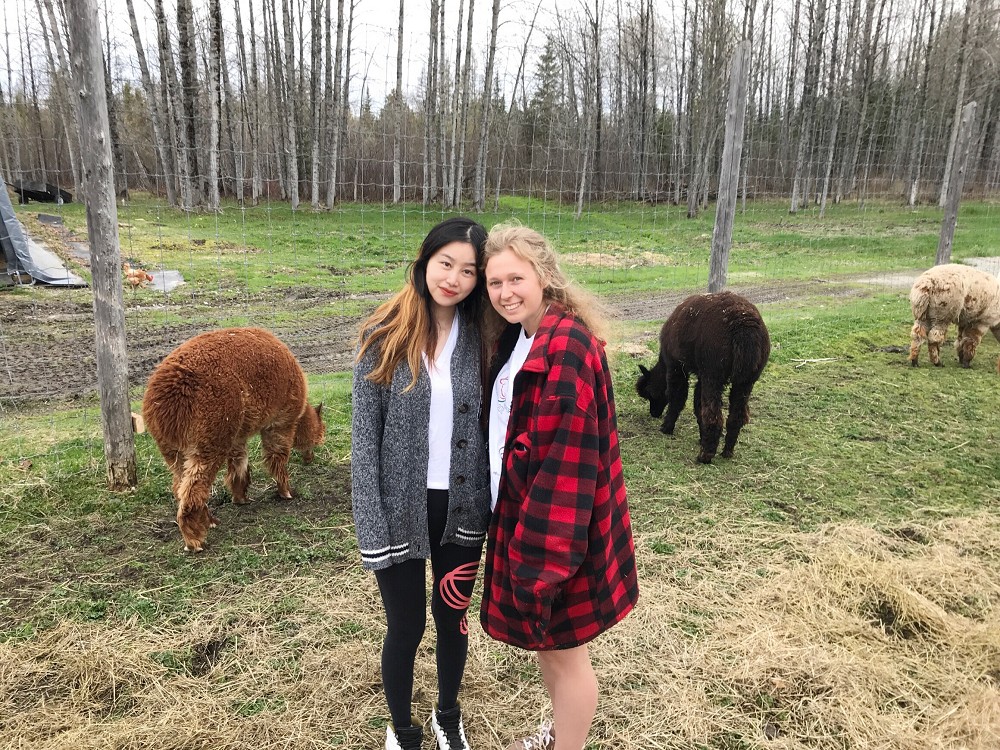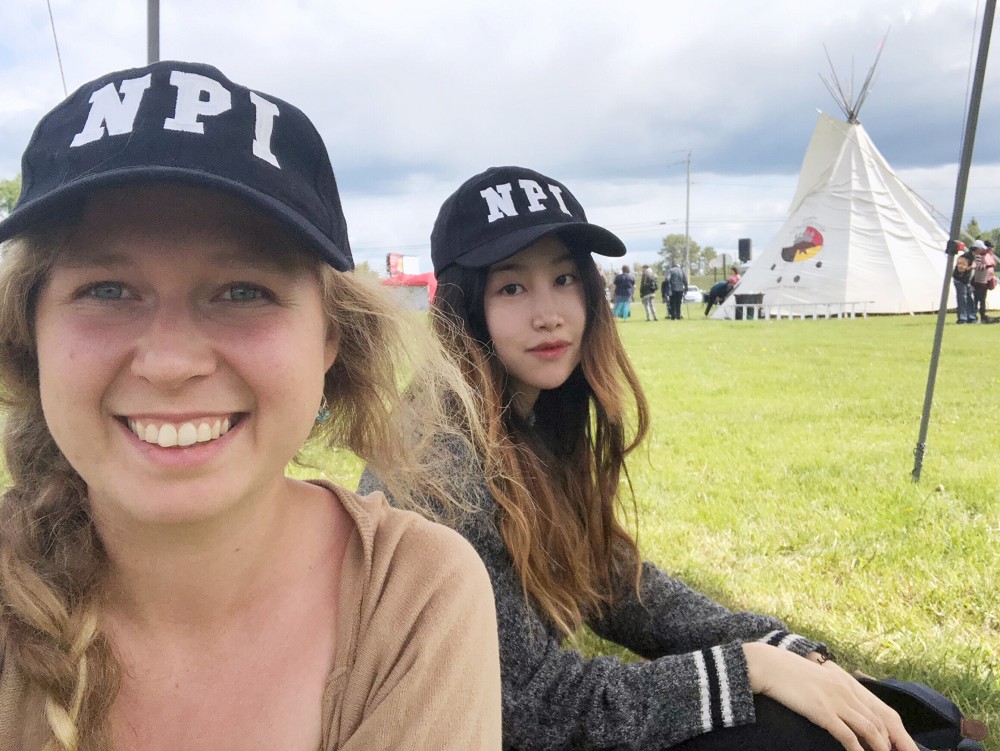 For Irina, a Torontonian, flying from Toronto to Timmins is easy but exploring the North is not. She could not have imagined the length of time required in a car to visit various Northern Ontario communities compared to the South. But guess what? Even with the long car trips and many mosquito bites, Irina loved learning about Northern Ontario and was excited to find a place with so many friendly people. For Maia, born and raised in Timmins, it was an enriching experience to learn about the challenges in Northern Ontario and all the various organizations she was previously unaware of that are working hard to meet those challenges and improve the community she loves.
As data analysts, we had the opportunity to practice our research and analytical skills. We loved how relatable our projects were to urgent issues shared by Northern Ontario stakeholders. It was incredibly rewarding to work on projects that could help guide important decisions in Northern Ontario communities. Irina worked on the workforce supply and demand projections for various occupations in Northern Ontario while Maia worked on a mapping software to align Statistics Canada's boundaries to boundaries for various Northern Ontario organizations. As well, discussing the Rural and Northern Immigration Pilot program with many community members through our field trip across the Northeast (Sudbury, North Bay, Sault Ste. Marie) gave us the opportunity to hear about different perspectives and challenges on immigration strategies and labour market data.
We loved the time we spent in Hearst for Staff week! Getting to know the whole team through fun icebreakers allowed us to discover each other's unique and crazy personalities and get comfortable with everyone fast.
We thank Collège Boréal for the friendly environment and entertainment. We are truly thankful for all the experiences NPI offered us and are excited to have been a part of the team!
NPI would also like to thank Confederation College and Collège Boréal for their continued partnership. If you are interested in being an Experience North host, please reach out to us at info@northernpolicy.ca.
Hilary Hagar, Irina Chen, and Maia Kvas were Data Analysts while Jessica Bevilacqua and Gabbi Rabaa were Policy Analyst Experience North Interns at Northern Policy Institute during the summer of 2019.
Thank you to our Experience North Sponsor

---
The content of Northern Policy Institute's blog is for general information and use. The views expressed in this blog are those of the author and do not necessarily reflect the opinions of Northern Policy Institute, its Board of Directors or its supporters. The authors take full responsibility for the accuracy and completeness of their respective blog posts. Northern Policy Institute will not be liable for any errors or omissions in this information, nor will Northern Policy Institute be liable for any detriment caused from the display or use of this information. Any links to other websites do not imply endorsement, nor is Northern Policy Institute responsible for the content of the linked websites.
Northern Policy Institute welcomes your feedback and comments. Please keep comments to under 500 words. Any submission that uses profane, derogatory, hateful, or threatening language will not be posted. Please keep your comments on topic and relevant to the subject matter presented in the blog. If you are presenting a rebuttal or counter-argument, please provide your evidence and sources. Northern Policy Institute reserves the right to deny any comments or feedback submitted to www.northernpolicy.ca that do not adhere to these guidelines.
0 Reader Comments