Social vs. Physical Distancing
*Ceci est seulement disponible en anglais
June 9, 2020 - In combating COVID-19 citizens across the globe are being asked to socially and/or physically distance themselves in order to flatten the curve. But what exactly do the two terms mean for individuals?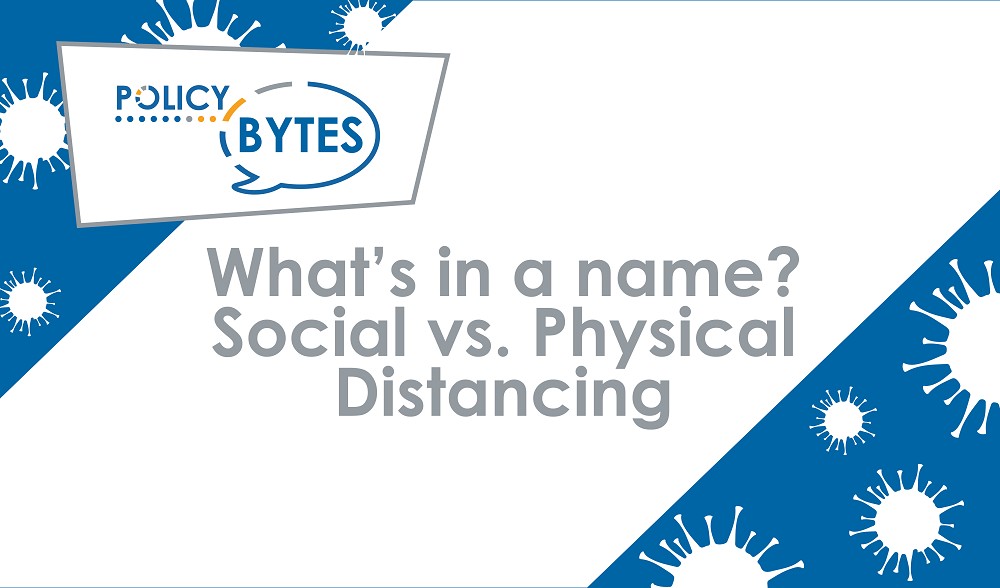 The term social distancing has been used by public health authorities across Canada, but the term gives a misguided message. The term gives the impression individuals should be distancing themselves 'socially' (Eaton, 2020). It is important to note that where individuals are being asked to socially distance themselves, they are not being told to stop socializing. Rather, the intent is for individuals to 'physically' distance themselves when socializing, by ensuring they keep the recommended two-metre distance. In these times, it is important to stay connected but doing so by means that do not violate physical distancing measures. Continue to check in with your loved ones using the power of technology – or across the length of a hockey stick.
Being asked to remain at home and leaving only for making essential trips is daunting for many, as humans are by nature social beings (Hensley, 2020). Research has shown that "social networks—which provide emotional support, companionship and opportunities for meaningful engagement—have a beneficial effect on mental-health outcomes, stress reactions, psychological well-being and self-esteem" (Eaton, 2020). Data collected by 'Statistic Canada's Crowdsourcing: Impacts of COVID-19 on Canadians' indicated that 41 per cent of those aged 15 to 24 are concerned about stress from being confined at home (Statistics Canada, 2020). Those aged 35 to 44 also responded similarly with 40 per cent reporting concern, while only 30 per cent of those aged 55 and older reported confinement as concerning (Statistics Canada, 2020). The data also found that seniors were more so concerned about maintaining social ties and were more likely to report having made plans to connect with family and friends (Statistics Canada, 2020). Actively working towards staying connected is a lesson that we should all follow.
If you are someone who enjoys the company of strangers or simply being in the presence of others there are still ways to feel connected. Online meetups and live sessions might just be for you. Actor, John Krasinski has been bringing people together without leaving their homes. Given the overwhelming news coverage of current events and recognizing the need for some positivity, John created a YouTube web series he hosts called Some Good News (SGN). This show features positive things happening amid the global pandemic. He also invites celebrities on the show to bring some much needed entertainment and more recently SGN hosted prom 2020 with the help of multiple social media platforms such as TikTok, Twitter and YouTube for all the high school seniors who unfortunately had theirs cancelled (SomeGoodNews, 2020).
It is important to engage in meaningful activities that bring joy to get through quarantine. Digital connectivity is not the only way by which you can physically distance. Going for walks or hikes while adhering to health professionals' recommendations and abiding by your local authorities' directives are also means to keep engaged. Keeping physically active will ensure your mental health is also looked after.
It is important to remember that everyone is in this together. Lean on your social networks not only when you are feeling low, but as means to keep yourself engaged and entertained. A global pandemic calls for innovating ways to stay connected while being physically apart. Continue to enjoy your Friday evenings with a Netflix Party movie session. Look into whether events you were looking forward to are being offered through other means, for instance a webinar for that makeup class you were interested in (Pink Orchid Studio, n.d.). Have you morning coffee with co-workers via Zoom video chat. And if you are handling self-quarantining well, reach out and check in with others who may benefit from the physically distant social interaction.
References:
Eaton, Margaret. (2020). "'Social distancing' is a misnomer: we should be physically distancing, but remain as social as ever." The Globe and Mail. Retrieved from https://www.theglobeandmail.com/opinion/article-social-distancing-is-a-misnomer-we-should-be-physically-distancing/
Hensley, Laura. (2020). "Social distancing is out, physical distancing is in—here's how to do it." Global News. Retrieved from https://globalnews.ca/news/6717166/what-is-physical-distancing/
Pink Orchid Studio. (N.d.). "#PinkYourself Webinar Re-View." POS. Retrieved from https://pinkorchidstudio.com/classes/
SomeGoodNews. (2020). "Prom 2020: Some Good News with John Krasinski Ep.4." YouTube. Retrieved from https://www.youtube.com/watch?v=VQLi2GYVULc
Statistics Canada. (2020). "Impacts of COVID-19 on Canadians: First results from crowdsourcing." Canada. Retrieved from https://www150.statcan.gc.ca/n1/daily-quotidien/200423/dq200423a-eng.htm
Amanjit Garcha is a Policy Analyst at NPI.
---
Le contenu du Puces Politiques du Nord est pour l'information et l'utilisation générales. Les vues exprimées dans ce blogue sont celles de l'auteur et ne reflètent pas nécessairement les opinions de l'Institut des politiques du Nord, de son conseil d'administration ou de ses partisans. Chaque auteur assume toute la responsabilité quant à la précision et à l'intégralité de son blogue. L'Institut des politiques du Nord ne sera pas tenu responsable d'une erreur ou d'une omission dans cette information, ni d'un dommage causé par l'exposition ou l'utilisation de cette information. Tout lien vers un autre site Web ne signifie pas que l'Institut des politiques du Nord est d'accord avec le contenu de ce site, ni qu'il y assume une responsabilité.
L'Institut des politiques du Nord vous invite à lui faire part de vos observations et commentaires. Cette rétroaction ne doit pas dépasser 500 mots. Nous ne publierons aucun commentaire comportant des propos obscènes, désobligeants, haineux ou menaçants. Évitez le hors sujet en vous assurant que vos commentaires concernent les thèmes abordés dans ce blogue. Si vous présentez une réfutation ou un contre-argument, veuillez fournir des sources et des éléments de preuve. L'Institut des politiques du Nord se réserve le droit de refuser les rétroactions et commentaires transmis à www.northernpolicy.ca qui contreviennent aux présentes directives.
0 Commentaires des lecteurs