June 3, 2020 - When you think of a small food business many people think of restaurants, food trucks or coffee shops. One food that does not come to mind is hummus. A family recipe, Zaher's Small Batch exceeds expectations with their growing local hummus business. Part of their success comes from the many partnerships that Zaher's has created along the way.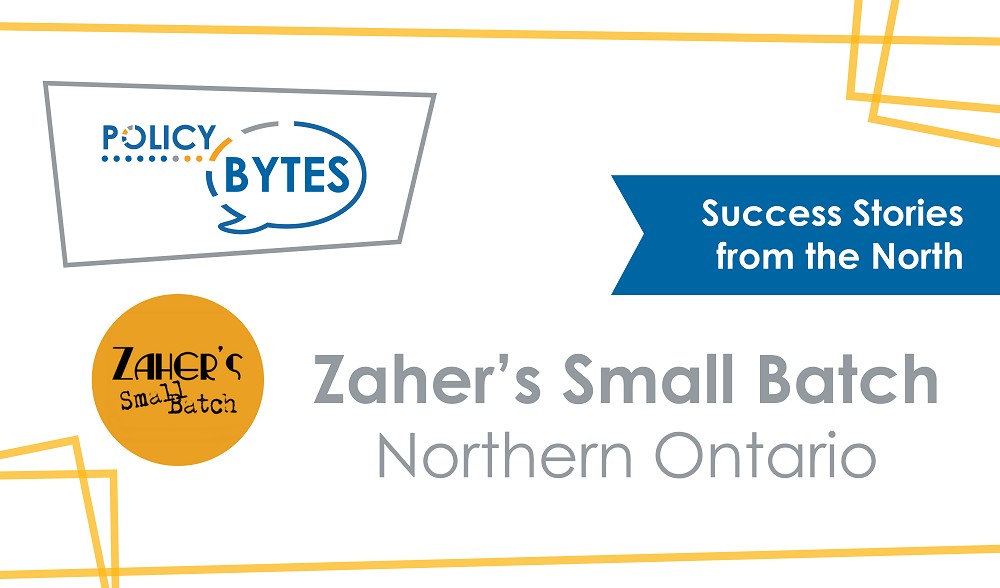 Zaher's Small Batch stemmed from a Zaher family recipe that originates in the 1920's. The CEO and founder Deke Zaher, trained to make hummus since he was four, says the recipe for this natural, authentic Palestinian Hummus has been passed for generations, starting with his great grandfather. The hummus is vegan friendly, gluten-free, nut-free and contains zero preservatives. Since starting his business, Zaher's Small Batch has 13 unique hummus flavours including:
Traditional
XXtra Garlic/Ali
Dill Pickle
Screaming Dill Pickle (spicy)
Carrots and Cumin
Velvet Sunshine (spicy)
Baba Mia (eggplant)
Screaming Baba Mia (spicy)
Hemp!
Roasted Jalapeno and Blueberry
13 (very spicy)
Citrus and Sumac
Red Baron
Zaher's Small Batch started in 2017 by selling its hummus at the Paris Natural Foods and then at both Smith's Market locations in Sudbury. As the vegan movement in Sudbury grew, so did Zaher's Small Batch. In 2019, Zaher opened his very first storefront located at 12 Elgin Street in Sudbury where he sells his hummus along with falafels and hummus bowls.
Throughout his entrepreneurial journey, Zaher always believed in community partnerships. From the beginning, he partnered with local stores to supply his product on their shelves and also supported local sports teams. "I very much care about nutrition, especially for school-aged children," he said. "I've always had a problem with sports teams selling donuts to raise funds," Zaher said in an interview with Sudbury.com. Now teams can sell Zaher's Small Batch hummus to raise funds.
With the hope to expand people's understanding of hummus as a versatile product, Zaher partnered with local Little Guys' Pizza Co. in Azilda to create a pizza that features his hummus as the base instead of pizza sauce. He also expanded his network of partnerships to Crosscut Distillery, Science North, Nickel Refillery, and the Sudbury Community Arena. This lead to Zaher's Small Batch being the only health-conscious concession food during Sudbury Wolves and Sudbury Five home games and also the player's pre-game snack provider filling a nutritional gap in the team's needs.
After opening his storefront, Zaher partnered with neighboring downtown businesses to create an event called 'Warm Soup For Warm Hearts'. After the Cedar Nest Café had a series of vandalism, break-ins and theft, Zaher and Cedar Nest worked together and partnered with Respect is Burning, Peppi Panini and Peddler's Pub along with 5 other restaurants and over 100 volunteers, to create a human chain to pass 250-300 bowls of soup along Elgin Street from Zaher's Small Batch, to Cedar Nest Café and end up at the Blue Door Soup Kitchen. "I saw downtown Sudbury coming together," Zaher said in an interview with CBC.
Another partnership Zaher helped initiate to help those in need is the 'Snacks for Masks' campaign during the COVID-19 pandemic. Zaher partnered with Local Jerky Plus, Nickel City Cheese and Quantum Tools and Industrial Supply Ltd. For every snack variety pack ordered and delivered during the pandemic, part of the proceeds went to purchasing N95 masks to be donated to front-line health care workers. When there was no longer a supply of masks, they would move on to donate something else that is needed.
Partnerships, hummus and family recipe. That is what it took for Zaher's Small Batch to become the growing hummus empire it is today.
Evelynn Hoffman is the Outreach and Development Officer at NPI.
---
The content of Northern Policy Institute's blog is for general information and use. The views expressed in this blog are those of the author and do not necessarily reflect the opinions of Northern Policy Institute, its Board of Directors or its supporters. The authors take full responsibility for the accuracy and completeness of their respective blog posts. Northern Policy Institute will not be liable for any errors or omissions in this information, nor will Northern Policy Institute be liable for any detriment caused from the display or use of this information. Any links to other websites do not imply endorsement, nor is Northern Policy Institute responsible for the content of the linked websites.
Northern Policy Institute welcomes your feedback and comments. Please keep comments to under 500 words. Any submission that uses profane, derogatory, hateful, or threatening language will not be posted. Please keep your comments on topic and relevant to the subject matter presented in the blog. If you are presenting a rebuttal or counter-argument, please provide your evidence and sources. Northern Policy Institute reserves the right to deny any comments or feedback submitted to www.northernpolicy.ca that do not adhere to these guidelines.
0 Reader Comments