December 5, 2018 - Lindsay Sarazin, Algonquin of Golden Lake First Nation (now known as The Algonquins of Pikwàkanagàn First Nation), was born and raised in North Bay, Ontario. Lindsay is a multidisciplinary artist who has been involved in multiple projects involving film, television, video, and photography. Lindsay graduated from Canadore College's Broadcasting Television and Video Productions program in 2009, inspiring him to launch his business, Wolf Eye Productions.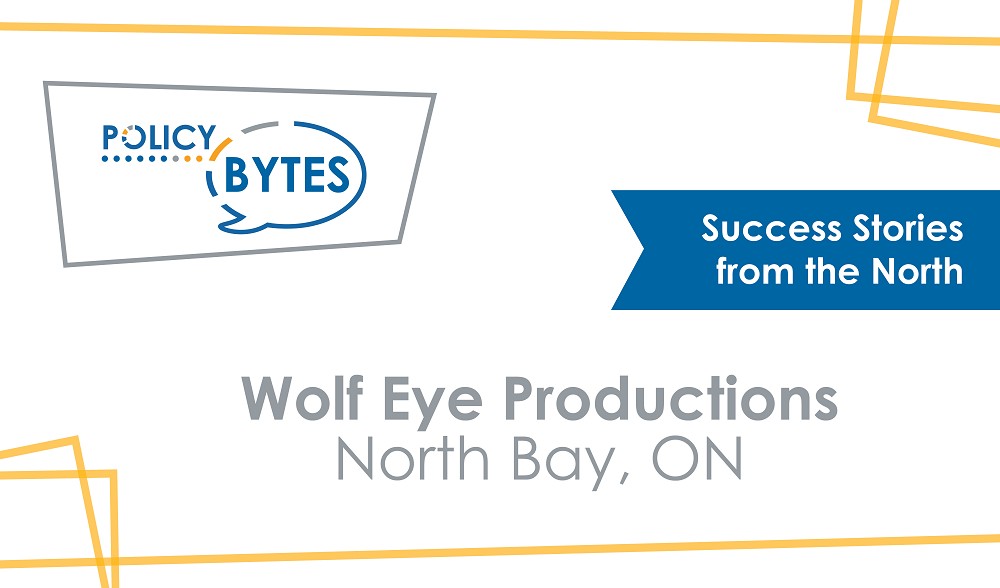 In 2014, Lindsay launched Wolf Eye Productions, a freelance multimedia company that offers services to a variety of clients within and beyond North Bay. Such services include professional photography, videography and film (including short films and documentaries). His clientele ranges from wedding photography to providing headshots for corporate organizations.
Lindsay offers a unique style to the industry with his creativity and background of dance, acting and visual arts. At Wolf Eye Productions, Lindsay believes that client relationships are just as important as the final product, providing customers with an exciting and unique experience. Lindsay says, "I enjoy the rush, the happiness that I get to capture and all the little moments of the day that are sprinkled throughout."
Coming from humble beginnings, Lindsay started off with very few clients, only shooting a few weddings and family portraits. Lindsay has grown his company exceptionally and now has large clients such as Aamitaagzi community arts organization, the White Water Gallery, and the Near North Mobile Media Lab. He continues to grow his business, and has travelled across Canada to provide his services.
Since launching in 2014, Lindsay has had some great accomplishments including participating as a panelist at the Dream Big North Conference as well as winning a Northern Ontario Business Award for the First Nations Business Award of Excellence.
Lindsay decided on the name "Wolf Eye Productions" because he believes that it holds pieces of himself, both spiritually and physically, and that the name will remain relevant to him 20-50 years from now. He also believes the name holds a lot of hope and luck for the organization.
Along with his multimedia business, Lindsay is very community-oriented, working with many elementary schools teaching dance and traditional teachings as well as volunteering with the local Indian Friendship Centre. Lindsay hopes to continue to provide opportunities for himself as well as others to learn, create, and share.
To learn more about Wolf Eye Productions, visit Lindsay's website or Facebook page.
Jenna Marsh and Christine St-Pierre are Communication Officers at Northern Policy Institute.
---
The content of Northern Policy Institute's blog is for general information and use. The views expressed in this blog are those of the author and do not necessarily reflect the opinions of Northern Policy Institute, its Board of Directors or its supporters. The authors take full responsibility for the accuracy and completeness of their respective blog posts. Northern Policy Institute will not be liable for any errors or omissions in this information, nor will Northern Policy Institute be liable for any detriment caused from the display or use of this information. Any links to other websites do not imply endorsement, nor is Northern Policy Institute responsible for the content of the linked websites.
Northern Policy Institute welcomes your feedback and comments. Please keep comments to under 500 words. Any submission that uses profane, derogatory, hateful, or threatening language will not be posted. Please keep your comments on topic and relevant to the subject matter presented in the blog. If you are presenting a rebuttal or counter-argument, please provide your evidence and sources. Northern Policy Institute reserves the right to deny any comments or feedback submitted to www.northernpolicy.ca that do not adhere to these guidelines.
0 Reader Comments