Twiggs Coffee Roasters- Where the bean starts green
November 6, 2019 - A hot steaming cup of coffee is at the start to most people's mornings, but for Twiggs Coffee Roasters location owners, theirs starts with roasting green coffee beans. With several business awards under their belt, several franchise locations and a distribution centre, Twiggs can argue that they serve "the best cup of coffee in Northern Ontario".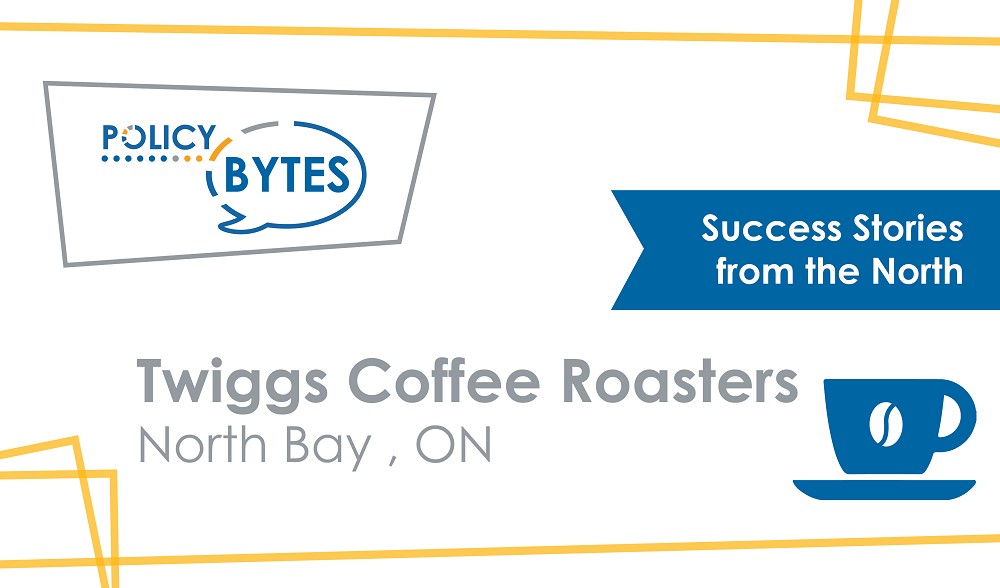 Jennifer Twigg was in British Columbia where she had her first cup of coffee that was roasted onsite and fell in love with the concept. Her and her husband moved to North Bay in 1995 where she opened her own coffee shop to share her love of freshly roasted coffee. Unfortunately, Twiggs Coffee Roasters was ahead of its time as the business struggled for years until the specialty and organic coffee trend reached Ontario. In 2010 Twiggs opened its second location in North Bay. Seven family members are now involved in the business, including all three of Twigg's sons.
What makes Twiggs' coffee different from other coffee shops? "We roast what are actually green coffee beans to the dark bean that we are familiar with. We get the coffee beans straight from the country of origin and we roast in house," said David Russell, owner of Twiggs Coffee Roasters in Sudbury.
A large coffee roaster sits in the front of each location, surprising customers when they realize this equipment was used to brew the cup of coffee they are enjoying. Other than serving coffee and espressos, Twiggs also has a large food and beverage menu ranging from freshly squeezed juices and smoothies to sandwiches, soups, salads, oven roasted pizza, and house baked desserts. "A lot of people that now come to enjoy Twiggs coffee realize that we use it 24-48 hours from roasting and it's a definite taste difference. Once you realize and taste fresh coffee fresh out of the roaster you can't go back," said Jennifer Twigg in a video in 2008.
In 2013, a third location opened in Sturgeon Falls and their largest location can be found in Sudbury which opened in 2017. Over the years Twiggs Coffee Roasters has been the recipient of various business awards including the First Nations Business - Award of Excellence in 2008 and Entrepreneur of the Year in 2019, both from the Northern Ontario Business Awards. Laura Twigg, the daughter-in-law to Jennifer Twigg, was also recognized as one of the Top 40 Under 40 outstanding, up and coming leaders in the North Bay and Nipissing area in 2010. Franchise owners David Russell and Jennifer McElheran from the Sudbury location received the Service Excellence award from the 2019 Bell Business Excellence Awards while Sturgeon Falls owners, Kim and Adam Royer won the Outstanding Small Business of the Year award and the Tourism and Hospitality Award through the West Nipissing Chamber of Commerce in 2019. Adam and Meagan Twigg own and operate the Cartier Street location in North Bay.
With two family owned businesses, and two successful franchises, Twiggs was ready to grow again. On August 30th 2019, Vic Fedeli, Minister of Economic Development, Job Creation and Trade of Ontario, made the announcement that several businesses in North Bay were going to receive a portion of $2.3 million in funding from the Northern Ontario Heritage Fund Corportation. Twiggs Distribution (Twiggs Coffee Roasters) received $347,238 to expand their storage and processing space. This space is being built off HWY 17 and the intention is to help supply the current locations as well as allow for expansion to new franchise locations and to market their coffee in Ontario grocery stores or other coffee shops. Twiggs is expecting another franchise to open at Canadore College in early 2020, while also eyeing up potential locations in Barrie and Parry Sound.
Twiggs currently donates two cents from every cup to OneKidsPlace which is a children's treatment centre in North Bay. Now with the expansions and plans for growth, Twiggs will be creating a family foundation so Twiggs can contribute to other entities as well as OneKidsPlace.
This small Northern Ontario business had a rough start, but 25 years later continues to grow into a successful family owned business and franchise opportunity. The next time you are having a cup of coffee, taste the success with a cup of freshly roasted coffee from Twiggs.
Evelynn Hoffman is the Communications Officer at NPI.
---
The content of Northern Policy Institute's blog is for general information and use. The views expressed in this blog are those of the author and do not necessarily reflect the opinions of Northern Policy Institute, its Board of Directors or its supporters. The authors take full responsibility for the accuracy and completeness of their respective blog posts. Northern Policy Institute will not be liable for any errors or omissions in this information, nor will Northern Policy Institute be liable for any detriment caused from the display or use of this information. Any links to other websites do not imply endorsement, nor is Northern Policy Institute responsible for the content of the linked websites.
Northern Policy Institute welcomes your feedback and comments. Please keep comments to under 500 words. Any submission that uses profane, derogatory, hateful, or threatening language will not be posted. Please keep your comments on topic and relevant to the subject matter presented in the blog. If you are presenting a rebuttal or counter-argument, please provide your evidence and sources. Northern Policy Institute reserves the right to deny any comments or feedback submitted to www.northernpolicy.ca that do not adhere to these guidelines.
0 Reader Comments