Tribal Council Participation: An Opportunity for FONOM & NOMA?
February 26, 2018 - As I watched last year's State of the North conference hosted by Northern Policy Institute, I was interested in a comment made by Jonathan Solomon, Grand Chief of Mushkegowuk Tribal Council. He said, "I see no reason why Mushkegowuk doesn't have a seat at the Northeastern Ontario Municipal Association". This made me stop and wonder, are municipal organizations like FONOM and NOMA missing out on an opportunity to work more closely with our Indigenous communities in promoting advancement and development for Northern Ontarians?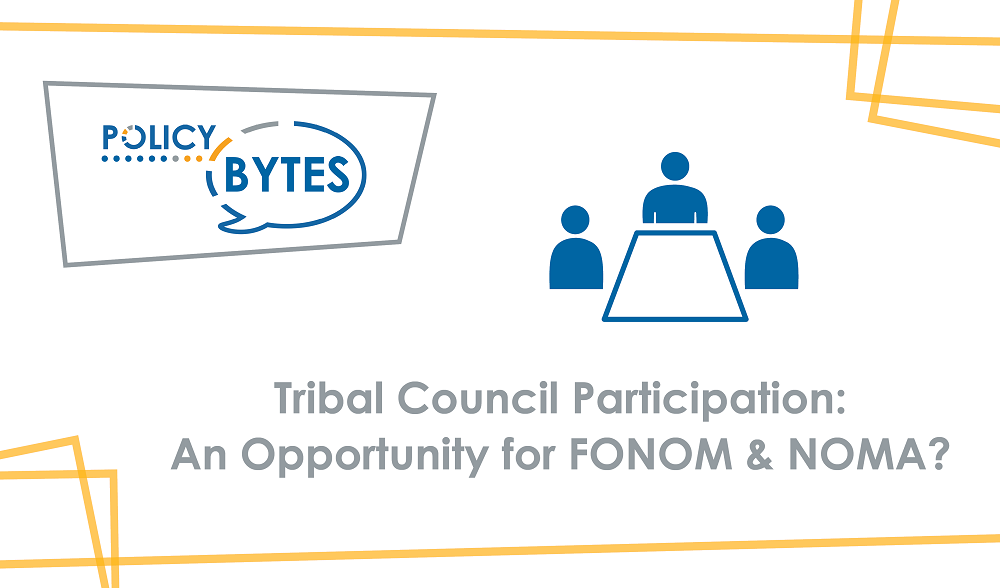 If we look at demographic data on Ontario's ern regions, Inuit, Metis and First Nations people comprise a large and growing population in our districts. While statistics currently show Indigenous peoples are between 13-16 per cent of the overall Northern Ontario population, this number will rise to 25 per cent within the next generation. While Ontario already comprises the second largest number of Indigenous communities across Canada at 134, our northern regions are home to the vast majority of these communities, 105. The question becomes, could the inclusion of Indigenous political leaders in regional forums such as the Federation of Northern Ontario Municipalities and the Northwestern Ontario Municipal Association strengthen our collective capacity, deepen our knowledge base and provide a wider spectrum of perspectives on issues we all care about?
Before we get caught up in discussions involving jurisdictional division of powers, consider this. There is precedent for this type of Indigenous participation in regional affairs. The Arctic Council is an intergovernmental forum comprised of the 8 circumpolar arctic nations. This multilateral organization works across national interests in order to facilitate scientific research, promote cooperation and influence international policy on arctic affairs. Since 1994, it has also included the permanent participation of Indigenous communities in these globally significant dialogues. Today, 6 Indigenous organizations act as permanent participants on the council, representing over 500,000 Indigenous peoples out of the 4 million who reside in the Arctic latitudes. These 6 permanent participants have full consultation and speaking rights, which means that Indigenous peoples help to shape international research and policies for the Arctic region.
These 6 permanent participants are not Westphalia nation-states like the 8 countries of the Arctic Circle. However, their inclusion underlies a recognition that Indigenous peoples perspectives and knowledge on Arctic affairs stemming from generations of residency and living experience is not only valuable when formulating international public policy, it's necessary in a time of increasingly changing climate patterns.
While Northern Ontario may face different realities than those in our circumpolar regions, certainly our land base, demographics and unique regional position can support experimental and innovative approaches to governance. Currently, FONOM advocates on behalf of cities, towns and townships located within the seven districts of Northeastern Ontario- Algoma, Cochrane, Manitoulin, Nipissing, Parry Sound, Sudbury and Timiskaming. On the Northwestern side, NOMA represents the Kenora, Rainy River and Thunder Bay Districts as well as the City of Thunder Bay. Between the eleven districts represented through these two organizations there are also at least seventeen Indigenous Tribal Councils whose perspectives are not voiced through these regional forums. It is not unrealistic to say that through the inclusion of these Tribal Councils, the quality of representative voices across Northwest and Northeast Ontario could be strengthened.
Over the past few years Canadians have heard political leaders speak of a renewed commitment towards nation-to-nation relationship building. There is widespread recognition that reconciliation involves a commitment to having meaningful input by Indigenous peoples in decision-making processes. By reaching out to Indigenous Tribal Councils and engaging them in regional dialogues, Northern Ontario political leaders could initiate an innovative exercise in governance while increasing our capacity to take a leading role in socio-economic affairs.
Kathleen Baker is a Research Analyst Intern at Northern Policy Institute.
---
The content of Northern Policy Institute's blog is for general information and use. The views expressed in this blog are those of the author and do not necessarily reflect the opinions of Northern Policy Institute, its Board of Directors or its supporters. The authors take full responsibility for the accuracy and completeness of their respective blog posts. Northern Policy Institute will not be liable for any errors or omissions in this information, nor will Northern Policy Institute be liable for any detriment caused from the display or use of this information. Any links to other websites do not imply endorsement, nor is Northern Policy Institute responsible for the content of the linked websites.
Northern Policy Institute welcomes your feedback and comments. Please keep comments to under 500 words. Any submission that uses profane, derogatory, hateful, or threatening language will not be posted. Please keep your comments on topic and relevant to the subject matter presented in the blog. If you are presenting a rebuttal or counter-argument, please provide your evidence and sources. Northern Policy Institute reserves the right to deny any comments or feedback submitted to www.northernpolicy.ca that do not adhere to these guidelines.
0 Reader Comments