May 1, 2019 - Thornloe Cheese Inc., has produced a respected brand of cheese products in Northern Ontario for over 75 years! Their secret to success is old-fashioned cheese making techniques and fresh milk produced in Temiskaming Shores' unique agricultural area.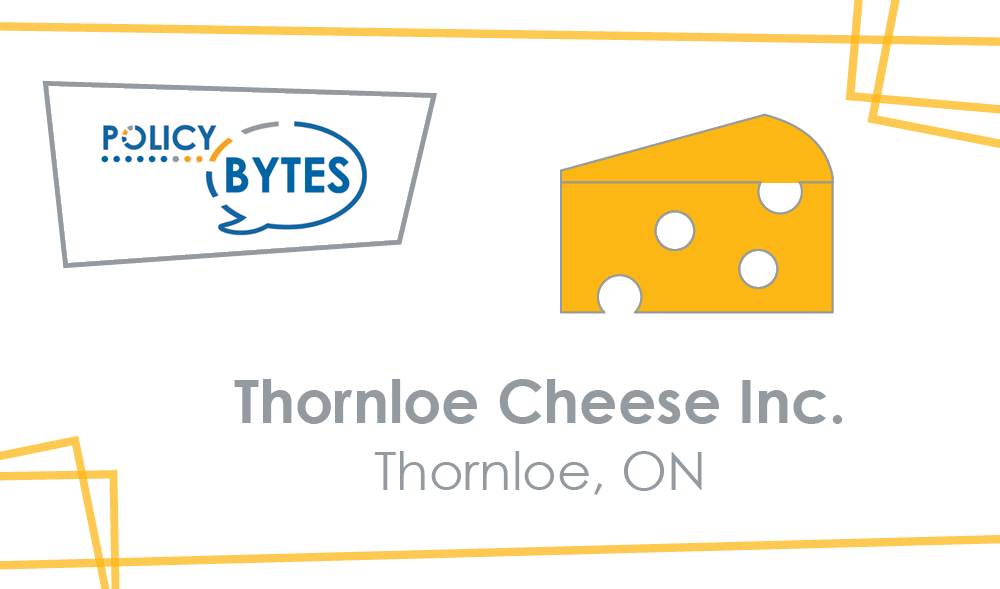 Thornloe Cheese Inc., is proudly 100% Canadian, 100% farmer-owned and operates with family values in the heart of the Temiskaming Valley. Since 1940 when Rene Laframboise took a leap of faith and opened the first cheese plant in the town of Thornloe, the company is still producing high-quality products years later.
After several changes in ownership and almost shutting down in 2006, dairy farmers in the area looked for ways to save the Thornloe Cheese plant. Gencor, a farmer-directed artificial insemination cooperative located in Southwestern Ontario, was approached to look at the possibility of purchasing the plant. In January 2007, Gencor formally announced the acquisition of Thornloe Cheese. In 2007, the company adopted a fresh look, launching an all-new logo and marketing campaign. In 2011 Gencor merged with Eastern Breeders Inc. of Kemptville, forming EastGen. EastGen is now the proud owner of Thornloe Cheese.
Over the years, Thornloe Cheese has become a popular attraction for travelers hungry for cheese, cheese curds, and ice cream. In fact, a total of over 3 million litres of milk runs through this popular tourist attraction every year. As a part of this production, the company has developed new cheeses for the Canadian ethnic market and Canada's emerging functional food market. These efforts have increased production in the plant as well as the products available to consumers across Canada. However, the plant still remains an outlet for local dairy producers who wish to ship to a Northern Ontario location.
Winner of multiple awards, they recently came in first for their butter in the innovative category at the Royal Winter Agricultural Fair, and Grand Champion overall in the Butter category. The product succeeded over other butters from across Canada. "Thornloe Cheese is the first processor in Canada to bring to market a verified grass-fed certified product," said brand ambassador Pam Hamel during an interview with CBC. "We've always wanted to work with the local dairy farmers in Timiskaming and dairy farmers of Ontario to bring to market a first verified product."
In the past six years, sales have nearly tripled. The number of employees has grown from eight to 25, and the plant supports over 40 local dairy operations. Today Thornloe Cheese is more successful than ever.
Thornloe Cheese operates one central retail store in Thornloe and services a wide range of wholesale customers, from retail outlets to food service establishments. Its large variety of heritage style cheddars and new age-specialty products with pure cow and goat milk can be found in establishments in Ontario and Northern Quebec.
Customers call them "The Pride of the North". Indeed, as they continue to produce a quality Northern Heritage Cheese by sourcing local ingredients, employing made-by-hand methods, and paying tribute to the community and landscape, Thornloe Cheese continues to be a great artisanal cheese company.
For more information, visit the Cheese Factory and Store or visit the many retailers who carry their product lines in Northern Ontario!
Christine St-Pierre is the Communications Coordinator at NPI.
---
The content of Northern Policy Institute's blog is for general information and use. The views expressed in this blog are those of the author and do not necessarily reflect the opinions of Northern Policy Institute, its Board of Directors or its supporters. The authors take full responsibility for the accuracy and completeness of their respective blog posts. Northern Policy Institute will not be liable for any errors or omissions in this information, nor will Northern Policy Institute be liable for any detriment caused from the display or use of this information. Any links to other websites do not imply endorsement, nor is Northern Policy Institute responsible for the content of the linked websites.
Northern Policy Institute welcomes your feedback and comments. Please keep comments to under 500 words. Any submission that uses profane, derogatory, hateful, or threatening language will not be posted. Please keep your comments on topic and relevant to the subject matter presented in the blog. If you are presenting a rebuttal or counter-argument, please provide your evidence and sources. Northern Policy Institute reserves the right to deny any comments or feedback submitted to www.northernpolicy.ca that do not adhere to these guidelines.
0 Reader Comments