The International Student Vibe in Thunder Bay
March 4, 2020 - This blog first appeared in The Walleye Magazine, September issue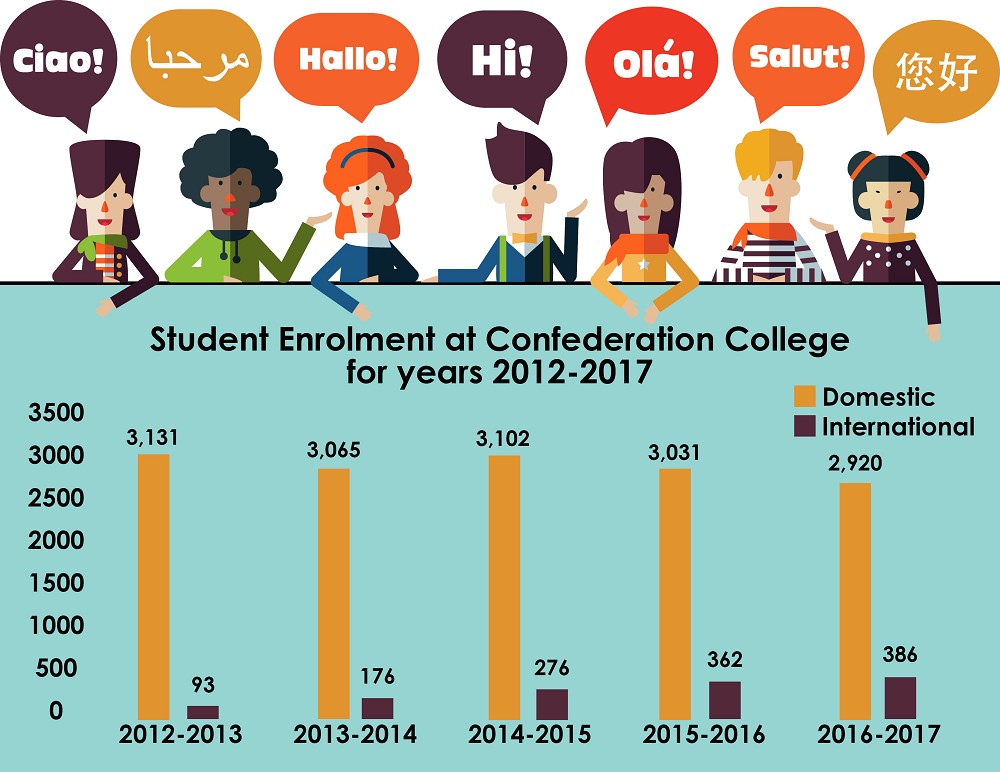 International students can play a vital role as the solution to labour shortages in Canada with their ability to quickly integrate in the job market after their studies as compared to internationally-trained immigrants. Other positive aspects of international students are their large contributions to Canada's economy and the important diversity they add to their communities. Between 2015 and 2016, international students in Ontario contributed to over 6.3 billion of Canada's GDP. Statistics for full-time international students that attend Lakehead University and Confederation College are found below. This data was retrieved from Ontario Open Data Sets, as well as Statistics Canada.
Student Enrolment
Interestingly, the number of international students at Lakehead University and Confederation College increased between 2012 and 2017 by 247% and 315%, respectively. This positive trend is not observed for the domestic student enrolment, which has a decrease by 9% and 7% over the same years at Lakehead and Confederation, respectively.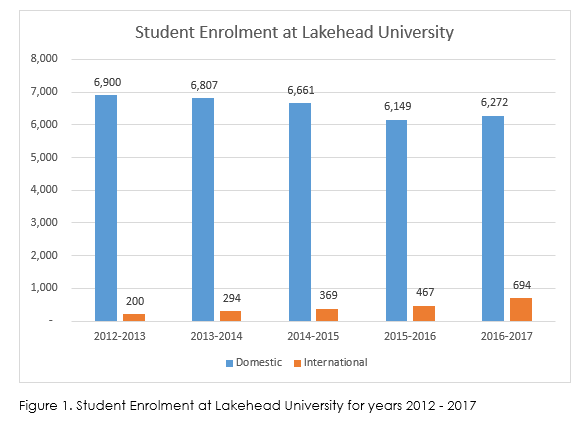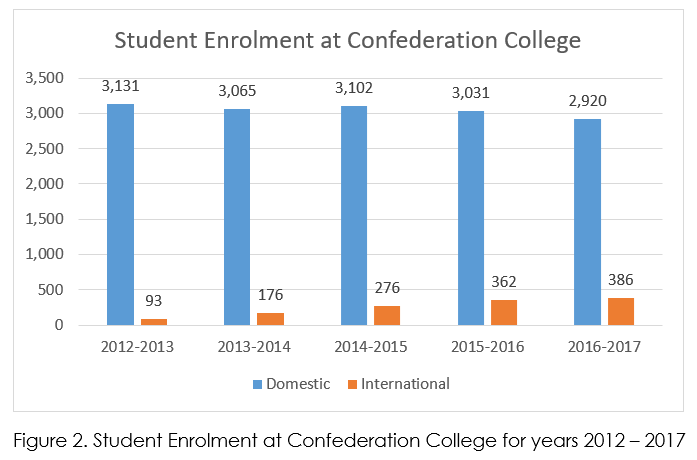 Percentage of International Students
Confederation College had the second largest proportion of its student body as international students with 12% for the school year 2016 – 2017 when comparing to all colleges that have campuses in Northern Ontario. In addition, Confederation had a proportion of international students 3% above the national average – that's something to be proud of! Lakehead University had 10% of its student enrolment as international students in 2016 – 2017, which ranked it third among all the Northern Ontario universities. Université de Hearst and Algoma University both had a higher proportion of international students with 40% and 26%, accordingly.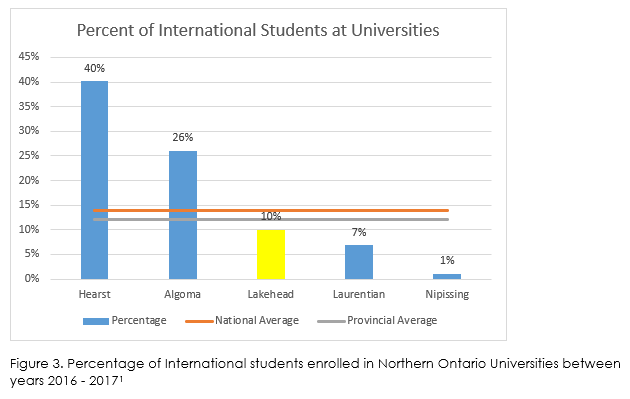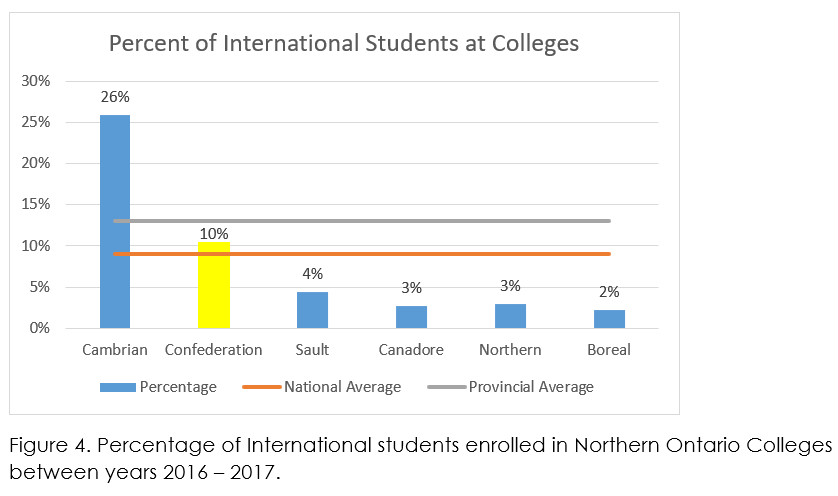 International Students by Country of Origin
It is interesting to analyze the most common countries of origin for international students attending Lakehead University and Confederation College. The top three countries of origin for Lakehead University were China, India and Saudi Arabia for the years 2014 – 2017. For Chinese international students, the enrolment numbers increased from 132 in 2014/2015 to 237 in 2016/2017, which is an 80% growth rate. The number of international students coming from India started as 86 in 2014/2015 and increased to 174 in 2016/2017 – a growth rate of 102%. The growth rate of Saudi students is 279%, jumping from 38 students to144 for the same period, which is the fastest growth rate compared to Chinese and Indian students!
The top three countries of origin for Confederation College were India, China and South Korea for the years 2014 – 2017. For Indian students, the numbers enrolled increased by 55% from 166 students in 2014/2015 to 257 in 2016/2017. There were 27 Chinese and 25 South Korean international students in 2014/2015 at Confederation College. In 2017/2018, there were 55 Chinese students and 20 South Korean students. While the enrolment rate of international students for China grew by 104%, it declined for South Korea by 20%.
[1]

The numbers of international students at certain colleges are likely inflated. Many colleges have secondary campuses for international students that are not located in Northern Ontario. Therefore, it is likely that many of these enrolments are not at Northern Ontario campuses. This is not the case for the universities, however. Northern universities do not have as many satellite campuses.

Maia Kvas and Irina Chen and Hilary Hagar are former Experience North students at NPI.

Thank you to our Experience North Sponsor

---
The content of Northern Policy Institute's blog is for general information and use. The views expressed in this blog are those of the author and do not necessarily reflect the opinions of Northern Policy Institute, its Board of Directors or its supporters. The authors take full responsibility for the accuracy and completeness of their respective blog posts. Northern Policy Institute will not be liable for any errors or omissions in this information, nor will Northern Policy Institute be liable for any detriment caused from the display or use of this information. Any links to other websites do not imply endorsement, nor is Northern Policy Institute responsible for the content of the linked websites.
Northern Policy Institute welcomes your feedback and comments. Please keep comments to under 500 words. Any submission that uses profane, derogatory, hateful, or threatening language will not be posted. Please keep your comments on topic and relevant to the subject matter presented in the blog. If you are presenting a rebuttal or counter-argument, please provide your evidence and sources. Northern Policy Institute reserves the right to deny any comments or feedback submitted to www.northernpolicy.ca that do not adhere to these guidelines.
0 Reader Comments