Temporary work permit holders, a labour source for Ontario's North
August 18, 2020 - As many parts of Ontario begin to re-open, temporary work permit holders are a labour resource employers could turn to. New policies from the federal government help make this possible during the pandemic.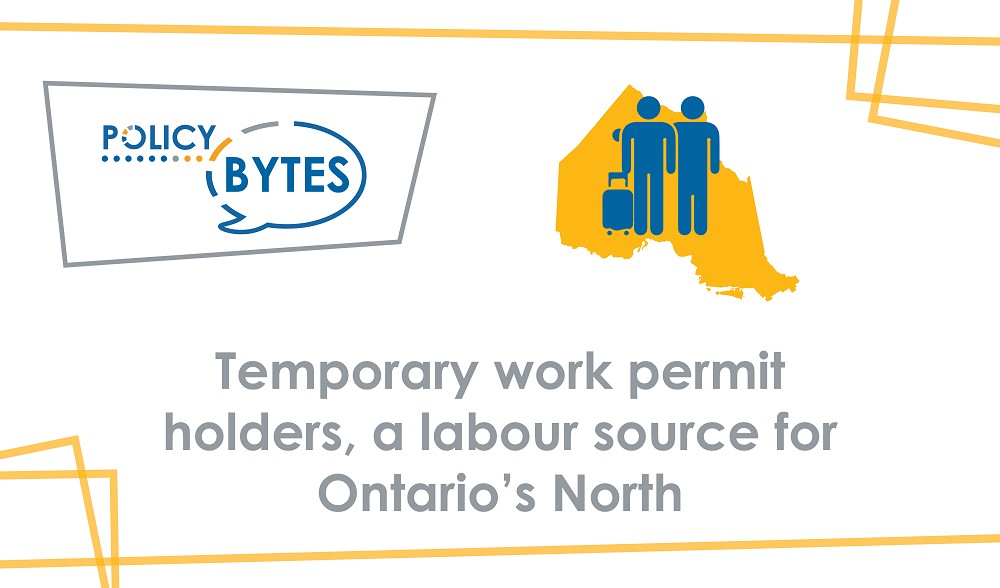 To start, there are two types of work permits – closed work permits and open work permits. Open work permit holders can work for any eligible Canadian employer, even a different employer than the one who initially hired them[1]. However, closed work permit holders are only able to work with the employer specified on their work permit. If this employer had to close their operations during the pandemic, this worker would need a new permit to get another job.
Getting a new work permit can be a time-consuming process. To resolve this obstacle during the pandemic, the Federal government announced a new temporary policy. Instead of waiting the typical 10 weeks for a new work permit, workers can begin a new job while their work permit application is being processed. The timing for issuing a new permit has also been cut down to 10 days or less.
So what could this new policy mean for Northern Ontario?
Recent IRCC data shows that in 2019, over 220 individuals went through the Temporary Foreign Worker Program, a closed work permit program, to come to Northern Ontario. Most went to the Algoma, Greater Sudbury, and Kenora districts – 35 individuals each (figure 1).
Figure 1: Number of workers in Temporary Foreign Worker Program by Census District, 2019[2]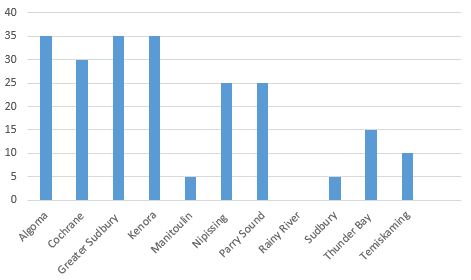 Source: data privately requested from IRCC
All districts, with the exception of Manitoulin, saw some temporary workers came in the month of January 2020 – just weeks before the pandemic disrupted life in Canada. In fact, a total of 175 workers were granted temporary work permits for Ontario's north in January. Most of these individuals came through the International Mobility Program, which may have closed or open work permits[3].
So it appears that most districts in Northern Ontario could stand to benefit from this temporary policy if foreign workers with closed permits have be laid off.
That being said, Algoma, Greater Sudbury, and Thunder Bay districts have dramatically higher numbers of study permit holders[4]. Combined, these three districts saw nearly 400 study permit holders in January 2020. The federal government has also made temporary concessions for international students which will be helpful to employers in Northern Ontario.
International students who are enrolled full-time are able to work on-and off-campus without a work permit. Typically, international students can work up to 20 hours a week during school terms and full-time hours during scheduled breaks such as summer holidays. At the end of April 2020, the Canadian government announced that international students on school terms who work in an essential service or function could work more than the 20 hours per week. This will remain in effect until the end of August 2020. The federal government has also stated that international students who were forced to study online, reduce their studies to part-time, or take a break from their studies completely due to the pandemic are allowed to continue working on- or off- campus.
The Canadian government has also announced measures to allow international students to meet potential labour deficiencies in the next few years. Foreign students starting a program in 2020 through online mediums from abroad will still be eligible for a Post Graduate Work Permit (PGWP), provided they complete at least 50% of their program in Canada. As well, students won't have time deducted from the length of their PGWP as a result of starting online.
Of course, many Canadians in Northern Ontario have faced job loss. As an example, Thunder Bay was the third hardest-hit city in the province to be impacted by pandemic related job loss from February to May. The northwestern city saw a 15.2 per cent decline in employment, with job losses in all major sectors. However, the joblessness situation in Canada may be improving. A recent report from Statistics Canada shows that employment levels have been rising in June 2020. This is particularly true in the sectors of education, healthcare and social assistance.
Employers in need of workers during the pandemic and in its wake should know options are available. Thanks to new temporary federal policies, they can quickly hire temporary foreign workers and international students already in Canada. Hiring and re-hiring both domestic and foreign workers will be important for sustaining economies during the pandemic and in Northern Ontario's recovery.
[1] However, some open work permits limit the occupation or geographical area in which a worker can work.
[2] Rainy River district did have some workers get work permits through the TFWP in 2019. However, because this value is between 0 and 5, the number is kept confidential for privacy reasons.
[3] Though it is not possible to tell from this data which of these permits are open and which are employer-specific
[4] However, the total unique count may not equal the sum of permit holders as an individual may hold more than one type of permit over a given period
Hilary Hagar is a Research Analyst at NPI
---
The content of Northern Policy Institute's blog is for general information and use. The views expressed in this blog are those of the author and do not necessarily reflect the opinions of Northern Policy Institute, its Board of Directors or its supporters. The authors take full responsibility for the accuracy and completeness of their respective blog posts. Northern Policy Institute will not be liable for any errors or omissions in this information, nor will Northern Policy Institute be liable for any detriment caused from the display or use of this information. Any links to other websites do not imply endorsement, nor is Northern Policy Institute responsible for the content of the linked websites.
Northern Policy Institute welcomes your feedback and comments. Please keep comments to under 500 words. Any submission that uses profane, derogatory, hateful, or threatening language will not be posted. Please keep your comments on topic and relevant to the subject matter presented in the blog. If you are presenting a rebuttal or counter-argument, please provide your evidence and sources. Northern Policy Institute reserves the right to deny any comments or feedback submitted to www.northernpolicy.ca that do not adhere to these guidelines.
1 Reader Comments
Number of work permit holders

Posted By Victor Mendez on 12/3/2020 1:12:24 PM

Hello Hilary,

Thank you for putting this post together. It shines a bright light on the current situation for temporary WP holders in Northern Ontario.

I was wondering where did you source your data from. I am working on a study of how many work permits are currently valid in Ontario and can't find a reliable data source.

I would love if you could help me with this. Looking forward to a response.

Thank you.

Thank you for your question