Road Trippin' By the Numbers
June 25, 2019 - This blog first appeared in the September edition of The Walleye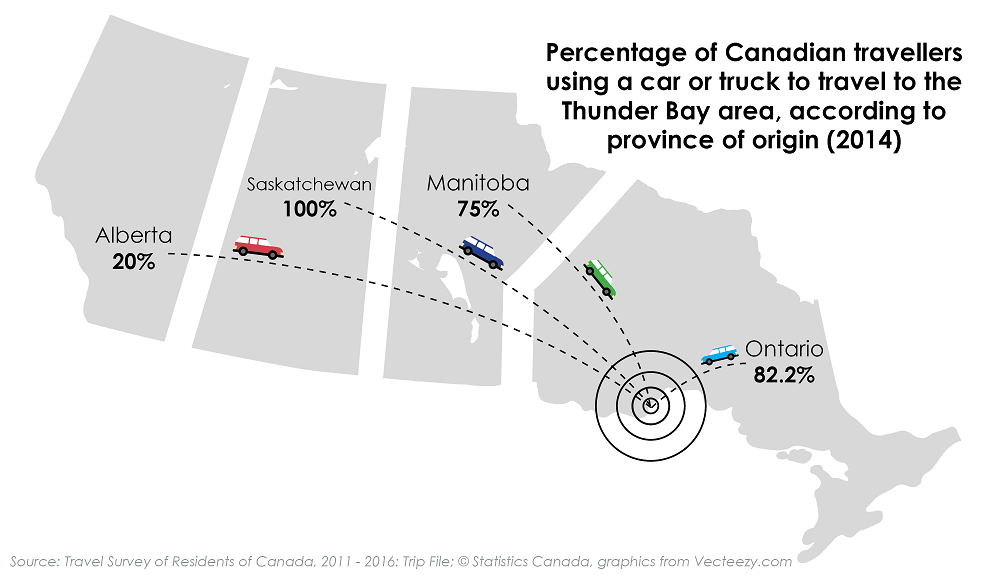 For those of us who live in Northern Ontario, taking long road trips is just in our DNA. We've grown up in an environment where eight hour trips along Highway 17 are 'nothing', and adventures on off-beaten dirt roads are our version of wanderlust.
With all of the beauty that surrounds Northwestern Ontario, it's no wonder that those outside of the region are also packing up their motor vehicles and heading to Ontario's North.
Private vehicle use was the number one main mode of transport among all international visitors to the Northwest Ontario tourism region in 2015, at 78.2 per cent use.
When it came to our friends to the south, 85 per cent of all American visitors used rented or personal automobiles as their main mode of transportation while in the tourism region of Northwestern Ontario. The usage rate in 2011 was much lower, although still the most highly reported among other main modes of transportation.
Looking inwards, approximately 80 per cent of Canadians who responded to the Travel Survey of Residents used a car or truck as their main mode of transportation to the Census Metropolitan Area of Thunder Bay in 2016 – slightly lower than in 2011 and 2014.
Interestingly, respondents whose main trip reason was for visiting friends and family used commercial planes at almost twice the rate as those visiting Northwestern Ontario for leisure. Since 2011, visitors for leisure consistently use a car or truck more than visitors to friends and family as well as by a larger margin compared to commercial airplane use.
Not surprisingly, business trips other than conferences, convention or trade shows are the leading reason for using commercial flights.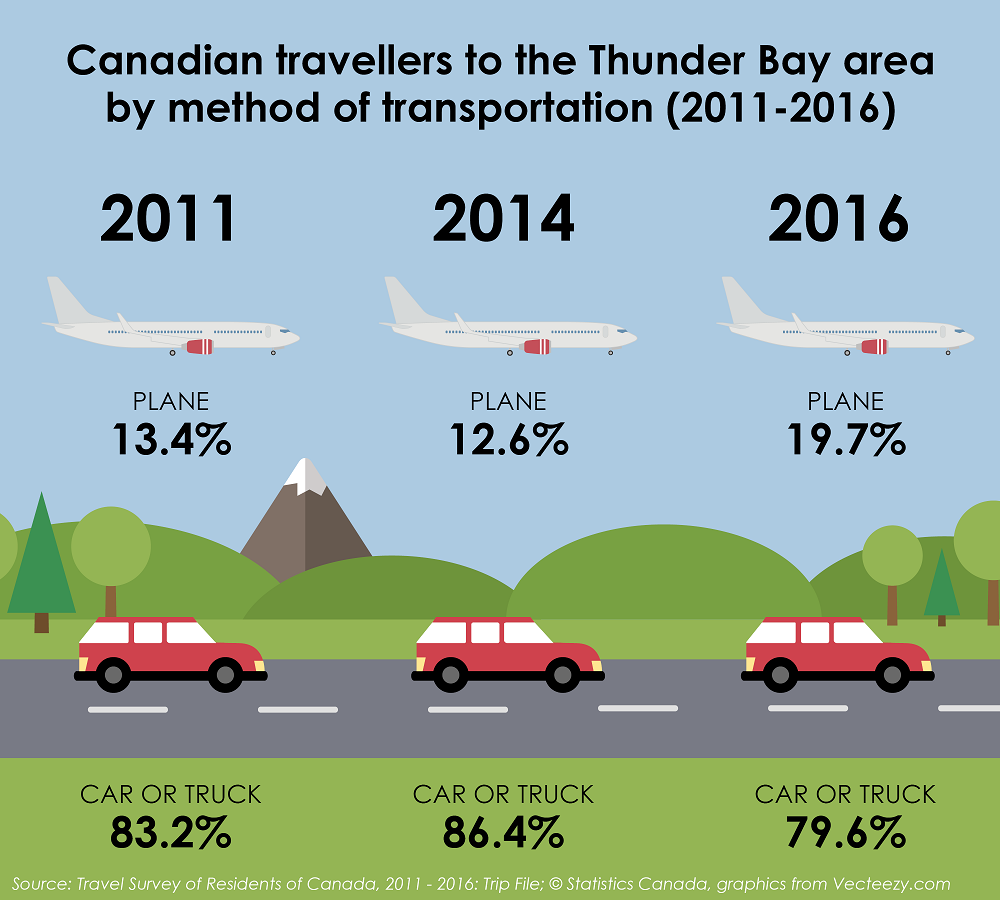 Of visitors originating from Ontario to the Thunder Bay region in 2014, approximately 82 per cent used a car or truck as their main mode of transportation. Over the last five years, while the percentage of total Ontarian travelers to the region remains relatively steady with a slight decline, the usage of car or truck as a main form of transport is increasing in this visitor population.
In the same year, 75 per cent of respondents coming from Manitoba used a car or truck as their main mode of transport. Manitoba has consistently been the second highest visiting market to the Thunder Bay area – and while a slight decline in overall visitation was observed, the rates of car or truck as a main form of transport has increased.
*data to be used with caution.
Myfannwy Pope was an Experience North Summer Placement at NPI during the summer of 2018.
---
The content of Northern Policy Institute's blog is for general information and use. The views expressed in this blog are those of the author and do not necessarily reflect the opinions of Northern Policy Institute, its Board of Directors or its supporters. The authors take full responsibility for the accuracy and completeness of their respective blog posts. Northern Policy Institute will not be liable for any errors or omissions in this information, nor will Northern Policy Institute be liable for any detriment caused from the display or use of this information. Any links to other websites do not imply endorsement, nor is Northern Policy Institute responsible for the content of the linked websites.
Northern Policy Institute welcomes your feedback and comments. Please keep comments to under 500 words. Any submission that uses profane, derogatory, hateful, or threatening language will not be posted. Please keep your comments on topic and relevant to the subject matter presented in the blog. If you are presenting a rebuttal or counter-argument, please provide your evidence and sources. Northern Policy Institute reserves the right to deny any comments or feedback submitted to www.northernpolicy.ca that do not adhere to these guidelines.
0 Reader Comments