July 30, 2018 - An internationally known LGBTQ2+ (Lesbian, Gay, Bisexual, Transgender, Queer, 2-Spirited) Summer Camp is changing lives … and it is located in a small Northern Ontario town, just 40 minutes north east of Sault Ste. Marie.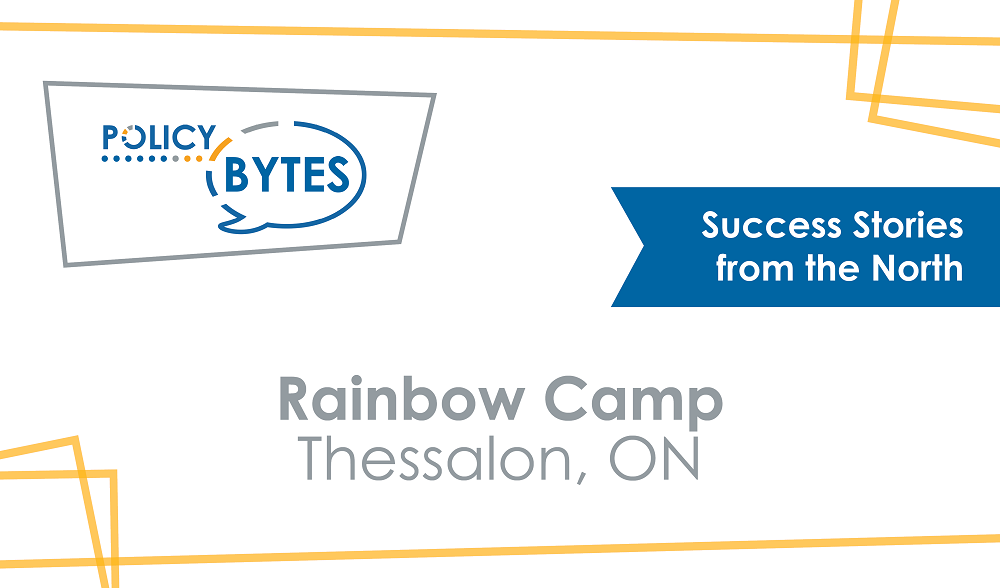 Rainbow Camp, founded in 2012 by Thessalon Native Harry Stewart, is a summer camp aimed at creating a safe space for LGBTQ2+ youth across Canada and the USA. The summer camp has reached full capacity the past few years and continues to grow, providing a life-changing experience for staff, campers and volunteers. The camp provides opportunities for young adults (age 12-17) to make new friends and develop skills through traditional camp programming and an innovative curriculum.
The camp is one-of-a-kind in North America as it is one of the only LGBTQ2+ camps that is not focused solely on leadership development. The day-to-day operations are just like any other summer camp, including activities such as outdoor games, crafts, swimming, films, dances and of course ending each day with a campfire and songs. These activities are mixed with different workshops each day covering topics such as Exploring Identity, Queer and Sexual Health, Human Rights and more. These workshops allow the youth to openly talk with each other about their stories and learn from their counsellor.
The camp also tries to match one-to-one counsellor to camper – so, if there are 35 campers attending camp for a week, there will be 35 counsellors and volunteers on site in order to provide the best individual support they can.
Rainbow Camp leaves the youth who visit empowered and inspired. Lillith, a 13 year old camper, states in a CBC video that, "Here… it's the norm to be whoever you are and however you want to express yourself … when I leave, I feel like I can be more like myself in public. I can express myself in a lot more ways [than before I arrived]."
Rainbow Camp offers a second two-week program, Leaders in Training, for 17 and 18-year-olds that provides training with the end goal of allowing participants to assist younger campers with the support of counsellors.
In order for a summer camp to operate, they need money. As a non-profit organization, Welcome Friend Association and Rainbow Camp relies on fundraising assistance in order to continue running. It costs approximately $1,500 per person to attend summer camp for a week. The staff at Rainbow Camp realize that sometimes, families face barriers, which is why they only charge campers a small portion of that $1,500 fee. The camp offers a sponsorship service for Canadian campers who will face high travel costs. Spots are also reserved for children in foster care and more.
The combination of counsellor, travel, food, supplies etc. costs the association approximately $50,000 per week, per summer. Currently, the camp does not meet eligibility requirements of large grants due to the short running time period. The camp relies strictly on private and business donations, foundations, fundraising events and endorsements in order to cover the costs each summer.
This small-town Northern Ontario camp has made a statement and is endorsed by many celebrities including actor and comedian Colin Mochrie and wife, actress Debra McGrath (who have a transgender child themselves), Canadian talk show host Rick Mercer and star of TLC's hit show "I am Jazz", Jazz Jennings.
"It is amazing to have spokespeople like Colin and Deb" says Harry. "They recently held a fundraiser in downtown Toronto to a sellout crowd (where over 1,200 people attended). I love seeing that people from Toronto are supporting our Northern Ontario camp."
How it began:
Rainbow Camp started when a Northern Ontario group dedicated to education and resources for the LGBTQ2+ community and beyond, Welcome Friend Association, decided to meet with faith groups for information sessions. The information sessions were separated between Welcome Friend Association and faith groups, however they would gather and network with each other during lunch breaks.
Harry noticed that not a lot of younger people were participating in these sessions. This is when he went to his board of directors and pitched the idea of "Rainbow Camp" – a summer camp that would provide LGBTQ2+ youth with a sense of community, allowing them to feel safe and a part of something. Harry and his team began their research by attending a similar camp in Seattle.
In 2012, the first year of the camp had a total of 12 campers. Now, six years later, there are 100+ campers attending over a three week span. Harry states that the participation rate grew mostly through word-of-mouth from the kids and their families and continues to grow even larger with the power of social media.
To learn more about Rainbow Camp or the Welcome Friend Association you can check out their website here. To donate and help send a kid to camp, click here.
For any other information, you can contact Harry Stewart at hstewart@welcomefriend.ca or Chris Southin at csouthin@welcomefriend.ca
Other Resources:

Jenna Marsh is a Communications Officer for Northern Policy Institute. An independent social and economic think tank based here in Northern Ontario. This article first appeared in Northern Policy Institute's monthly newsletter.

---
The content of Northern Policy Institute's blog is for general information and use. The views expressed in this blog are those of the author and do not necessarily reflect the opinions of Northern Policy Institute, its Board of Directors or its supporters. The authors take full responsibility for the accuracy and completeness of their respective blog posts. Northern Policy Institute will not be liable for any errors or omissions in this information, nor will Northern Policy Institute be liable for any detriment caused from the display or use of this information. Any links to other websites do not imply endorsement, nor is Northern Policy Institute responsible for the content of the linked websites.
Northern Policy Institute welcomes your feedback and comments. Please keep comments to under 500 words. Any submission that uses profane, derogatory, hateful, or threatening language will not be posted. Please keep your comments on topic and relevant to the subject matter presented in the blog. If you are presenting a rebuttal or counter-argument, please provide your evidence and sources. Northern Policy Institute reserves the right to deny any comments or feedback submitted to www.northernpolicy.ca that do not adhere to these guidelines.
0 Reader Comments