Putting the Economy on Ice
October 27, 2020 - In Ontario, well known national sports teams are most commonly found in Southern Ontario such as the Toronto Blue Jays, Ottawa Senators, Hamilton Tiger-Cats and the Toronto Raptors. Many successful athletes move to southern Ontario to join these teams by default of not having options in the North. But there is one sport that has a national 'Northern Ontario' team. It is curling!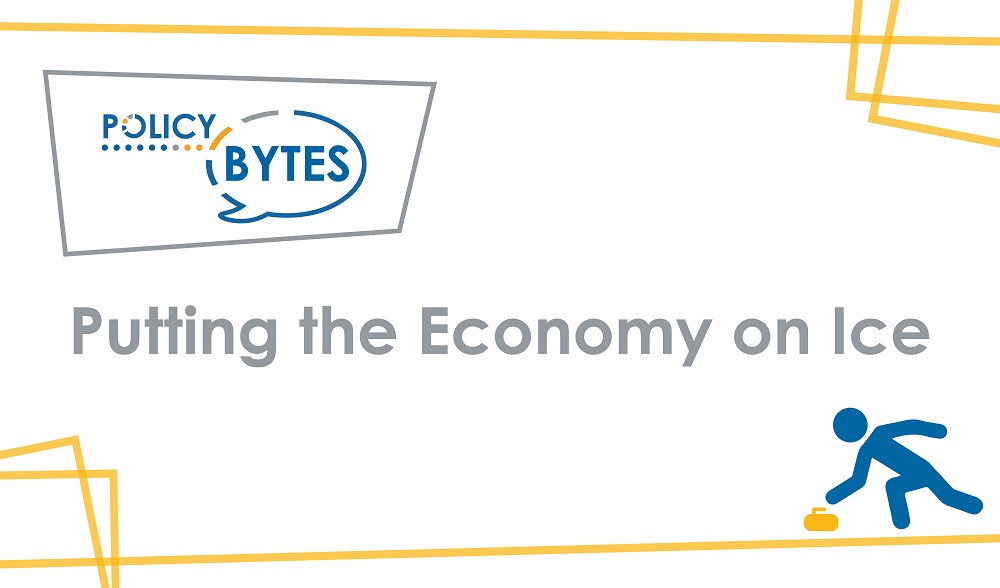 COVID-19 has changed our relationship with sports. What once was an event with thousands of fans in attendance, sports teams are now competing in empty stadiums and fans are forced to stream the game to their living rooms. There is still hope that fans will be able to return to their seats in the stadiums in 2021, generating the needed economic impacts to recover from COVID-19. This blog explores the economic impacts of curling in Northern Ontario and why we are well situated to expand that impact.
Over the past couple of years, several national curling events were hosted in Northern Ontario such as the 2018 Ford Worlds Women's Championships and the 2019 Pinty's Grand Slam of Curling, both held in the City of North Bay. Curling Canada has announced that Sudbury will be hosting the 2020 U-18 Nationals[i], Thunder Bay will be hosting the 2021 Scotties Tournament of Hearts, and Kenora will be hosting the 2021 Men's and Scotties Provincial Championships. All the events listed above are expected to bring tourists and spin-off spending to the host community while promoting that community as a travel destination on the national stage.
We are big enough to host
When comparing the population of past event host communities to the population of selected Northern Ontario communities, the data suggests that there are communities in the North that are large enough to host these types of events when we are allowed to invite fans back to the arena. With the exception of some Tim Horton's Brier tournaments, all recent events have been hosted in communities that are either the population of Sudbury or smaller. It is reasonable to assume that communities with similar population levels have similar levels of infrastructure and services (hotels, restaurants and other services). We don't need a Maple Leaf Gardens or a Chateau Laurier to host a Pinty's Grand Slam.
Table 1: Population Sizes of Communities from Past Tournaments

Source: Census Profile, 2016 Census
For a community to host a national event a bid must be placed to Curling Canada. The type of event determines the minimum bid. In-kind donations and budget relief items can also be included in a bid. Curling Canada also has to be confident that the event will be financially successful with civic and provincial support.
Table 2: Bid details for Scotties and Brier tournaments

Out of the larger communities in Northern Ontario, the only ones that could not host a national event are Timmins and Kenora as their event centers are not large enough. They can, however, host smaller events like the U-21 or adult provincial championships as Longlac (population 2,000) has done and which Kenora is doing in 2021.
Besides national and provincial events, there is also the Pinty's Grand Slam of Curling (GSOC). This is an international event with the top national and international teams. The GSOC is a tour that consists of six competitions (Masters, Tour Challenge, National, Open, Player's Championship, and the Champions Cup) located across Canada. This event is not run by Curling Canada, instead it is owned and operated by Sportsnet. Below are the population of past communities as well as the requirements for hosting a GSOC event. The 2019 Grand Slam held in North Bay was estimated to have had an economic impact of about $4 million in the community and raised $2,000 to support the Cancer Care Close to Home Campaign.
Table 3: Community Populations for Previous Pinty's Grand Slam of Curling Tournaments

Source: Census Profile, 2016 Census
Table 4: Pinty's Grand Slam of Curling Event Hosting Requirements

Source: Pinty's Grand Slam of Curling Hosting Opportunity Presentation
Affordability
The Canadian Sport Tourism Alliance analyzes sporting events and calculates the economic development that is tied to a specific event. Below are their findings for total operational expenses for the Scotties Tournament of Hearts in 2018 and 2019 as well as the 2019 Tim Horton's Brier. According to Curling Canada, Thunder Bay and Curling Canada will be spending totals similar to previous Scotties for their 2021 Scotties Tournament of Hearts.
Table 5: Operational and Capital Expenditures for Past Scotties and Brier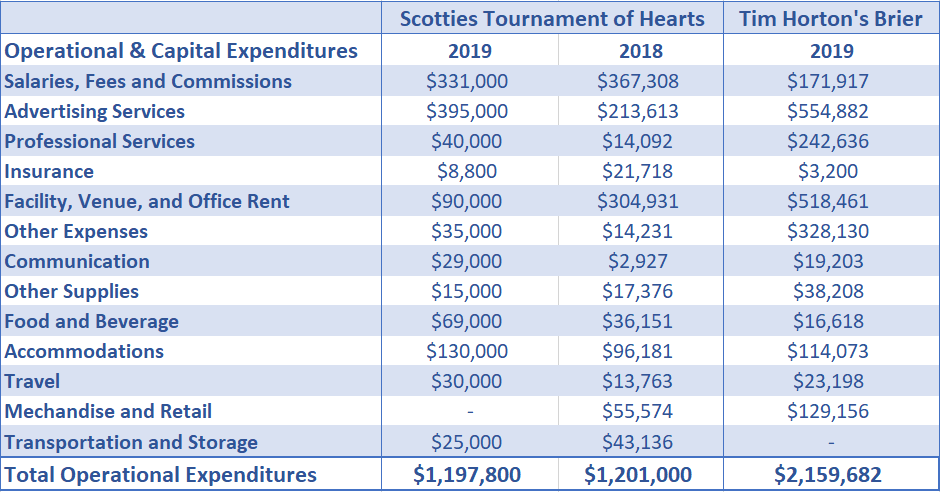 Source: Canadian Sport Tourism Economic Impact Assessment 2019 Scotties Tournament Of Hearts | Sydney, NS, the Canadian Sport Tourism Economic Impact Assessment 2018 Scotties Tournament Of Hearts | Penticton, BC and the Canadian Sport Tourism Economic Assessment 2019 Tim Horton's Brier | Brandon, MB
The events have an impact
Below is the impact that major curling events had on the host communities, province and country economically. According to data acquired by the Canadian Sport Tourism Alliance, the Scotties Tournament of Hearts economic impact assessment varies on location at a minimum of $6 to $10 million, and the 2019 Tim Horton's Brier is estimated at $8 to $15 million. The host community application forms for both events states "visitor expenditures, combined with the operational expenditures and revenues of the host committee, members of the media, and others, contribute to a net increase in economic activity throughout the host Province." As the host for the 2021 Scotties Tournament of Hearts, Thunder Bay is expected to generate similar numbers.
Table 6: Economic Impact for Past Scotties and Brier Tournaments

Source: Canadian Sport Tourism Economic Impact Assessment 2019 Scotties Tournament Of Hearts | Sydney, NS, the Canadian Sport Tourism Economic Impact Assessment 2018 Scotties Tournament Of Hearts | Penticton, BC and the Canadian Sport Tourism Economic Assessment 2019 Tim Horton's Brier | Brandon, MB
Recommendations
Chasing a Tim Horton's Brier might be an exciting idea, it is the most watched competition in Canada after all. The economic impact of hosting the Brier is, however, very similar to that of hosting the Scotties but the Brier requires a larger facility that can seat a minimum of 6,000 people and demands the highest bid amount from host communities. This may be why it is traditionally held in larger communities. The last time this event was held in Northern Ontario was in 1990 in Sault Ste. Marie.
On the other hand, the Scotties Tournament of Hearts is usually held in smaller communities that are similar in population size to Northern Ontario. The last time this event was held in Northern Ontario was in 1996 in Thunder Bay. This event is more manageable for Northern communities to host as the facility only needs a capacity of minimum 3,500 people.
The most favorable event for Northern Ontario communities to continue to host are the Pinty's Grand Slam of Curling events. The event was hosted in 2019 by the City of North Bay, in 2018 by the City of Thunder Bay, and in 2017 and 2016 by the City of Sault Ste. Marie.
As this is a tour with six competitions, there are more events that can possibly be held in Northern communities. The bid amount is very low compared to the other competitions while still hosting the same popular national teams as it is closely tied to the qualifying process for the Olympic Winter Games. It also includes international teams.
They also encourage local sponsorship opportunities as well as local fundraiser opportunities compared to Curling Canada whose local sponsorship opportunities have stricter regulations. There is also the Junior Grand Slam of Curling and Future Rockstars program that allow local youth teams to be coached by these world athletes and curl on national level competition ice. Due to the local opportunities that the Pinty's GSOC offers and the economic impact on the host community, Northern communities can gain more by hosting a GSOC event.
Sports might seem to be at a standstill right now, but progress is being made to get teams and fans back on the ice. Curling Canada and the Northern Ontario Curling Association have developed return to play guidelines to assist local clubs in re-opening. Some of the physical distancing adjustments include things like eliminating the pre-game handshake, only allowing one sweeper and assigned waiting spots for teammates when the other team is throwing. Curling was already a low-contact sport between team and team-mates, so only slight adjustments are needed. These new guidelines are allowing many clubs to begin preparations to open this fall, so hopefully larger curling events will follow soon after. For now, when are able to do so again hosting any curling event will be a step in the right direction as we continue to put Northern Ontario on the international sport scene.
[i]

Events have been cancelled due to the COVID-19 pandemic in March of 2020.
Evelynn Hoffman is the Outreach and Development Officer at NPI.
---
The content of Northern Policy Institute's blog is for general information and use. The views expressed in this blog are those of the author and do not necessarily reflect the opinions of Northern Policy Institute, its Board of Directors or its supporters. The authors take full responsibility for the accuracy and completeness of their respective blog posts. Northern Policy Institute will not be liable for any errors or omissions in this information, nor will Northern Policy Institute be liable for any detriment caused from the display or use of this information. Any links to other websites do not imply endorsement, nor is Northern Policy Institute responsible for the content of the linked websites.
Northern Policy Institute welcomes your feedback and comments. Please keep comments to under 500 words. Any submission that uses profane, derogatory, hateful, or threatening language will not be posted. Please keep your comments on topic and relevant to the subject matter presented in the blog. If you are presenting a rebuttal or counter-argument, please provide your evidence and sources. Northern Policy Institute reserves the right to deny any comments or feedback submitted to www.northernpolicy.ca that do not adhere to these guidelines.
0 Reader Comments