Progress and Pitfalls: Treating Northern Ontario's Opioid Crisis
September 10 , 2019 - The opioid crisis has been affecting communities throughout Canada for years. Many communities have felt the consequences, and it continues to pose major policy challenges for each level of government. The crisis has shown no signs of slowing down in Ontario, with opioid use disorders increasing by 42 percent from 2014 to 2017 and rates of emergency room visits due to opioid poisoning jumping by 73 percent from 2016 to 2017.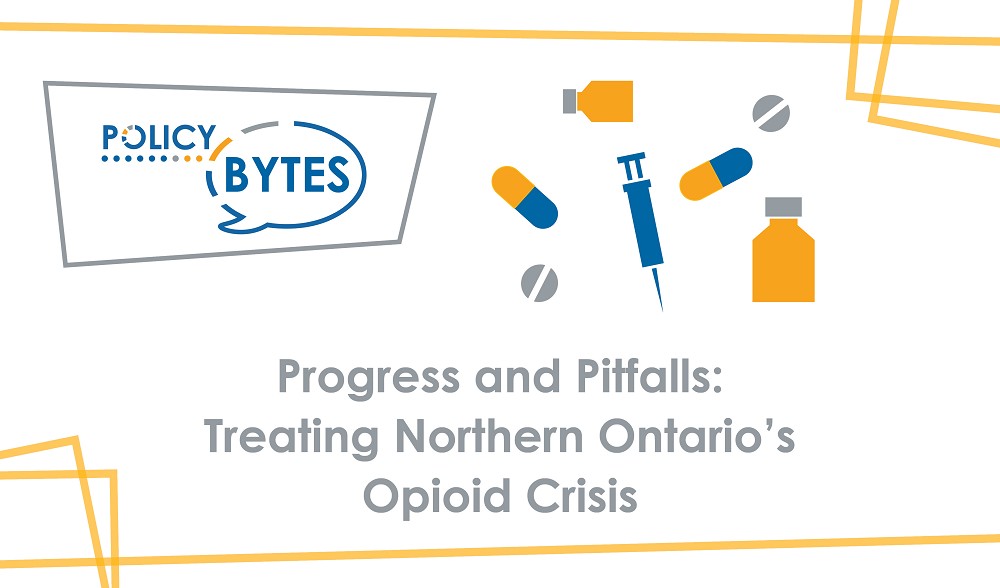 The highest rates of opioid abuse and its effects have typically been seen by the northern Local Health Integration Networks (LHINs). Northern Ontario faces unique barriers in addressing the opioid crisis compared to the southern regions, making the issue particularly severe. Improving the situation will require increasingly community-focused policymaking and solutions that reflect northern realities.
There are different factors that created the crisis, but Ontario's increase in opioid dependency primarily has its roots in physician over-prescribing that led to a greater number of people becoming opioid dependant. Opioid prescription rates have since started to decline throughout the province and within the Northwest and Northeast LHINs, but individuals with established opioid abuse disorders have been left to turn to illicit drugs that are often more dangerous.
Battling the crisis will require a combination of addictions treatment, harm reduction strategies, and prevention initiatives and services to address the socioeconomic factors that contribute to the development of addictions. Providing treatment is an ongoing concern, as people continue to face barriers in access. Opioid agonist treatment (OAT) is the standard of care for opioid addiction, most commonly through methadone maintenance therapy (MMT). MMT involves administering methadone to the patient in order to prevent opioid withdrawal. Enrolling in MMT requires a prescription, which can be difficult to acquire in some northern communities due to the severe shortage of primary care physicians. As well, in some cases lack of a pharmacy open seven days a week since methadone must be taken every day under supervision. Accessing this treatment may require regular travel, as does accessing in-patient treatment facilities, which can be a substantial barrier due to the risks involved and resources required. For example, withdrawal symptoms can pose serious health risks within hours of detoxing. If there is not adequate withdrawal-management resources available, significant travel may be too dangerous to undertake. This also requires that transport services can be afforded by the individual or provided by a service or program provider. These issues, in addition to insufficient funding, limited program capacities, and cultural barriers (e.g. cultural competency) all impede the accessibility of suitable substance abuse treatment in Northern Ontario.
Some solutions have become available to reduce problematic barriers to access and are beginning to be implemented in Northern Ontario communities. Suboxone, a drug that provide similar benefits to methadone, has been used in some areas as an alternative to MMT because monitoring may not be required for all doses, so multiple doses can be dispensed at one time for increased flexibility. Nurse practitioners were also given the ability to prescribe controlled substances, like OAT drugs, in 2017, reducing the impact of physician shortages. Based on changes such as these, communities can design and implement their own programs according to their physical, social, and cultural needs. Rapid access addiction medicine (RAAM) clinics are also spreading throughout Northern Ontario and can provide low-barrier access to help for a substance abuse disorder without an appointment or referral from a doctor. High-volume methadone and suboxone clinics are, like RAAM clinics, growing and can fill in for a primary care doctor to prescribe methadone or suboxone and referrals for other services. The problem with these types of clinics is that they have low retention rates, unlike other OAT programs that have tended to have very high retention rates in Northern Ontario. Monitoring patient outcomes will be crucial as these types of programs continue in order to properly understand their benefits and drawbacks. They also cannot address the mental health problems that often go hand-in-hand with substance use disorders. The integration of OAT with mental health care and social supports is a key component to ensuring effective treatment.
Significant progress has been made in terms of harm-reduction strategies and programs throughout the province. Some communities and regional organizations, like the Northwestern Health Unit, have instituted needle exchange programs to lessen the health risks involved with sharing needles and ensure safe needle disposal. The availability of free naloxone kits, a drug that can be administered to temporarily reverse an opioid overdose, is widespread throughout Northern Ontario, and both northern LHINs have high rates of pharmacy-dispensed naloxone. The expansion of these programs, particularly of needle exchanges, will require changing public attitudes towards drug users.
To continue productively addressing opioid use disorders, effort must be focused on reducing the fragmentation of care, increasing treatment accessibility, and addressing the social determinants of health. The progress made in harm-reduction strategies and the development of more flexible and accessible OAT is a positive and important step in the right direction, but there are still improvements that can be made to end the opioid crisis in Northern Ontario.
Gabriella Rabaa was a Summer Policy Analyst at NPI.
Thank you to our Experience North Sponsor

---
The content of Northern Policy Institute's blog is for general information and use. The views expressed in this blog are those of the author and do not necessarily reflect the opinions of Northern Policy Institute, its Board of Directors or its supporters. The authors take full responsibility for the accuracy and completeness of their respective blog posts. Northern Policy Institute will not be liable for any errors or omissions in this information, nor will Northern Policy Institute be liable for any detriment caused from the display or use of this information. Any links to other websites do not imply endorsement, nor is Northern Policy Institute responsible for the content of the linked websites.
Northern Policy Institute welcomes your feedback and comments. Please keep comments to under 500 words. Any submission that uses profane, derogatory, hateful, or threatening language will not be posted. Please keep your comments on topic and relevant to the subject matter presented in the blog. If you are presenting a rebuttal or counter-argument, please provide your evidence and sources. Northern Policy Institute reserves the right to deny any comments or feedback submitted to www.northernpolicy.ca that do not adhere to these guidelines.
0 Reader Comments