Paid Internships, Northern Ontario's First Job Advantage
April 7, 2021 - Graduation is just around the corner. For many new grads, the next step is a long and scary road.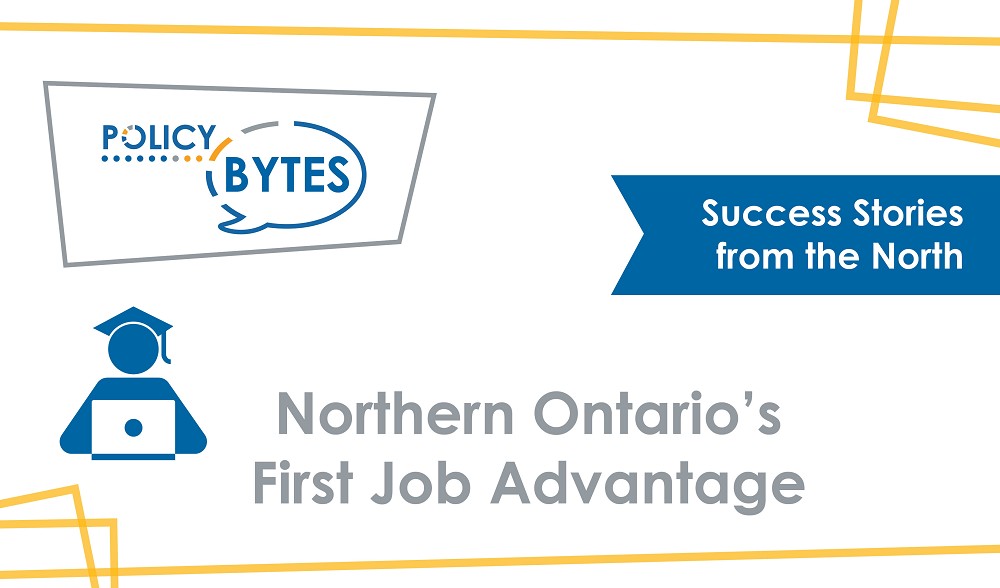 Scrambling to gain enough experience to land that dream career. With the COVID-19 pandemic, entry level jobs are even harder to find than before.
Many youths from the various regions of Northern Ontario will head south hoping to find that first opportunity. But they should think again. Northern Ontario has a real advantage when it comes to employers being able to afford taking a risk on that new or re-skilled grad.
Northern Ontario Heritage Fund Corporation offers grants to Northern Ontario employers that cover 50 per cent of an intern's salary for a 52-week internship (90% if you are a not-for profit). FedNor does the same. Many internships end with the intern being hired by the organization. Almost all of them see the intern gaining employment elsewhere with the hands-on work experience they have acquired through that critical first job.
Northern Policy Institute (NPI) is a small employer that uses the NOHFC Internship program to make a big difference. Frankly, we aren't sure what we would do without them! NPI has had great success through the intern program in finding and training new employees. Here are some of our current staff that started as NOHFC interns:
Rachel Rizzuto – Rachel was an international student from the United States. She started with us as a summer placement through our Experience North program. Moving from Guelph to Timmins that first year, she has since lived in Sudbury and Thunder Bay. She enjoyed the work that NPI offered and returned as an NOHFC intern after graduation. This led to a full-time contract with NPI. Rachel now has a house, a husband, and a dog, all here in Thunder Bay. As our Research Manager she mentors staff and interns starting out, in the north, as she did.
Cristina Cromeyer – Cristina was an international student at Cambrian College studying graphic design. NPI was producing more papers and wasn't sure if we needed an internal person to help. We hired Cristina through an NOHFC grant and discovered that we couldn't do without one. Cristina has finished her internship and is still a staff member of NPI. With this consistent work experience, Cristina is now able to apply for her permanent residency status in Canada so she can continue living in Northern Ontario.
Evelynn Hoffman – Evelynn grew up and studied in Northern Ontario. Her dream was to be able to live and work in a smaller city so she could continue doing the things that she loved growing up. Evelynn started her career right after graduation as an NOHFC intern at NPI. She learned a lot about the various organizations in Northern Ontario and she stayed on after her internship with NPI as an Outreach and Development Officer. She is still here, refocusing on Media and Public Relations this spring.
As NPI is a research institute, most of our interns are hired for data and policy projects. They are project focused and finish their internship with a published paper under their name and invaluable research skills. When the COVID-19 pandemic hit, NPI was able to hire youth when other organizations were laying people off. All because the NOHFC internship program was up and running. Here are our current policy interns that are with NPI this year and are funded by NOHFC:
Larissa Yantha – Larissa graduated from Wilfred Laurier University. Originally from Englehart, she has moved back to Northern Ontario to work with NPI. She is exploring the available evidence around the development, operation, and impact of Urban Reserves. Looking critically at the Canadian experience and assessing what lessons, if any, might apply in the context of Ontario's central, western, and northern regions.
Melanie Davis – Melanie is originally from Southern Ontario and graduated from Brock University. She moved to Northern Ontario to work with NPI. She is exploring the financial challenges for smaller municipalities. Especially those in rural and remote areas. The focus of this research will be on identifying ways to generate reliable, predictable revenues as well as to manage expenditures.
Sandra Janjicek – Sandra graduated from University of Toronto with a Master of Information and has moved to Northern Ontario to work with NPI. She is exploring the available evidence about effective interventions to assist businesses and the general public to maximize their participation in a digital society. Once we get reliable internet of course. Be prepared!
Mercedes Labelle – Mercedes also started with NPI as an Experience North summer student after graduation from McGill University. After the summer she then applied for an NOHFC internship with NPI. She is monitoring and assessing population retention, attraction, and welcoming efforts.
In response to the COVID-19 pandemic, NOHFC re-vamped their funding programs. Now interns are not required to be recent graduates. They can also be new entrants to the workforce, transitioning to a new career, or unemployed or under employed and entering a new field. NOHFC also removed the age cap so an intern can be anyone over the age of 18. These changes will help those who lost their jobs due to COVID-19 gain new employment opportunities and re-skill for a new career path. NPI hopes to have even more success in attracting and retaining talent with the new program as we had with the old one.
Evelynn Hoffman is the Outreach and Development Officer at NPI.
If you are interested in learning more about the NOHFC's Internship Program, visit their website at https://nohfc.ca/en/pages/programs/people-talent-program. For the FedNor program, visit https://fednor.gc.ca/eic/site/fednor-fednor.nsf/eng/fn03445.html
---
The content of Northern Policy Institute's blog is for general information and use. The views expressed in this blog are those of the author and do not necessarily reflect the opinions of Northern Policy Institute, its Board of Directors or its supporters. The authors take full responsibility for the accuracy and completeness of their respective blog posts. Northern Policy Institute will not be liable for any errors or omissions in this information, nor will Northern Policy Institute be liable for any detriment caused from the display or use of this information. Any links to other websites do not imply endorsement, nor is Northern Policy Institute responsible for the content of the linked websites.
Northern Policy Institute welcomes your feedback and comments. Please keep comments to under 500 words. Any submission that uses profane, derogatory, hateful, or threatening language will not be posted. Please keep your comments on topic and relevant to the subject matter presented in the blog. If you are presenting a rebuttal or counter-argument, please provide your evidence and sources. Northern Policy Institute reserves the right to deny any comments or feedback submitted to www.northernpolicy.ca that do not adhere to these guidelines.
0 Reader Comments