NOC NOC. Who's there? National Occupation Codes!
December 4, 2019 - In recent years, many Northern Ontario districts have experienced a decline in population growth. Among other challenges, this means that there are fewer available workers to fill much needed occupations. And the existing Northern Ontario population is not enough to meet this need.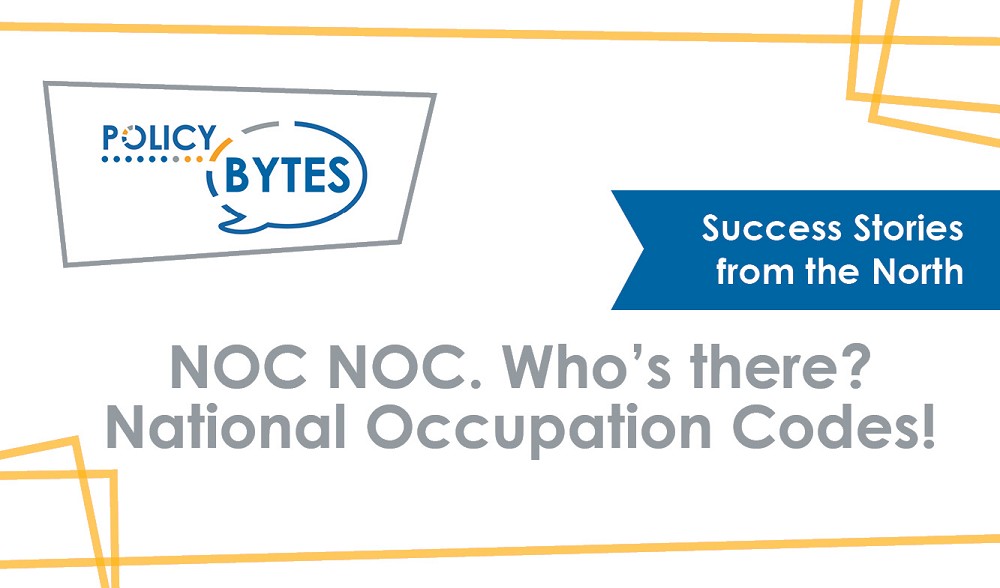 As such, many northern communities are turning towards immigrants to fill their population and labour market needs. As well, the federal government recently announced 11 communities nation-wide that will be testing grounds for the Rural and Northern Immigration Pilot (RNIP) – five of which are in Northern Ontario. The pilot aims to meet local labour market needs while creating welcoming environments to support newcomers in rural areas.
While RNIP has drawn considerable local and international attention, this program is complementary to the existing pathways that are available for northern communities to utilize.
One such way is through the federal express entry program, which is leveraged by provincial and territorial governments. However federally, only certain types of jobs, or certain types of National Occupation Codes (NOCs), are eligible to be part of these streams. All federal express entry streams require work experience in NOCs 0, A, or B – which are jobs in management as well as jobs requiring university and/or college credentials.
Tied into the express entry system is the provincial nominee program. Ontario is one of 11 provinces and territories to have provincial nominee programs. Of note, in 2018, Ontario's Immigrant Nominee Program (OINP) had more allocations than any other province and territory with a nominee program (6,600).
The OINP has three categories, each divided into several streams. The employer job offer category has an in-demand skills stream that caters to certain occupations in NOCs C and D. Examples include transport truck drivers, home support workers, heavy equipment operators, and harvesting labourers. Additional OINP streams include pathways for Masters and PhD, entrepreneurs, foreign workers and so on.
So, where does Northern Ontario's labour market needs fit into all of this? Using data from a variety of job postings sources from 2016-2018, we are able to see what the most commonly posted jobs were. Many of these postings are for NOC C jobs, which are intermediate jobs that usually call for high school and/or job specific training.
Despite the high number of job postings in NOCs C and D in Northern Ontario, the OINP has traditionally focused on highly skilled workers. And, as previously mentioned, the federal express entry system also caters to high skilled workers.
However, positive steps were made earlier this year to continue maximizing the value international talent can bring for Canadian labour markets.
On March 13th, the federal government announced that under the provincial nominee program for the provinces and territories, there would be an additional 2,000 spaces dedicated for intermediate-skilled workers, or NOC C occupations. The goal of the change was to provide more "opportunities for temporary foreign workers to transition to permanent residence."
Just three days after the federal announcement, OINP announced that in addition to the province's 6,650 allocation, the program would be accepting another 250 nominations for temporary foreign workers in intermediate-skilled jobs under NOC C.
This greater federal and provincial focus on NOC C could be a step forward. Indeed, allowing for more immigrant allocations that fit the specific-community labour market needs are changes that could have great impacts on the North. And that's all we hope for: change, one step at a time.
Hilary Hagar is a Policy Analyst at NPI.
---
The content of Northern Policy Institute's blog is for general information and use. The views expressed in this blog are those of the author and do not necessarily reflect the opinions of Northern Policy Institute, its Board of Directors or its supporters. The authors take full responsibility for the accuracy and completeness of their respective blog posts. Northern Policy Institute will not be liable for any errors or omissions in this information, nor will Northern Policy Institute be liable for any detriment caused from the display or use of this information. Any links to other websites do not imply endorsement, nor is Northern Policy Institute responsible for the content of the linked websites.
Northern Policy Institute welcomes your feedback and comments. Please keep comments to under 500 words. Any submission that uses profane, derogatory, hateful or threatening language will not be posted. Please keep your comments on topic and relevant to the subject matter presented in the blog. If you are presenting a rebuttal or counter-argument, please provide your evidence and sources. Northern Policy Institute reserves the right to deny any comments or feedback submitted to www.northernpolicy.ca that do not adhere to these guidelines.
0 Reader Comments