September 4, 2019 - Forestry is the science or practice of planting, managing, and caring for forests. One of the defining features of Northern Ontario is the vast beautiful forest that surrounds Northern communities, but this forest does not stay beautiful on its own.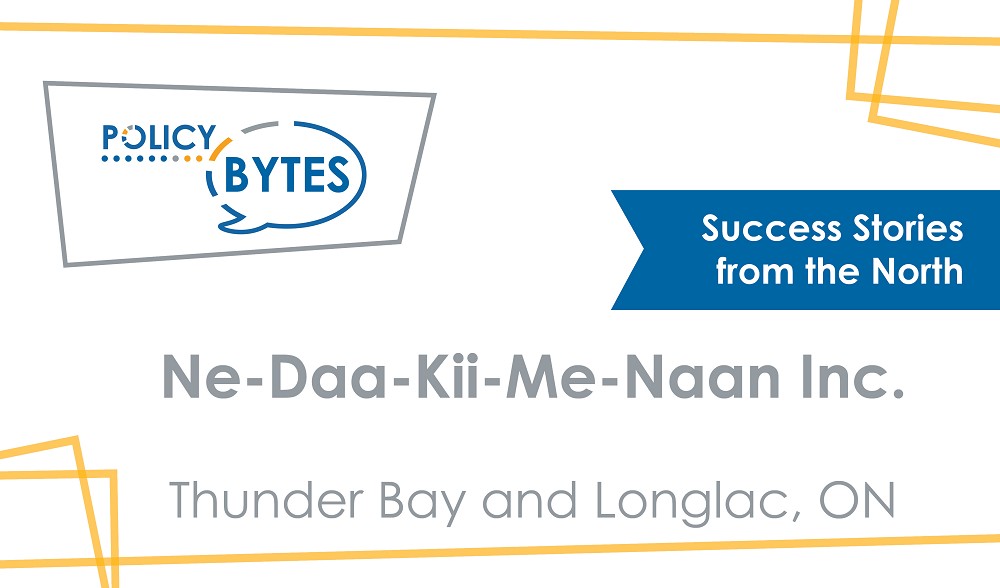 Behind all this beauty is a team of foresters dedicated to managing the forest to allow sustainable wood harvesting. Northern Ontario has many forestry companies, Ne-Daa-Kii-Me-Naan Inc. (Nedaak) is one of them. Nedaak is a first nations-based forestry company that manages the Kenogami forest, which is located North of Highway 11 and West of Lake Nipigon. Nedaak's head office is located in Thunder Bay, ON and has a second office in Longlac, ON, which is located in the Kenogami forest.
Nedaak was founded in 2012 and is owned and operated by the seven Kenogami First Nations:
Animbiigoo Zaagi'igan Anishinaabek
Aroland First Nation
Constance Lake First Nation
Ginoogaming First Nation
Long Lake #58 First Nation
Pays Plat First Nation
Red Rock Indian Band
Together they have the goal to provide sustainable management of the Kenogami forest while also providing economic and employment opportunities to the surrounding Indigenous people who live there. Nedaak provides the 7 Kenogami First Nations with annual dividend payments to support important social and cultural programs in the communities.
Only three years after being founded, Nedaak won the 2015 partnership award at the Nishnawbe Aski Development Fund Awards designed to celebrate Aboriginal business. The award is presented to a successful business partnership where at least one of the partners is of Aboriginal heritage, is significantly involved in the day-to-day operations of the business, and retains at least 51% ownership in the business. Nishnawbe Aski Development Fund Awards showcases the exemplary performance and contributions of Aboriginal business to strengthening the Northern Ontario economy.
Nedaak has also been involved in educating the youth about forestry, biodiversity and sustainability. In their first year of operation, they created an Indigenous employment program to allow employment opportunities among Indigenous people as well as teach them the skills they may require for employment purposes. They also focus on hiring young adults for summer work programs to expose them to working and forestry. This program gives youth the opportunity to explore forestry and discover what they may like to eventually motivate them in acquiring their high school diploma or post-secondary education. This program has proven to be successful as several former employees have found jobs in private industries, based on the skills that they learned while being employed at Nedaak.
Nedaak is responsible for writing the forest management plan for the Kenogami forest. This is a 10-year plan that describes all the activities that are scheduled to occur on the forest that have been approved by the Ministry of Natural Resources. This plan was created strategically to balance the sustainable, social and economic benefits of utilizing the forests' resources while protecting: the forest, the wildlife habitats, the species as risk, Indigenous values, the public concerns and other environmental and cultural aspects that are involved. Nedaak also creates the Annual Work Schedule which outlines all the planned annual operations on the forest for that fiscal year. Both of these documents can be found on the Ministry of Natural Resources website.
Nedaak is also responsible for silviculture, which is the restoration of the forest after harvesting wood. This includes planning and developing budgets for silvicultural work while implementing forest regeneration activities such as tree planting, cone collection, and orchard work.
From providing employment opportunities to Indigenous people, to managing the forest and its regeneration, Nedaak has shown forest management skills that will continue to run the Kenogami forest for generations to come.
If a tree falls in the forest and no one is around to hear it, does it make a sound? For the Kenogami forest, yes, because Nedaak foresters are always there to take care of the forest.
Evelynn Hoffman is the Communications Officer at NPI.
---
The content of Northern Policy Institute's blog is for general information and use. The views expressed in this blog are those of the author and do not necessarily reflect the opinions of Northern Policy Institute, its Board of Directors or its supporters. The authors take full responsibility for the accuracy and completeness of their respective blog posts. Northern Policy Institute will not be liable for any errors or omissions in this information, nor will Northern Policy Institute be liable for any detriment caused from the display or use of this information. Any links to other websites do not imply endorsement, nor is Northern Policy Institute responsible for the content of the linked websites.
Northern Policy Institute welcomes your feedback and comments. Please keep comments to under 500 words. Any submission that uses profane, derogatory, hateful, or threatening language will not be posted. Please keep your comments on topic and relevant to the subject matter presented in the blog. If you are presenting a rebuttal or counter-argument, please provide your evidence and sources. Northern Policy Institute reserves the right to deny any comments or feedback submitted to www.northernpolicy.ca that do not adhere to these guidelines.
0 Reader Comments