June 4, 2018 - When stepping on the path to post-secondary education, there were some big decisions I needed to make. Which school do I go to? Which program do I chose? After graduating from the University of Ottawa, I had to choose my career path and where I wanted to establish myself for the next 5, 10, 15 or more years. I picked Northern Ontario.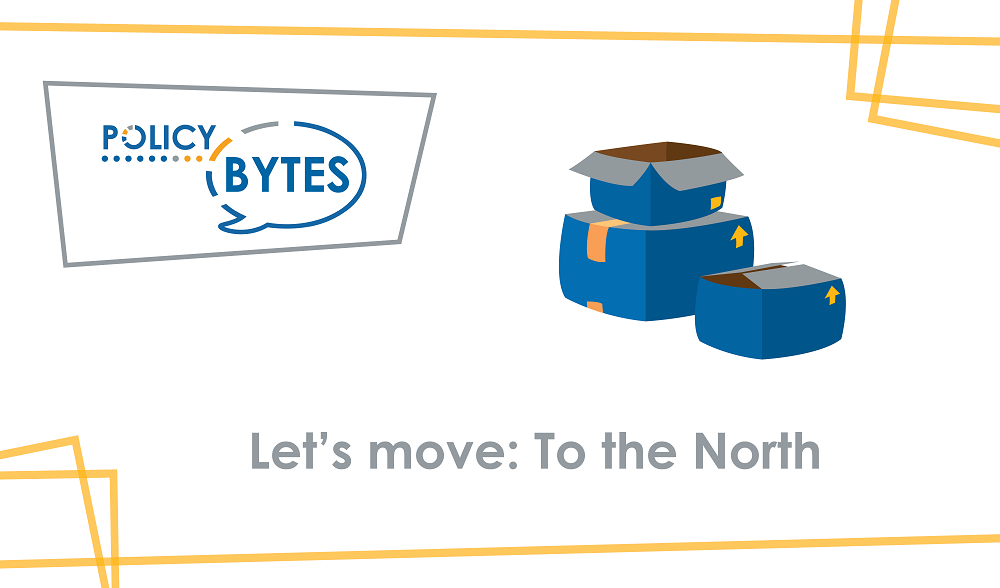 But Why?
Originally from Windsor, Ontario, anything north of Toronto is often thought of as being far away from my family and friends. Based on myths about Northern Ontario, most people told me it was crazy to move to the North, that the weather would not be enjoyable, and that it would be lonely and boring. They are scared of the seemingly far away, frigid, empty North and fear losing the warm sun, big city centers and large shopping malls. What most people don't realize is that Northern Ontario is a land of opportunity, especially for young professionals.
To illustrate, since 2009 youth employment rates (those aged 15 to 24) in Northwestern Ontario have been significantly higher than youth employment rates in Ontario as a whole. Furthermore, the employment rate for those aged 15 to 19 in Northwestern Ontario has been higher than the same rate for all of Ontario since 2002. Moreover, from my experience, all sorts of jobs that are found in big cities such as Toronto are also in Northern Ontario – just with less competition. For example, Northern Ontario has an under supply of workers for jobs in the business, finance and administration sectors. Also, there are many job vacancies in the trades, transport and equipment operation sectors. Beyond these vacancies, Northern Ontario's top three industries for employment in 2017 were health care and social services, wholesale and retail trade and education.
What's different?
The temperature, of course. Yes, you have to get a bigger coat and new winter boots, but you'll soon realize that Northerners are used to these types of temperatures. Furthermore, not only are the houses and buildings built for the colder climate, but Northern communities are well equipped to plow and clear the roads in an effective manner. All in all, when you take a step back and look at it with your toque on, Northerners are quite prepared for anything winter can throw at them.
As for shopping, have no fear – there are plenty of stores. You won't find gigantic shopping malls, which frankly, is ok, because in today's world you can order almost anything online. Additionally, if you look beyond some of the larger name brands, Northern Ontario is filled with small locally owned businesses where you can find products made in your own community.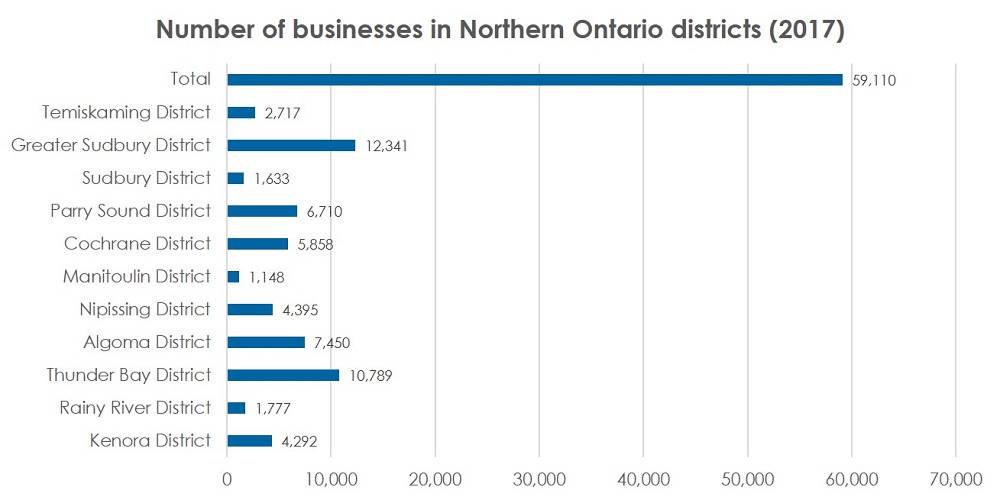 Source: Northern Policy Institute. 2017. "State of the North – Responding to Northern Ontario's Demographic Shift." Presentation made at the State of the North Conference, Timmins, Ontario, September 27-28.
Compared to Southern Ontario, Northern Ontario is very innovative when it comes to using its natural resources. For example, up in Northern Ontario we have a large focus on what's called a "Bio Economy". This refers to the portion of economic activity which is derived from the use of basic materials (i.e. plants, crops, or other natural renewable resources). In Northern Ontario, forestry, agriculture, and mining are the main economic sectors.
Finally, I could go on forever about the air quality. A majority of Northern communities are located in places that are surrounded by trees, which alone makes a huge difference from living in places such as Windsor. There is significantly less smog. In fact, the entirety of Northern Ontario has a lower number of days under smog advisories than Toronto alone. Less light pollution, no huge buildings obstructing your view, no overcrowding... Of course, there is no denying that the North has its own challenges, but it also has its own unique opportunities and a different quality of life.
Research
Just like you would plan a trip, you need to plan your move. As a newcomer to Northern Ontario, I used services like Northeastern Ontario Immigration to familiarize myself with living conditions, work opportunities and general information about Northern communities. As well, there are many other associations throughout Northern Ontario that provide resources for newcomers. Associations like Local Immigration Partnerships (LIP), Discover The Sault, Timmins Economic Development Corporation, North Bay Local Immigration Partnership, Réseau du Nord and l'Immigration Francophone are just a few examples of the multiple associations available to newcomers in Northern Ontario. On my part, I decided to visit the local community centers and became a member of the YMCA. With these two places alone, I was able to meet a handful of interesting people and started creating strong relationships. Then, I started reading the local newspapers and listening to the local radio stations to help familiarize myself with my future home. After my research, my final thought was: This isn't that bad- in fact, this isn't bad at all!
Move it!
As a young professional, now is the perfect time to try things out. I gave Northern Ontario a shot, and I fell in love with it. Yes it gets cold in the winter, but we can't let that ruin all of the positive aspects of it. Besides, the colder winters present opportunities for winter sports and activities. Snowmobiling, skiing, snowshoeing and ice fishing, to name a few, could be enjoyed within only a short drive from your front door.
Moving away from my home, family, and friends will always be hard, but I recognized that I am able to meet people and create new friendships. Also, at Northern Policy Institute, I am lucky to have such great co-workers who showed me around, told me all about the dos and don'ts of the city, and really helped me to embrace my new home.
So unless you're allergic to non-polluted air, hate trees and lakes, you should move - to the North!



Christine St-Pierre is a Communications Officer for Northern Policy Institute.
---
The content of Northern Policy Institute's blog is for general information and use. The views expressed in this blog are those of the author and do not necessarily reflect the opinions of Northern Policy Institute, its Board of Directors or its supporters. The authors take full responsibility for the accuracy and completeness of their respective blog posts. Northern Policy Institute will not be liable for any errors or omissions in this information, nor will Northern Policy Institute be liable for any detriment caused from the display or use of this information. Any links to other websites do not imply endorsement, nor is Northern Policy Institute responsible for the content of the linked websites.
Northern Policy Institute welcomes your feedback and comments. Please keep comments to under 500 words. Any submission that uses profane, derogatory, hateful, or threatening language will not be posted. Please keep your comments on topic and relevant to the subject matter presented in the blog. If you are presenting a rebuttal or counter-argument, please provide your evidence and sources. Northern Policy Institute reserves the right to deny any comments or feedback submitted to www.northernpolicy.ca that do not adhere to these guidelines.
0 Reader Comments