Lest We Forget Thunder Bay's Service
November 11, 2020 - This blog first appeared in The Walleye Magazine, November issue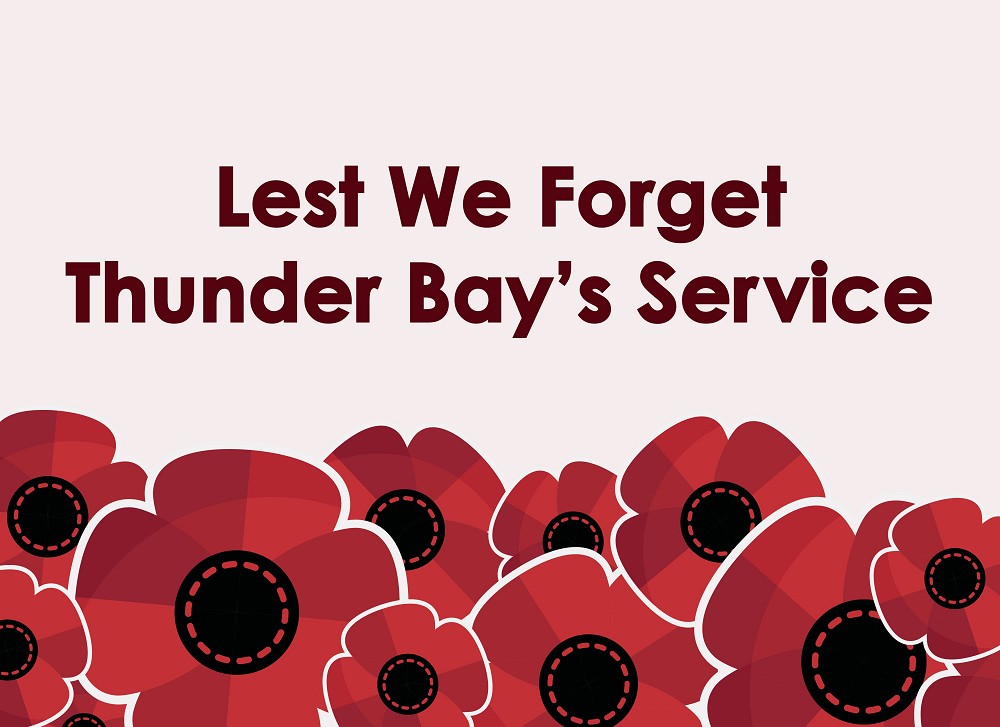 For the month of November, we wear poppies to acknowledge and remember the sacrifices made by the members of the Canadian Armed Forces (CAF) for over a century. In recognition of these service members, we will take a look at veteran representation in Thunder Bay, compared to the rest of the province and country.
Veterans Affairs Canada publishes estimates of the number of veterans across Canada by Veterans Affairs offices. Using regional estimates of veteran totals, matched to population numbers, we can calculate the number of veterans-per-capita for Thunder Bay compared to Canada, Ontario, and other provinces and regions. Since the private sector competes for workers that the CAF hires, the unemployment rate is also included to give an idea of the strength of regional labour markets.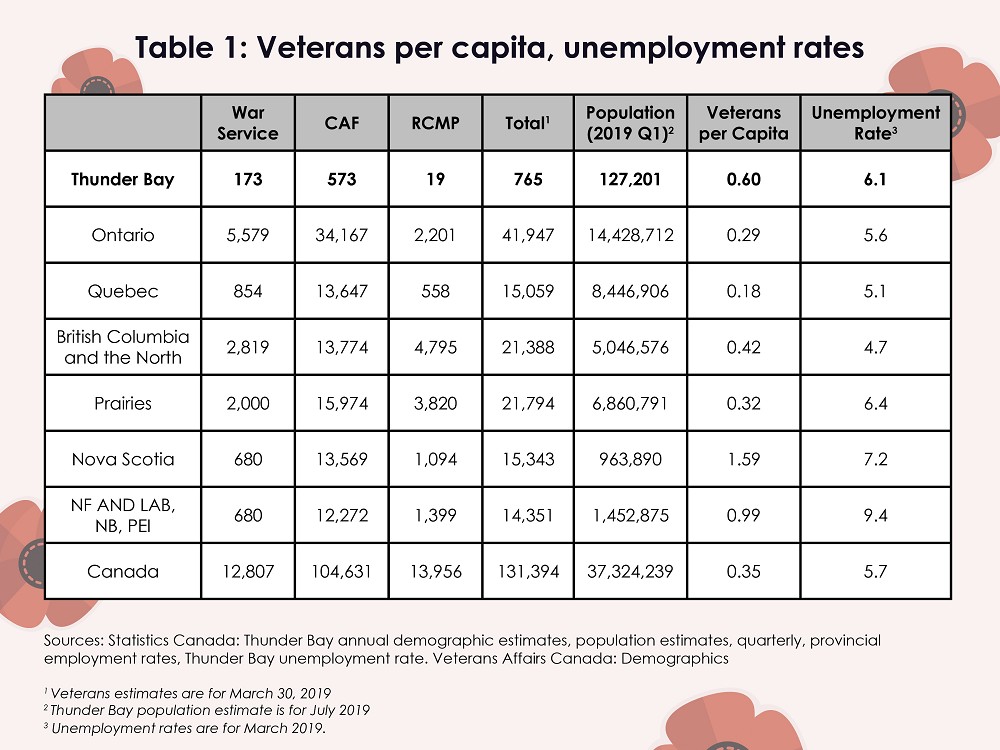 Based on the table above, we see that Thunder Bay has 0.6 veterans per 100 people, which is twice the Ontario average of 0.29. It is also nearly double the national average of 0.35. The only area with higher veterans per capita is Atlantic Canada – Nova Scotia, Newfoundland and Labrador, New Brunswick and Prince Edward Island. Nova Scotia has the highest rate, at 1.59 percent of the population, while the rest of the Atlantic provinces have a combined rate of 0.99 percent.
Thunder Bay has a long history of participating in Canada's overseas engagements. Thunder Bay's Primary Reserve infantry unit, The Lake Superior Scottish Regiment, traces its roots to 1905. Additionally, two battalions were raised from Thunder Bay and the surrounding area during the Great War, the 52nd (New Ontario), and 141st (Rainy River District). The Lake Superior Scottish would go on to see intense fighting in France, Belgium, Holland, and Germany during the Second World War. Most recently, elements of the regiment saw action in Afghanistan.
The Canadian Armed Forces can offer job security, and competitive pay – privates earn between $2,985 to $4,382 per month, while the average monthly earnings in Canada are $4,400. For those living in Canada's strongest labour markets – Ontario, Quebec, and British Columbia, there are more private sector alternatives that compete with the military for hiring. Abundant employment alternatives could explain why less Canadians in such areas joined the CAF, for example.
For Thunder Bay and the Atlantic provinces, this is not always the case. Higher unemployment rates are indicative of the relatively weak labour markets, where pay is less competitive and there are fewer private sector employment opportunities. For such areas, a career in the military could provide stability. It is no secret that recruitment increases in economic downturns, with enrolment exceeding expectations in 2009-2010, the aftermath of the Great Financial Crisis, for example. Weak regional labour markets seem likely to have a similar effect. It should not be such a surprise then, that Thunder Bay, with an unemployment rate persistently above the provincial rate, has a veterans-per-capita rate that is twice the provincial average.
Careers in the Canadian Armed Forces can involve tremendous personal risk and high stress levels. For the wellbeing of active members and veterans of the Canadian Armed Forces, support services should be widespread and easily accessible. These are some local, provincial, and national resources that can be accessed by those in need:
[1]

Veterans estimates are for March 30, 2019
[1]

Thunder Bay population estimate is for July 2019
[1]

Unemployment rates are for March 2019.

Raven Wheesk is an Economist at NPI.
---
The content of Northern Policy Institute's blog is for general information and use. The views expressed in this blog are those of the author and do not necessarily reflect the opinions of Northern Policy Institute, its Board of Directors or its supporters. The authors take full responsibility for the accuracy and completeness of their respective blog posts. Northern Policy Institute will not be liable for any errors or omissions in this information, nor will Northern Policy Institute be liable for any detriment caused from the display or use of this information. Any links to other websites do not imply endorsement, nor is Northern Policy Institute responsible for the content of the linked websites.
Northern Policy Institute welcomes your feedback and comments. Please keep comments to under 500 words. Any submission that uses profane, derogatory, hateful, or threatening language will not be posted. Please keep your comments on topic and relevant to the subject matter presented in the blog. If you are presenting a rebuttal or counter-argument, please provide your evidence and sources. Northern Policy Institute reserves the right to deny any comments or feedback submitted to www.northernpolicy.ca that do not adhere to these guidelines.
0 Reader Comments