February 17, 2021 - This blog first appeared in The Walleye Magazine, February issue.
When I first moved to Thunder Bay, all I heard about was that there is nothing to do in the winter. You're stuck. However, I've learned you're only stuck if you want to be. There are all sorts of activities one can do once they step outside.
So let's break it down.
In 2017, Tourism Region 13c (which covers the districts of Thunder Bay, Rainy River and nearly all of Kenora), almost 58,000 person visits were made to participate in skiing/snowboarding, cross-country skiing and snowmobiling. Of that total, most people were from Ontario and the majority of visits included an overnight stay.
And these activities are happening right behind the tree line. In fact, for cross-country skiing alone, there are over a 100 km of trails. For those who aren't into cross-country skiing, fear not, there are tons of hiking trails in both provincial parks that are open for the winter, as well as the trails that are a part of the Lakehead Region Conservation Authority.
While these are more traditional activities, don't be afraid to think outside of the box too. There's opportunity to capture the City of Thunder Bay and the surrounding area in all its winter glory through the simple click of a camera. Photos like these can be valuable, not just to get you out of the house, but as a marketing and attraction tool for people looking to move to Thunder Bay. Beyond job prospects, opportunities for family activities can be just as important for individuals looking to move to a new community. So if you find yourself at the 2021 Voyageur Winter Carnival, snap a pic!
Now, you may be asking, okay so what? Why should I go outside even if activities like these are happening? Good question. One answer is health. While one's health is more than just how much they exercise (e.g. income, sex, and where you live are some of the factors that can influence an individual's health), physical activity can have a positive impact.
From 2011 to 2017, we see that a good percentage of individuals in Thunder Bay participated in outdoor activities close to home. Below is a sample of communities (census metropolitan areas) of similar size across Ontario.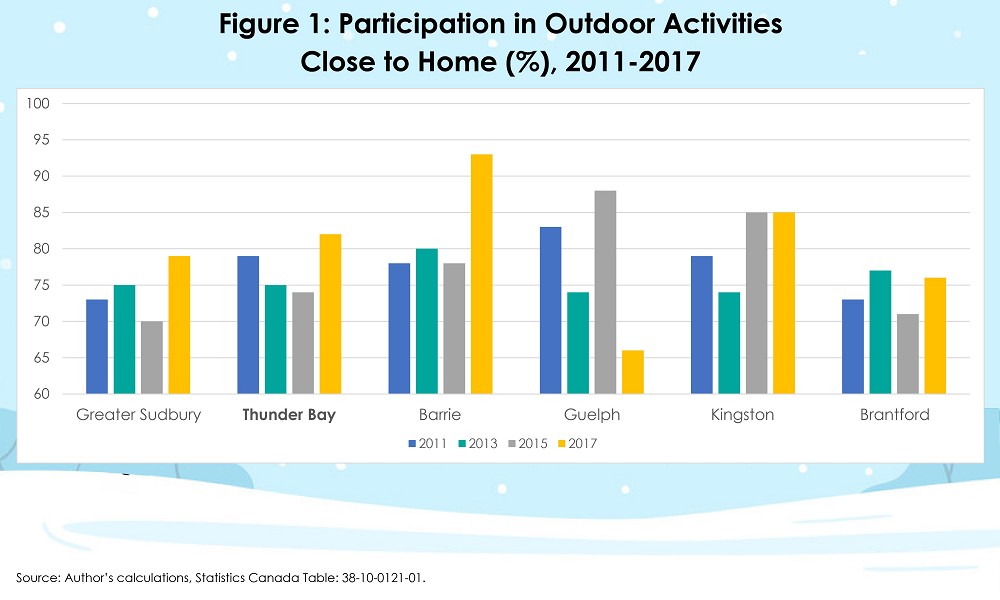 The focus of health in relation to recreational activities is one of the five key goals in the City of Thunder Bay's Recreation and Facilities Master Plan. Specifically, it outlines objectives such as ensuring everyone has an opportunity to participate regardless of age, ability, income and ethnicity, as well as to encourage physical activity as an important component of one's day to day life. In addition to this, the Plan outlines that through the City's Community Services Department, around $32 million dollars per year is spent on the operation of programs, buildings, parks, and other open spaces.
Overall, it's clear that Thunder Bay is ready for you and your family this winter – all you have to do is take a step out the front door.
Rachel Rizzuto is the Research Manager at NPI.
---
The content of Northern Policy Institute's blog is for general information and use. The views expressed in this blog are those of the author and do not necessarily reflect the opinions of Northern Policy Institute, its Board of Directors or its supporters. The authors take full responsibility for the accuracy and completeness of their respective blog posts. Northern Policy Institute will not be liable for any errors or omissions in this information, nor will Northern Policy Institute be liable for any detriment caused from the display or use of this information. Any links to other websites do not imply endorsement, nor is Northern Policy Institute responsible for the content of the linked websites.
Northern Policy Institute welcomes your feedback and comments. Please keep comments to under 500 words. Any submission that uses profane, derogatory, hateful, or threatening language will not be posted. Please keep your comments on topic and relevant to the subject matter presented in the blog. If you are presenting a rebuttal or counter-argument, please provide your evidence and sources. Northern Policy Institute reserves the right to deny any comments or feedback submitted to www.northernpolicy.ca that do not adhere to these guidelines.
0 Reader Comments