You had me at "Public Policy"
When it comes to Experience North, you can't blink —the four months always seem to fly by in an instant. However, like each Experience North cohort, their time here at NPI is jam-packed. From research and writing to getting out in the community, the Experience North placements are very busy.
NPI is proud of the work the Experience North placements do and we hope the experiences they've outlined below will help them as they move forward in their careers. We wish them nothing but success (and to, of course, show us the evidence-based policy)!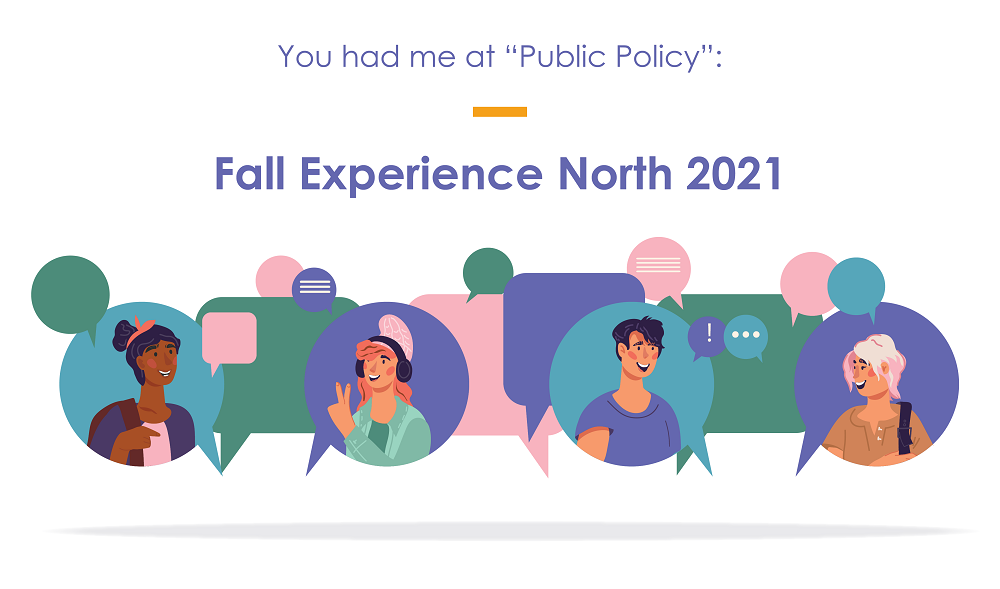 We want to thank our fall 2021 partners for supporting this year's Experience North: the RBC Foundation, the Northern Ontario Heritage Fund Corporation, Canada Summer Jobs, Northern College, and the Economic Partners Sudbury East / West Nipissing Inc.
Joel Montagnes, Sturgeon Falls
You can imagine my surprise when, in the Weekly Newsletter from the School of Public Policy at the University of Calgary I saw a section reading, "Policy Intern Positions in Northern Ontario". I am originally from North Bay and the idea of getting a job as a policy analyst was a fantasy until I saw the newsletter advertising the Experience North Position.
While I thought I knew a lot about what happens in the regions of Nipissing and West Nipissing respectively, I am forever grateful to NPI for the opportunity and experience of learning about the breadth, complexities, and nuance of Northern Ontario's economic, governance and societal dynamics.
The primary project I have been working on this Fall Season of 2021 is on "Big Data", primarily, how it can be applied for better policy and governance analysis and decision making. Big Data is a concept and practice of collecting an unprecedented quantity of information on the minute details of peoples' ordinary lives. It's a fascinating and terrifying topic with many ethical quandaries and informational opportunities both of which will be the responsibility of policy makers to maneuver in the course of governance.
I am forever grateful to NPI for giving me the chance as an Experience North Internship to demonstrate my knowledge and analytical skills when it comes to public policy, for the chance to learn about topics concerning Northern Ontario, Canada, and the world in general that I may not have learned otherwise and for the mentorship in the transition from Graduate School into the working world of policy analysis itself.
Alex Racicot, Sturgeon Falls
My life has changed in two major ways because of working at Northern Policy Institute this fall season: 1) it brought me the furthest North I have ever been in Ontario, and 2) it was my first professional work experience in my field of study. The "North" for me, prior to this placement, meant Caledon Village where I went to school before moving to Toronto. A more "northern north" for me would be Bracebridge, where my family has spent much time before. Moving to North Bay to work in Sturgeon Falls certainly brought me much further than that! And for this, I am most grateful. The opportunity to travel and experience life in these different parts of our beautiful and vast province is not one that comes often. I have loved every minute of being up here; witnessing so much beauty of nature not found in the GTA and exploring all the charm of these towns full of wonderful people. These truly have been one-of-a-kind experiences that will stay with me forever.
As a first professional work experience, the placement has been life changing. Working on mostly digital literacy, I have been able to put my analytical skills to work on important issues facing real people; the expectations and pride that goes into such work is, of course, much different than when putting something together for a grade. Staff were very welcoming and helpful in the first few weeks of transitioning into the placement, and everyone together shared many laughs and jokes throughout my time here. It was not without its challenges, however. Finding data, analyzing data for trends, using new programs to do said analysis —most of this was brand new for me. But, challenges provide room for growth, and I wholeheartedly believe that I have seen that in myself over the past three months. I have learned new skills and improved old ones. I want to thank NPI for this experience and helping me get my foot in the door. My time with NPI will always be remembered and I am excited to take the lessons learned here with me into my next chapter.
Andre Ouellet, Kirkland Lake
The biggest change in my life came when I traded in the familiar beaches and community of my hometown of Dominion, Nova Scotia for Tilbury, Ontario at seven. But second was the nine-hour trip from Tilbury to Kirkland Lake. The North was certainly different than anything I've experienced in my life —I learned that on the first -10° day.
Getting into policy-making and working with a bunch of people I'm lucky to call friends (and a surprise appearance in the Toronto Star) were more than worth the cold, though. Not only hanging out in Kirkland Lake itself, but our excursions to Sudbury and Rouyn-Noranda, QC were wonderful bonding and amazing moments. I know that I made friends for life not only in the Kirkland Lake office, but in Thunder Bay, Sudbury, and elsewhere, too. It was a wonderful opportunity to not only flex my own ability in this arena, but network with rising stars that I know will be in big places very soon.
I worked with seniors' issues while at NPI, an issue already close to my heart, and I was proud to speak up and make some suggestions in that realm. Working with Francophone and Indigenous Seniors, Total Seniors, and Direct and Indirect Caregivers portfolios was extremely rewarding for me, and I can say passion certainly helps with making the work happen.
Overall, Experience North was a phenomenal life experience, and NPI is a great place for aspiring and newly minted social scientists to gain experience not only in their career path, but in life. I would strongly recommend the program to anyone —it's a step out of your comfort zone, for sure, but in this line of work, it's par for the course.
Linzi Redekop,Haileybury
Is that a 12 foot tall Holstein cow on the side of the road? Yes, that is the roadside attraction of Temiskaming Shores. Little big things like Ms. Claybelt (the giant cow), Earl the Bison (in Earlton), Chimo the Polar Bear (Cochrane) and big fish (Marten River) bring attention to the charm and uniqueness of each place in Northern Ontario.
Experience North has been a truly unforgettable fall season for me. Through all the twists and turns in our adventures, I can look back and say that I made the most of my time here. It was a breath of fresh air (literally and figuratively) to meet so many new people and new landscapes that liven up Northern Ontario.
I got to learn firsthand about the histories, challenges, and successes experienced by a sliver of Northern Ontario's communities from our day-to-day adventures to weekend excursions to places like Manitoulin Island, Sudbury, Ville Marie, Temagami, Timmins, Cochrane, and Kirkland Lake. This was super helpful to get to know the small, local experiences that would be included in the 'big picture' scope of my research.
Maya Mittelstaedt, Haileybury
When I heard about NPI's Experience North internship program, I was so excited by the possibility of living and working in Northern Ontario, a place that I love. And I have not been disappointed. Working at NPI this fall has been such a rewarding and fun experience full of learning, laughs, and weekend adventures.
As a Policy Analyst researching small market housing, I learned so much about housing in Northern Ontario's rural and remote communities and the policy landscape surrounding that topic. I also gained experience gathering and analyzing large datasets. Fun fact: Excel has a limit of 1,048,576 rows per worksheet (thanks StatsCan for the huge datasets)! And of course, I learned so much from the hilarious and brilliant NPI staff.
Working at NPI has given me the chance to explore Northern Ontario in my free time. Not only was I able to experience all that my wonderful host community of Haileybury has to offer but I also got to go on trips to Timmins, Wawa, Kirkland Lake, Sudbury, and Manitoulin Island. From camping and hiking to perusing art galleries and trying out local restaurants, there was always something to do.
Not only did I learn about and explore Northern Ontario, but I also felt like the work I did would benefit the various regions. Northern Ontario is a treasure of the province and working towards its sustainable growth felt really rewarding. I am incredible grateful for my time at NPI.
Gillian Sgambelluri, Thunder Bay
Returning to NPI for the second time as an Experience North placement has been an absolute privilege. The additional time spent with the staff at NPI has allowed me to hone my skills and dive deeper into the financial practices of the institute.
By working as the Finance and Operations Assistant, I have been able to gain professional experience related to my field. I worked on various projects like preparing the monthly finance folder, paying, and processing invoices, and assisting in audit preparation. I feel I have a new sense of confidence with my accounting skills and financial literacy that will prove to be helpful for the next two years of my Honors Bachelor of Commerce degree at Lakehead University.
Although most of my time is spent working in the finance department, I feel very fortunate to have more time to spend with my coworkers and learn about the projects they all are so passionate about working on. Being Thunder Bay born and raised, the staff has gifted me an understanding of public policy in my community and a new perspective about where I grew up.
I would like to thank everyone at NPI and want to especially extend my thanks to Krissie Rose for taking me under her wing, challenging me and believing that I could be successful in this position.
---
The content of Northern Policy Institute's blog is for general information and use. The views expressed in this blog are those of the author and do not necessarily reflect the opinions of Northern Policy Institute, its Board of Directors or its supporters. The authors take full responsibility for the accuracy and completeness of their respective blog posts. Northern Policy Institute will not be liable for any errors or omissions in this information, nor will Northern Policy Institute be liable for any detriment caused from the display or use of this information. Any links to other websites do not imply endorsement, nor is Northern Policy Institute responsible for the content of the linked websites.
Northern Policy Institute welcomes your feedback and comments. Please keep comments to under 500 words. Any submission that uses profane, derogatory, hateful, or threatening language will not be posted. Please keep your comments on topic and relevant to the subject matter presented in the blog. If you are presenting a rebuttal or counter-argument, please provide your evidence and sources. Northern Policy Institute reserves the right to deny any comments or feedback submitted to www.northernpolicy.ca that do not adhere to these guidelines.
0 Reader Comments