Experience North 2021 Summer Wrap up Blog
One of the questions we hear during interviews is what the day to day is like at NPI. Well, as we like to say: "It depends." This summer was certainly no exception and our summer placements pushed forward on all sorts of policy, communications, and finance projects. As always, we're incredibly proud of what these young professionals bring to the team and the Institute as a whole is better for it.
While the summer comes to a close, our summer 2021 cohort wrote a bit about their experiences, which you'll find below. Their growth as professionals is one of the best parts of our year here at NPI and we look forward to what they will do in their futures.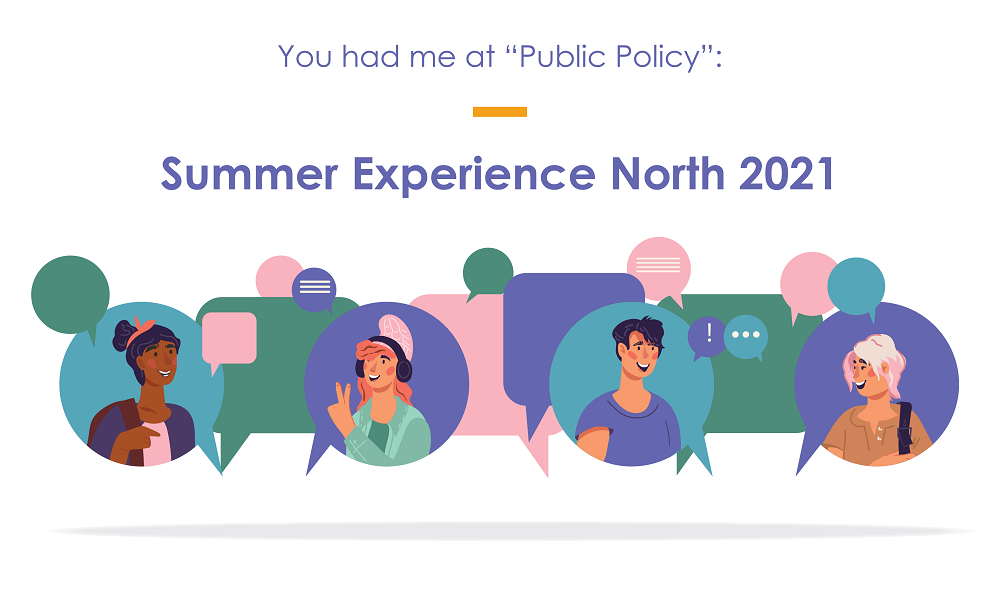 Clairissa Pietron, (Hearst)
Did you have this much fun at your summer job? Workdays consisted of working in my field after graduate school as a policy analyst – gaining crucial experience, making meaningful connections, and learning so much every. single. day. Evenings and weekends meant hiking, swimming, exploring, golfing, making friends, and eating great food.
Doesn't get much better than that, especially during a global pandemic. My Experience North policy analyst summer internship has been an experience I will never forget. I spent my summer in Hearst, ON – a town in central Ontario that is 95 per cent French speaking. I instantly fell in love with the environment of a small town in Northern Ontario and enjoyed space away from the hustle and bustle of a southern Ontario metropolitan area.
This summer internship has also taught me so much about Ontario's northern regions and allowed me to adopt and support a 'northern lens' when it comes to policy perspectives. My projects this summer were primarily focused on infrastructure as I researched the unique needs of Ontario's northern regions and worked to propose solutions and recommendations in my forthcoming publications. This summer gave me the opportunity to focus on developing my research, writing, analysis, and revising skills I 'mastered' in graduate school.
I can't wait to see where my next adventure will take me, thank you NPI!
Avery Cole (Kirkland Lake)
When I first stepped foot in Kirkland Lake, I was immediately greeted by my landlady's dog, Toto. The name felt fitting for the situation, because as I looked around the small downtown of the Northeastern mining town, I realized I was no longer in Kansas. Going into this summer placement, I was excited about living so close to nature. I was content to spend my free time after work adventuring alone in the local trails. But, as I was soon to realize, Northeastern communities have more to offer than their scenic waterfalls and lakes.
Maybe it's a tired trope, but people from small town Northern Ontario are a special kind of friendly. As I discovered in Kirkland Lake, everyone has a story, a cousin that lives in the town where you came from, and insider tips on where the best fishing holes are. Despite being the only NPI employee in town and living 7 hours away from my family, I never felt too lonely. The sense of peace and security you get living in a town where everyone knows everyone is something unparalleled by my experiences living in other communities.
Spending the summer researching seniors' well-being in Northern, Western and Central Ontario led me to learn about the effects of social isolation and the importance of informal support networks. When I first moved to Kirkland Lake, I was struck by the strong community ties and how social capital operates within the community. Living here and meeting the community members who were working on solving the issues that I write about has had a profound impact on me as a researcher and writer. This internship opportunity is invaluable, and I hope that future EN interns are able to grow and learn as I have throughout this summer.
William Dunstan, (Hearst)
As a public policy student who, prior to this summer, had lived in Ottawa my entire life, moving to Hearst for an internship with NPI was an opportunity I could not pass up. Experience North offered a chance to explore a new part of Canada and a chance to work in policy outside of the "Ottawa bubble" – and it certainly did not disappoint!
At NPI, I have had the opportunity to immerse myself in policy areas ranging from transportation to immigration to community-level economic development. I have grown as a researcher too, and I have now acquainted myself with data tools that I had not even heard of before this summer!
Getting to "Experience North" also means experiencing many of the issues that you work on. Alternative approaches to highway construction and design in Ontario's northern, western, and central regions was a fascinating topic for me to explore from behind a computer screen. My research became even more engaging when I actually travelled on these highways and saw the consequences of gaps in the network. That feeling of closeness to my day-to-day work made this job especially rewarding.
The joys of Experience North extend beyond the working day. My weekend adventures have taken me to various communities along the Highway 11 corridor and beyond, and into the stunning boreal forest for some memorable days of cycling and hiking. With so many outdoor activities available, the Hearst area is a great spot to be at any time – and an even better spot during a pandemic!
I would recommend Experience North to anyone interested in improving their research skills, gaining a better understanding of the regions that make up Northern Ontario, and learning from a smart, supportive, and fun team at NPI!
Lindsay Bain, (Sioux Lookout)
Even though COVID-19 made for unique challenges with this summer's placement, I can't begin to express how appreciative I am and how large of an impact this experience has had on my personal and professional development. Working as a Policy Analyst this summer brought projects exploring the impact of the Indian Commission of Ontario (ICO), immigration trends, and affordable housing. Plus I worked with the team to begin extending asset map infrastructure to Ontario's northern regions. Having the opportunity to work on such essential, prominently important projects within Northern Ontario (which holds such a valuable place in my heart as it will always feel like home) was beyond a dream come true.
I was pulled out of my comfort zone and taught new forms of writing and expression, encouraged to collaborate and support fellow staff projects and conferences, and was provided with opportunities for growth through professional development workshops and educational supports – all while gaining practical experience with research and data! It was phenomenal to be part of a team with such intelligent, talented, hilariously witty, and supportive people. The work vibes will be hard to top! I will miss our banter, chats, and Fun Friday's immensely. Can't wait for the Yeti Christmas sweater photoshoot.
"Unless someone like you cares a whole awful lot, Nothing is going to get better. It's not." ― Dr. Seuss, The Lorax
Holly Parsons, (Sioux Lookout)
At the beginning of May, I packed my bags, said goodbye to friends and family, and headed North for the summer! I travelled 1,639 kilometers from one of the most southern cities in Canada to the 'hub of the North', also known as Sioux Lookout and my new home for the next four months. Filled with the excitement of being in a new place and at the starting point of my career as a Policy Analyst, I dove head-first into research on the cost-of-living in the North, while exploring the vast landscape around me on the weekends.
I learnt early-on that there are many advantages to being a newcomer in a small northern Ontarian community during the summer months. The warm weather provides an endless list of outdoor activities to take advantage of and proud residents were eager for me to participate. Thanks to the kindness of those I met, I spent every weekend boating, hiking, swimming in the lakes, or beach-hopping until the sun went down.
More importantly, beyond a great tan, I gained significant insight on the economy, sustainability and challenges of Northern Ontario. I am proud my research contributes to NPI's existing efforts on making the North a resilient and robust region. My understanding of public policy, data collection and report-writing grew exponentially, as did my analytical and communication skills. In the meantime, I also fell in love with Northern Ontario. I will always hold this experience, the town of Sioux Lookout and the people I met there close to my heart. I know I will be back in the future. Thank you NPI for this amazing opportunity.
Emma Dingle, (Sault Ste. Marie)
If someone told me a year ago that I would be an intern in the unfamiliar world of public policy all while working from the depths of my basement, I would've chuckled in disbelief. But here I am, an Experience North Graphic Design intern having had a stellar summer with Northern Policy Institute.
As a Global Business and Digital Arts major, I jumped at the opportunity to apply for a graphic design position in Sault Ste. Marie, my hometown. Working for Northern Policy Institute has been an incredible experience that has not only expanded my skillset in branding and design, but also challenged my versatility as a graphic designer. Throughout the summer, I was responsible for creating a variety of graphics, illustrations, and logos for NPI's social media platforms and website. I was also given the task of designing and laying out research reports, commentaries, and just about any publication you can think of.
The highlight of my time with NPI was directing and filming a promotional video for the Experience North internship program - truly a dream project. This involved a three-day road trip across Northern Ontario to interview my fellow interns and explore various communities such as Hearst, Kirkland Lake and Sudbury.
Despite the challenges and limitations that came with the COVID-19 pandemic, I was still able to interact, collaborate and connect with my lovely coworkers virtually. The wit and humor of NPI staff filled my summer with endless fun and laughter.
To my surprise, the unfamiliar world of public policy has not only become familiar, but something I feel infinitely thankful to have been a part of. I couldn't have asked for a better internship experience with Northern Policy Institute!
Andrew Jalak, (Sault Ste. Marie)
As a returning summer intern for NPI's Experience North program, it is safe to say that my second summer experience with NPI has been both incredibly impactful on growing my skills in communications as well as a team player within an organization. Throughout the summer I have contributed to: social media, website updates (both publishing content and re-designing layouts), creating newsletters, writing policy bytes, releasing press releases, tracking media mentions, and much more. NPI has certainly played a role in my development as an employee and as an overall individual. Building off skills I developed last year with NPI has made me extremely knowledgeable in many aspects of communication, not specifically the field itself, but actual communication amongst co-workers, superiors and members of both the press and the community.
Upon leaving NPI and returning to the realm of education to continue my studies last year, I was pleasantly surprised as to how my time with Northern Policy Institute influenced my overall ability as a student. I noticed how I would react to group work in a more organizational manner such as identifying individuals who were skillful at one thing and appointing them to that task for the overall group. Also, my phrasing when writing changed completely – I noticed I was more direct and to the point.
I strongly believe that my time with NPI has had a tremendous impact on my ability to be a student, employee, leader and simply a contributing member to my community. As I return to school, I look forward to seeing how my communication skills have improved while working with peers and faculty members. I am extremely grateful to NPI and the staff for giving me the opportunity to learn and grow. I strongly encourage those interested in NPI to learn more and find out how they can become part of such an impactful, important, and inclusive institution. Thank you NPI, Charles, Rachel, and Krissie!
Gillian Sgambelluri, (Thunder Bay)
What began as quite the daunting feat to wrap all 16 weeks into no more than 300 words has become an opportunity to share all about my amazing experience at NPI. Especially since my family tries their best to listen to what I think is a cool new finance-y thing I learned, but I know I lose them at the word 'spreadsheet.'
Through working as the Accounting and Operations Assistant, I have been able to gain professional experience related to my field. I worked on various projects like preparing the monthly finance folder, assisting in audit preparation, paying, processing invoices, and (my favourite) gaining knowledge on the accounting software called Sage. I feel I have a new sense of confidence with my accounting skills that I can take with me in the fall when I begin my second year of Business at Lakehead University.
Although most of my time is spent with my head in the finance department, after attending virtual staff week, I felt very fortunate to have spent time with my coworkers and learn about the projects they all are so passionate about working on. Being Thunder Bay born and raised, my colleagues have gifted me a new perspective and great amount of knowledge about the community I grew up in, for which I am very grateful.
I would like to thank everyone at NPI and want to especially extend my thanks to Krissie Rose for taking me under her wing, challenging me and believing that I could be successful in this position. Your encouragement and guidance were amazing but holds no candle to your incredible quality of friendship. It's not goodbye, it's see ya soon!
---
The content of Northern Policy Institute's blog is for general information and use. The views expressed in this blog are those of the author and do not necessarily reflect the opinions of Northern Policy Institute, its Board of Directors or its supporters. The authors take full responsibility for the accuracy and completeness of their respective blog posts. Northern Policy Institute will not be liable for any errors or omissions in this information, nor will Northern Policy Institute be liable for any detriment caused from the display or use of this information. Any links to other websites do not imply endorsement, nor is Northern Policy Institute responsible for the content of the linked websites.
Northern Policy Institute welcomes your feedback and comments. Please keep comments to under 500 words. Any submission that uses profane, derogatory, hateful, or threatening language will not be posted. Please keep your comments on topic and relevant to the subject matter presented in the blog. If you are presenting a rebuttal or counter-argument, please provide your evidence and sources. Northern Policy Institute reserves the right to deny any comments or feedback submitted to www.northernpolicy.ca that do not adhere to these guidelines.
0 Reader Comments