May 1, 2021 - This article first appeared in The Walleye Magazine, May issue.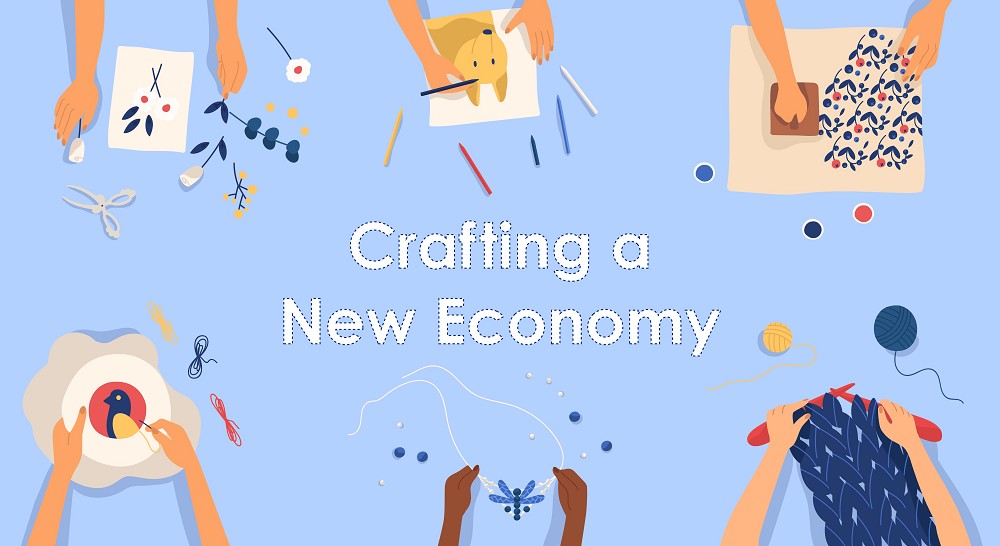 Pandemic-related health and safety restrictions have socially distanced local artisans and craftspersons from community. In Thunder Bay, annual events like Craft Revival and Fine Arts and Craft Shows have opted for virtual platforms; transforming a sector that has traditionally thrived on the business of local customers and tourists.
As we continue to navigate the pandemic, the digital landscape offers a frontier for artisans and craftspersons to adapt a new business model and to re-imagine the gig economy. In 2019, the Provincial and Territorial Crafts Councils sold over $14 million worth of products through their galleries, shops and festivals. This total excludes the independent galleries, shops, tourism outlets, festivals, markets, and online sales that took place outside councils, inside communities, and virtually. Although physical distancing has contributed to the decline in retail sales, nationally, e-commerce sales have doubled in 2020 from 2019. This suggests that online platforms are keeping businesses afloat and perhaps offering a space for recovery.
Even pre-pandemic, social media and digital storefronts were bringing arts, crafts, and Do-It-Yourself products into the future. In fact nowadays, as many brands and storefronts worry over excessive inventory, businesses are exploring partnerships with artisans since they can uniquely operate on thin margins, pivot operations, and creatively repurpose materials. Millennial business-owners in particular use digital channels to search for Business-to-Business (B2B) products and services.
Beyond Etsy, the so called "cottage industry model," which refers to manufacturing activities at home, presents a new way of working that both revitalizes community and globalizes artisan supply chains. This business model is also responsive to the urgent call to table Black, Indigenous, and people of colour (BIPOC) voices as, globally, the model has helped individuals live sustainably and create in their own community. Prior to the COVID-19 pandemic, the crafts sector was already one of the largest home-based industries that predominately employs women. This global view of artisanship and crafting holds true for Ontario's northern regions. The graph below illustrates the dominance of females in the sector according to the 2016 census.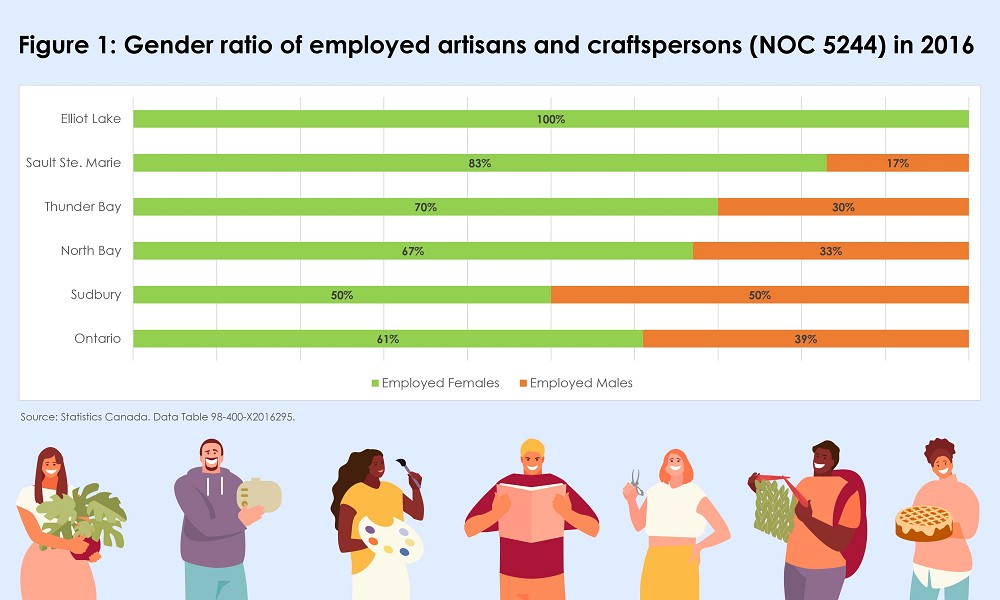 "Her" problems are business problems, given that the majority employed in the crafts sector are female. Andrea O'Reilly, a York University professor, found that generally Canadian women over men are struggling to keep their jobs and income as the pandemic forces women to take on rising demands of child care and household tasks. For women, the cottage industry model benefits both entrepreneurial interests and personal responsibilities amidst pandemic and post-pandemic challenges. The model offers flexible hours, a safe workplace environment, eliminates commuting, and digitally yields greater connectivity with consumers and networks. Luckily, resources and financial supports are available for businesses, including artisans and craftspersons, to adapt to this sustainable model, and ultimately, promote "she-covery."
Any business owner's first stop should be Digital Main Street Thunder Bay, which hosts free business events and offers a directory of online tools and resources to help establish a digital foundation. Throughout the pandemic, PARO Centre for Women's Enterprise has provided funding opportunities, such as peer lending circles and BizGrowth for female-owned northern Ontario businesses. PARO continues to offer its services and resources online, including mentorship, webinars, business events, and is currently developing a Women's B2B Vendor Database.
For sector specific resources, check out the Canadian Council for the Arts for individual and non-profit funding, as well as industry trends and employment data about the arts. Join Artisans Northwest to connect with other northwestern Ontario artisans and craftspersons, to participate in virtual shows, and learn from other business owners in the community. Stay engaged with both Craft Ontario and the Canadian Crafts Federation to explore advocacy initiatives, events, technological changes to crafting, and new industry reports.
Don't forget to review the Government of Canada's checklist on, "How to Start an Artisan and Craft Business in Ontario." This list provides guidance on regulations and restrictions for protecting your products and business identity, which will secure your business' online presence.
These resources and supports are helping artisans and craftspersons expand and think about their business beyond community lines; especially at a time when tourism restrictions are limiting their exposure. Whether you're in it as an amateur or professional, traditional thoughts of artisanship and crafting are evolving with online markets. In February 2021 Canada proudly took leadership of the World Crafts Council of North America (WCCNA), a position held by the United States since 1964. Over the next few years Canada has the opportunity to reimagine artisanship and the crafts sector as a vital part of economic life through digital ways of business delivery, employment, and market entry. It all starts with what we craft locally.
Sandra Janjicek is a Policy Analyst at NPI.
---
The content of Northern Policy Institute's blog is for general information and use. The views expressed in this blog are those of the author and do not necessarily reflect the opinions of Northern Policy Institute, its Board of Directors or its supporters. The authors take full responsibility for the accuracy and completeness of their respective blog posts. Northern Policy Institute will not be liable for any errors or omissions in this information, nor will Northern Policy Institute be liable for any detriment caused from the display or use of this information. Any links to other websites do not imply endorsement, nor is Northern Policy Institute responsible for the content of the linked websites.
Northern Policy Institute welcomes your feedback and comments. Please keep comments to under 500 words. Any submission that uses profane, derogatory, hateful, or threatening language will not be posted. Please keep your comments on topic and relevant to the subject matter presented in the blog. If you are presenting a rebuttal or counter-argument, please provide your evidence and sources. Northern Policy Institute reserves the right to deny any comments or feedback submitted to www.northernpolicy.ca that do not adhere to these guidelines.
0 Reader Comments