Communities Banding Together in Times of Uncertainty – Part 2
July 21, 2020 - In another post we looked at how we have been looking out for one another in Northern Ontario's Big 5 (Timmins, Sudbury, Sault Ste. Marie, Thunder Bay, North Bay) during the COVID-19 pandemic. Here we will explore the same topic but looking at experiences in smaller municipalities.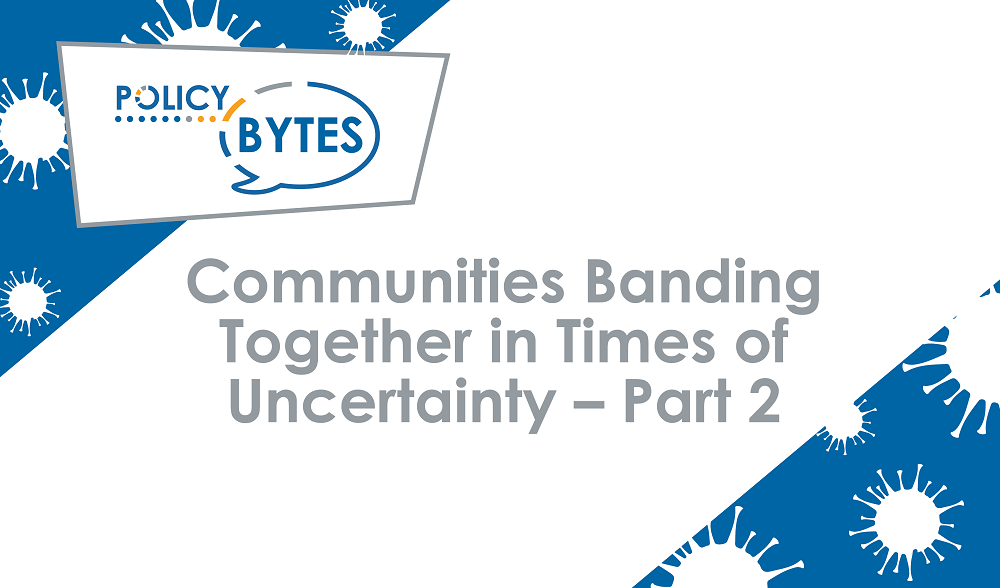 Marathon
With a population of 3,273, this tight-knit community in mid-April took advantage of the gift of technology and organized a 'virtual activity week' for its residents. Activities included a fitness class for seniors held via Facetime, a Bootcamp organized through the communication platform Zoom, a Facebook live Bingo, a trivia night organized through the community services Facebook page and the app Kahoot, a yoga session held over Zoom, a special edition Hockey Night in Canada trivia night held via Facebook live, and finally an organized plan to give thanks to frontline and healthcare workers that are working relentlessly during these tough times.
Wawa
The organization known as Wawa Walks promoted the North Algoma Wellness Challenge and encouraged all North Algoma communities to participate. The idea was provided by Iakwa'shatste and Garden River First Nations. The three-week challenge, held from April 26th to May 16th, promoted healthy activities to keep community members occupied during quarantine while also giving them a chance to win prizes! The challenge was easy to participate in. Each day on the Wawa Walks Facebook page a challenge was posted. To enter for a prize you simply posted a photo of you or the people in your house completing the challenge. This shows how organizations and communities are adapting to different circumstances and getting the community involved to ensure individuals are bettering themselves and keeping busy during these times.
Sioux Lookout
'Sioux Lookout Out of the Cold' shelter is providing emergency accommodations for vulnerable people. Out of the Cold is a non-profit organization that provides a safe, clean and reliable shelter that also includes food and basic necessities for those in need. The shelter looks to protect those in a vulnerable situation and ensures that all are "treated with respect, dignity and as valued members of the community". Although Sioux Lookout Out of the Cold provides services year round, it is important to note their services were in full swing even during the COVID-19 pandemic to ensure that all members of the community are cared for and valued just as one would value a member of their own family, this truly shows the importance of community.
Cochrane
Due to the pandemic, many have been forced to come up with creative ways to adapt to the new 'norm' while the virus is still a threat to the public. In Cochrane, the 1st Cochrane Scout Group has had to cancel in person meetings until the government and Scouts Canada says they are allowed to resume. Again, thanks to the availability of technology, scouts have still been able to have meetings virtually and have been able to practice some of their scouting skills at home. The scouts, ages 5-17, acquire skills such as tree identification, compass reading, tying knots, cooking and baking, being creative and artistic, camping at home and many others in order to earn badges and awards. It is reported that 80 per cent of the scouts are still working on their scouting skills from home! This truly demonstrates the scouting principles of "learning by doing" and "being wise in the use of resources".
Kirkland Lake
A story has emerged about Alamos Gold and their contribution to the Kirkland/Englehart and District Hospitals by donating 3,500 procedure masks. The general manager of Alamos Gold Luc Guimond told Northern News "we are proud to donate these masks to support our health care workers and the people they serve on the front lines everyday." Interim CEO of the Kirkland/Englehart and District Hospitals, Sean Conroy, states that the donation helped maintain their stock of procedure masks during a time when some PPE supplies have been challenging to obtain.
Communities all across Ontario's western and northern regions are showing resiliency and adapting to these difficult times. Proving once again that being connected and having a sense of common purpose are hallmarks of our communities, big and small.
To read COVID-19 & Communities Part 1 click here
Andrew Jalak is a Communication Officer at NPI.
Thank you to our Experience North Sponsor

---
The content of Northern Policy Institute's blog is for general information and use. The views expressed in this blog are those of the author and do not necessarily reflect the opinions of Northern Policy Institute, its Board of Directors or its supporters. The authors take full responsibility for the accuracy and completeness of their respective blog posts. Northern Policy Institute will not be liable for any errors or omissions in this information, nor will Northern Policy Institute be liable for any detriment caused from the display or use of this information. Any links to other websites do not imply endorsement, nor is Northern Policy Institute responsible for the content of the linked websites.
Northern Policy Institute welcomes your feedback and comments. Please keep comments to under 500 words. Any submission that uses profane, derogatory, hateful, or threatening language will not be posted. Please keep your comments on topic and relevant to the subject matter presented in the blog. If you are presenting a rebuttal or counter-argument, please provide your evidence and sources. Northern Policy Institute reserves the right to deny any comments or feedback submitted to www.northernpolicy.ca that do not adhere to these guidelines.
0 Reader Comments