March 4, 2020 - It is hard to do a good job when you don't have the right equipment. For those who work in trades jobs, having the proper Personal Protective Equipment (PPE) is the number one priority. As more women enter the labour force in the trades sector, finding proper fitting PPE was a difficult task, and is now easy thanks to Covergalls.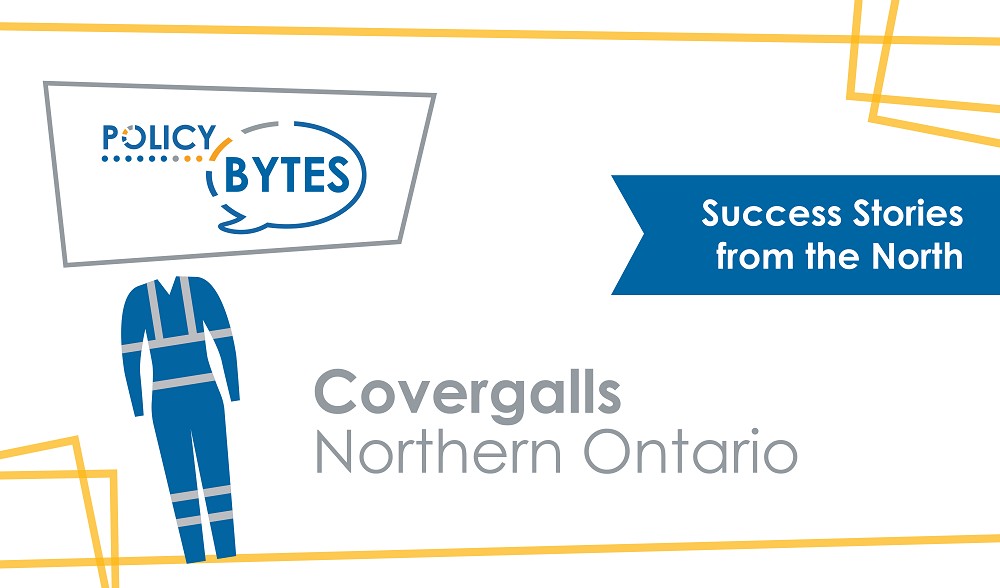 Covergalls is a PPE clothing company that was founded by Alicia Woods in Sudbury, ON. This company provides coveralls that meet the PPE requirements, fit the female body and provide increased functionality. Covergalls has grown to now sell gloves, shirts, bib overalls, flame resistant clothing and kids wear.
The founder of Covergalls, Alicia Woods, worked for a mining supply company run by her family. She often had to visit the mine to see her company's equipment in action and was frustrated looking for PPE equipment that fit her properly. There were no women sizes available. Why was there no PPE designed specifically for women's needs? She also realized that there were complications when using the restrooms with regular coveralls. "Covergalls was born out of my own frustration at having to use workwear designed for men," she said in an article. For Woods, it was a challenging experience and functionality issues with the available PPE clothing, so she decided to develop coveralls tailored to women.
Working closely with local mining companies and tailors, she was able to design a garment that had all the requirements needed by employers while still having the increased functionality that women need. She produced half a dozen garments that went on a test run at Vale Inc. where she received overwhelmingly positive feedback from women, so the company helped modify the design to meet all of their health and safety requirements. Eventually the design was approved by the PPE committee and produced their first official order for Vale in 2011.
The covergall has a rear trap door for easier bathroom breaks and a velcro adjustable waist for a more tailored fit to reduce the amount of loose fabric. There is also a two-way zipper, snaps at the wrist, and secure pockets. The extra features were designed to be discrete so you wouldn't be able to tell who is wearing a coverall versus who is wearing a covergall. It also includes all the required visibility stripes. Currently, Covergalls produces many different designs that meet the PPE requirements for industries other than mining, such as construction, oil and gas, and forestry and farming.
"A lot of companies are using our products as an incentive to attract and retain women who are interested in employment in non-traditional sectors," Woods said in an interview with Daily Commercial News.
In 2014, Woods made Covergalls public by pitching it on Dragon's Den. She asked for $75,000 for 20 per cent of her company. She received four offers and accepted a deal from Michael Wekerle, Arlene Dickinson and Jim Treliving for $75,000 for a 30 per cent stake. Within minutes of the episode airing, she had several major companies reach out asking about Covergalls.
Covergalls has provided a stepping stone in the industrial/trades industry. By designing proper Personal Protective Equipment for women, Covergalls has helped make workplaces more diverse and inclusive for women.
Evelynn Hoffman is the Communications Officer at NPI.
---
The content of Northern Policy Institute's blog is for general information and use. The views expressed in this blog are those of the author and do not necessarily reflect the opinions of Northern Policy Institute, its Board of Directors or its supporters. The authors take full responsibility for the accuracy and completeness of their respective blog posts. Northern Policy Institute will not be liable for any errors or omissions in this information, nor will Northern Policy Institute be liable for any detriment caused from the display or use of this information. Any links to other websites do not imply endorsement, nor is Northern Policy Institute responsible for the content of the linked websites.
Northern Policy Institute welcomes your feedback and comments. Please keep comments to under 500 words. Any submission that uses profane, derogatory, hateful, or threatening language will not be posted. Please keep your comments on topic and relevant to the subject matter presented in the blog. If you are presenting a rebuttal or counter-argument, please provide your evidence and sources. Northern Policy Institute reserves the right to deny any comments or feedback submitted to www.northernpolicy.ca that do not adhere to these guidelines.
0 Reader Comments