Backcountry Motorsports Media
May 28, 2018 - Where passion meets profession – Shelby Mahon does it all at Backcountry Motorsports Media.
Located in Parry Sound, Ontario, Backcountry Motorsports Media is a multi-faceted marketing business that focuses specifically on the motorsports industry. The organization offers a variety of services including:
Live event coverage
Social media marketing
Graphic design
Action photography
Video production
Writing services
Website development & search engine optimization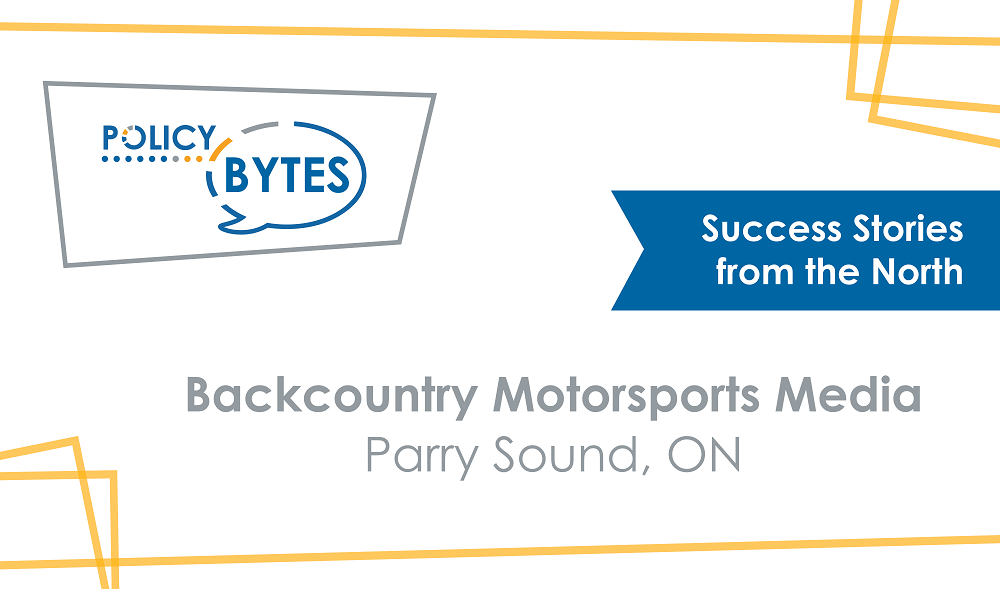 Owner Shelby Mahon, was born and raised 20 minutes north of Parry Sound, where she grew up as a "backwoods" girl – snowmobiling, ATVing, and much more. Shelby developed a passion for motorsports at the young age of 9, and since then has had a successful snowmobile racing career, which lead to the launch of Backcountry Motorsports Media. A Bachelor of Arts Degree from Wilfrid Laurier University, as well as a Journalism diploma have provided Shelby with the knowledge she needed in order to ensure the success of the company. Shelby owns and operates the organization on her own, but is currently in search of an intern.
The company launched in 2013, and it took Shelby hard work and self-sacrifice to get it to where it is today. By attending as many events as possible, and by going above and beyond to get that "perfect shot", the business began to grow.
With her unique understanding of the Motorsports and Powersports Industries, including spectator experience, event organization and sponsor expectations mixed with top-notch marketing skills, Backcountry Motorsports Media provides upcoming athletes with the tools and support they need in order to become successful within the industry.
With over 4,000 Facebook fans and many 5-star reviews, her clients have nothing but good things to say about the company:
"…Not only has Backcountry Motorsports Media provided us with pictures, but has created us posters, resumes and end of season videos. All of this has helped us gain some well-known sponsors…"
The company is now well-established within the industry, representing many high-profile clients, including the Canadian Snowcross Racing Association, Rock Star Energy Drink OTSFF Polaris SnoX Team, Royal Distributing and many more! Shelby has also covered many special events, including the 2017 CMRC National Round 10, Winter X Games, Toronto Snowmobile, ATV and Powersports Show and more.
Shelby says that one of her favourite parts about owning the business are the relationships she develops:
"The people I get to meet, the kids I get to see grow up and the friendships I get to develop make this one of the most inspiring and heartwarming industries I can think of. Capturing moments that become beloved memories to families and seeing how happy that makes them is so rewarding."
In her free time, Shelby sticks to her roots by snowmobiling and ATVing. Having travelled around North America, she notes that one of her favourite snowmobile trips was right here in Northern Ontario - from Searchmont to Dubreuilville.
To stay up-to-date on the company, visit the Facebook and Instagram pages. To learn more about what Backwoods Motorsports Media can do, visit her website.

Jenna Marsh is a Communications Officer for Northern Policy Institute.
---
The content of Northern Policy Institute's blog is for general information and use. The views expressed in this blog are those of the author and do not necessarily reflect the opinions of Northern Policy Institute, its Board of Directors or its supporters. The authors take full responsibility for the accuracy and completeness of their respective blog posts. Northern Policy Institute will not be liable for any errors or omissions in this information, nor will Northern Policy Institute be liable for any detriment caused from the display or use of this information. Any links to other websites do not imply endorsement, nor is Northern Policy Institute responsible for the content of the linked websites.
Northern Policy Institute welcomes your feedback and comments. Please keep comments to under 500 words. Any submission that uses profane, derogatory, hateful, or threatening language will not be posted. Please keep your comments on topic and relevant to the subject matter presented in the blog. If you are presenting a rebuttal or counter-argument, please provide your evidence and sources. Northern Policy Institute reserves the right to deny any comments or feedback submitted to www.northernpolicy.ca that do not adhere to these guidelines.
0 Reader Comments