The Digital Divide: Internet Access in Northern Ontario
November 14, 2016 - For the majority, internet usage is an integral part of the everyday. It has infiltrated its way into our daily lives, and serves as an indispensable medium in the workplace, for commerce, education, health services, and functions as global gathering place for an open and democratic exchange of ideas. Individuals in urban centres tend to have access to seamless online connectivity and can pay bills at any time, from the comfort of their own home – even obtain a degree. This opens up the interesting question of whether affordable, high speed internet services, should be a legal right, or at least, a basic service. This question is particularly pertinent for individuals in northern Ontario who live in remote or rural areas, who by virtue of geography, are far enough away from urban cores to be at a social and economic disadvantage.
In 2011, the Canadian Radio-Television and Telecommunications Commission (CRTC) did not capture high speed internet within its definition of "basic telecom services" – meaning that, telecommunications companies are not legally obliged to provide high speed as an affordable, basic service to the population. Under the basic service objective which was created in 1999, all Canadians are guaranteed access to cost effective and efficient telecommunications services which fall within its inscribed boundaries. This basic service principle includes low-speed internet services, which on its face, seems equitable enough. This sentiment will soon fade, however, once you have used dial-up yourself, and fossilize in the process, waiting for your download to complete.
Rural and remote communities in Northern Ontario still face issues regarding internet accessibility and affordability. In Thessalon First Nation, which sits along the outskirts of Sault Ste. Marie, satellite internet service is provided to residents by Xplornet. The only problem is that this system has been criticized for being inconsistent, expensive and lagging in times of high traffic. Without proper monitoring, it has been said that internet bills can skyrocket up to hundreds of dollars per month. Instead, Bell Hubs are another option for community members, which provides internet access through data plans.
In smaller communities, simply directing unconnected residents to use public WiFi hotspots is insufficient, as some communities are lacking in these public spaces, or have inconsistent hours of operation. In Thessalon First Nation, the only accessible public WiFi network is at the public library, which is open merely four days per week, for 4-5 hours per day. Given that 40% of the community is made up of young people, digital connectivity is imperative to connecting them to the world of ideas. More importantly, getting them linked in at the community level, strengthens the possibility of long-term retention (Ashawasega, n.pag.).
The question then becomes one of access or service. The Broadband Commission for Digital Development noted the important distinction between the two in a report from 2015. Access enables equal services to each individual in a community space, also known as shared access. While, universal service is when each individual or household has access to services privately (64). This matters, because underserviced individuals, or those who simply cannot afford access, must tailor their lifestyles around accessibility – sometimes travelling long distances to access important information related to education, employment, and health. This expends time and resources, and translates into a geographical disadvantage. When the internet provides access to services that are fundamental to human health and opportunity, yet bases accessibility upon the profit potential of unregulated service providers, this creates what is called the "digital divide."

In Serpent River First Nation, 141km west of Sudbury, the Band is currently accepting a Request for Proposals in order to supply high speed internet access to their community. Currently, public WiFi is not an option, as community spaces are few and far between. While Bell Hub is available to residents, much like in Thessalon First Nation, it is often slow and comes with a prohibitive cost (Bissiallon, n.pag.). Despite some of these limitations, it should be noted that the Serpent River First Nation Economic Development Corporation has designed a vibrant online trading post with a dazzling collection of high quality artworks that can be purchased from the website. It touts to be "The Largest Art Collection in Northern Ontario" and demonstrates what opportunities high-speed service can give to distant communities. It provides them with the opportunity to see and be seen, and showcase their heritage and capital assets, on the World Wide Web.
In terms of the digital economy, for small and isolated communities who have little opportunity for industry within the physical locality, having access to high quality internet speeds could make or break a fledgling digital entrepreneur. E-commerce start-ups are not merely castles in the air. FedNor's Beam Program (Broadband for E-Business and Marketing) has been a successful venture that provides up to $5,000 to businesses for website development and e-business. According to NEOnet, a total of 225 businesses in Northeastern Ontario have accessed the Beam Program's funding supports to successfully achieve an online presence. Survey trends reveal that 95% of the surveyed small-medium enterprises depended on Beam's capital contributions in order to launch their digital presence, and 80% of businesses are reaching markets outside of their local catchment area. As well, there are sales increases among 55.8% respondents, and increases of 45.5% with respect to completed projects (Pawluk, 3; Imhoff, n.pag.).
There are valued, non-profits in the north who aspire to make a difference, and these efforts do not come without their own set of roadblocks. NEOnet (North Eastern Ontario Communications Network Inc.) is a non-profit organization that champions information and communication technology (ICT) in the northeast. It is supported by FedNor, and has recently received news that FedNor would cease funding supports for pan-northern broadband projects. This included a total of 18 proposed projects across 5 ICT networks that were geared towards broadband installation and expansion in underserviced areas in Northern Ontario. Affected networks include NEOnet, Blue Sky Economic Development Corporation, Muskoka Community Network, and the Sault Ste. Marie Innovation Centre & the Northwestern Ontario Innovation Centre in Thunder Bay (Imhoff, n.pag.). With this public funding stream closed, these networks will have to explore other potential avenues of investment in order to expand broadband services to those areas overlooked by service providers, and to equalize high speed internet accessibility for all Northern Ontarians. In the same vein, NOHFC has recently announced funding for broadband expansion within Chukuni Communities Development Corporation's catchment area and those communities which fall within it will benefit from the investment.
Many northern communities still remain underserved, and do not have the benchmarked "high-speed" 5 mbps for downloading, and 1 mbps for uploading, that the Canadian Radio-Television and Telecommunications Commission has earmarked each Canadian to have access to by the end of 2015. While the federal "Connecting Canadians" program has helped bridge gaps in service for rural residents, it has not been a panacea for the digital divide. As examples, while access to 5mbps internet service in Northern Ontario hovers around 70%, only 37% of residents have access to this speed in the Town of Northeastern Manitoulin and the Islands, and roughly 475 households remain underserved. While, Sioux Narrows-Nestor Falls has a high speed accessibility rate of 49%, with around 460 underserved households. By arming communities with opportunities that are unfettered by eternal download speeds and sprawling geography which place knowledge and opportunity out of reach, high speed broadband services can function as a springboard of opportunity for small, northern communities to expand their horizons, and markets.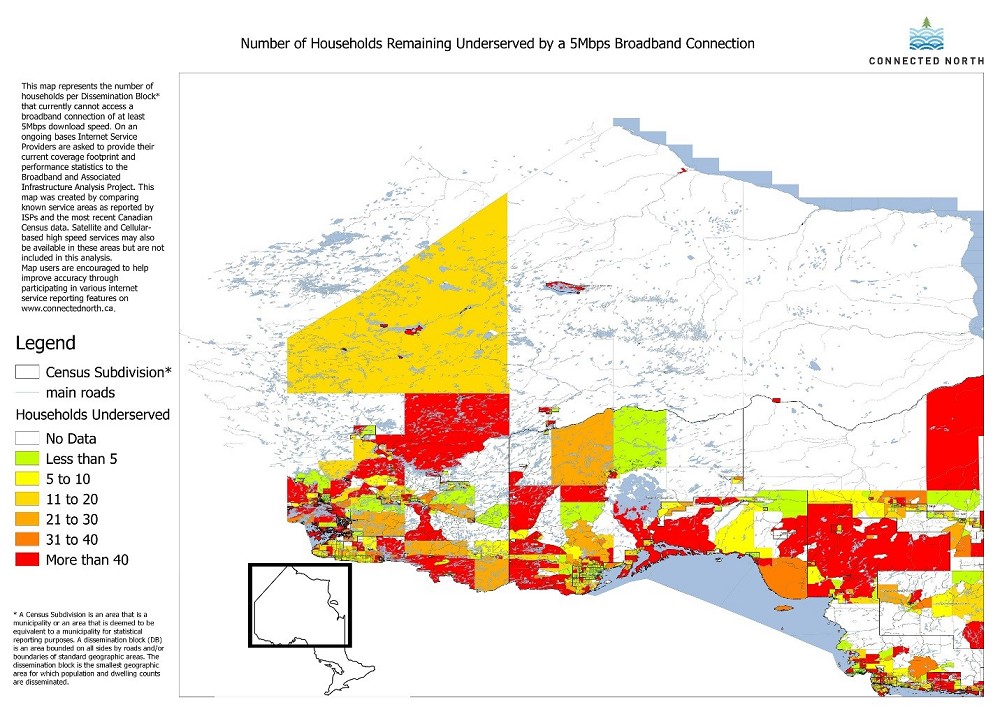 ---
Mandy-Jean Masse is a former policy intern at Northern Policy Institute.
The content of Northern Policy Institute's blog is for general information and use. The views expressed in this blog are those of the author and do not necessarily reflect the opinions of Northern Policy Institute, its Board of Directors or its supporters. The authors take full responsibility for the accuracy and completeness of their respective blog posts. Northern Policy Institute will not be liable for any errors or omissions in this information, nor will Northern Policy Institute be liable for any detriment caused from the display or use of this information. Any links to other websites do not imply endorsement, nor is Northern Policy Institute responsible for the content of the linked websites.
Northern Policy Institute welcomes your feedback and comments. Please keep comments to under 500 words. Any submission that uses profane, derogatory, hateful, or threatening language will not be posted. Please keep your comments on topic and relevant to the subject matter presented in the blog. If you are presenting a rebuttal or counter-argument, please provide your evidence and sources. Northern Policy Institute reserves the right to deny any comments or feedback submitted to www.northernpolicy.ca that do not adhere to these guidelines.
---
Works Cited
Ashawasega, Tamara. Telephone interview. May 2016.
Bissiallon, Wilma. Telephone interview. 25 May 2016.
Government of Canada. Digital Canada 150: 2.0, 2015. PDF file.
Imhoff, Laura. Telephone interview. 30 May 2016.
Pawluk, Lance. "Beam II Project: Survey Trends," 22 August 2014. PDF file.
The Broadband Commission for Digital Development. "The State of Broadband 2015 September 2015. PDF file. (hyperlinked)
2 Reader Comments
Article comments

Posted By Blue Sky Net on 11/18/2016 10:30:02 AM

Hello from Blue Sky Net, it's great to see that broadband and the digitial divide in Northern Ontario is being further discussed.

Regarding the BEAM program which is referred to in the article, we're pleased to report that the story is even better! NEOnet, Blue Sky Net, the Muskoka Community Network and the Sault Ste Marie Innovation Centre all have run the BEAM program in their respective catchment areas so the number of businesses who've received assistance and have seen their business grow is even higher!

We're also glad to see that one of the broadband maps from www.connectednorth.ca was utitlized in this article. On Connectednorth.ca there are more broadband maps available in addition to information about what broadband exactly means. There you can also use the address lookup feature to see what broadband services are available to you as well as a speed test which works on your phone without the need for a mobile app!

Keep up the great work!
Blue Sky Net

Digital Divide

Posted By Fred Wright on 2/8/2017 8:18:56 AM

Saskatchewan has enjoyed a strong economy for more than a decade until recently, mostly due to a perfect positive economic storm where oil, agriculture and mining (Potash and uranium) were all strong. Part of the sucess I believe was also due to the Saskatchewan governments initiative in the 1990's to expand Sask Tel high speed internet throughout the province. Northern Ontario needs the same sort of forward thinking and commitment from Queens Park.