Science North Summer Science Camps
October 22, 2018 - Since 1987, Science North, a not-for-profit organization, has engrained itself into many Northern Ontario communities and has become a major tourist attraction. Its primary focus is to be the leader in informal science education for youth and adults across Northern Ontario.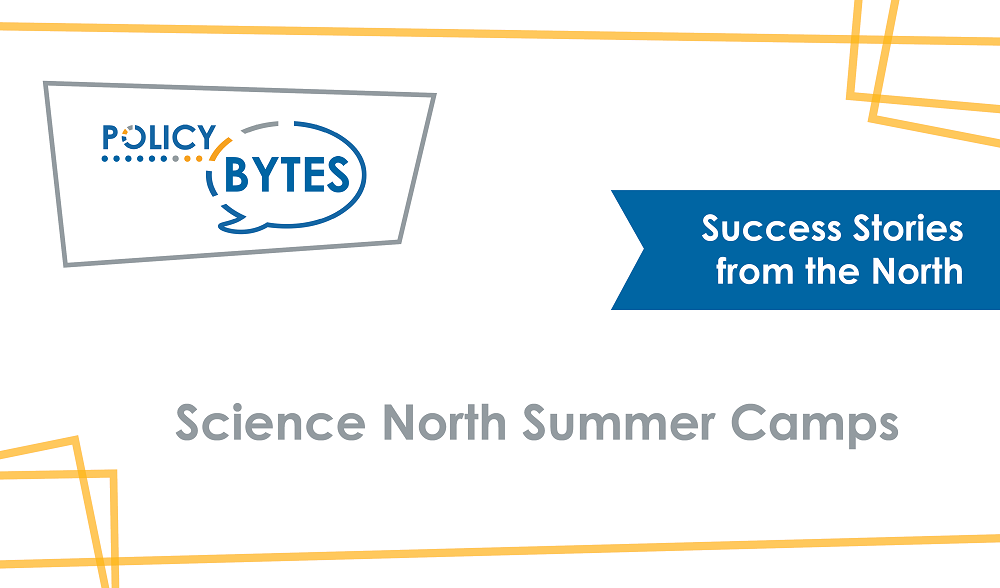 One of Science North's popular programs are their annual summer science camps. Cathy Stadder-Wise, Senior Scientist in Education at Science North, says the camps were introduced around the same time as Science North and have seen a steady increase in participants every year since. According to Stadder-Wise, Science North has welcomed roughly 40,000 campers since starting the program in 1987, and is overwhelmed at the support this program receives from families and communities in the North. This year, the camps were held in 35 communities from Kenora to Parry Sound and almost every place in between. While the number of camp locations is impressive, Stadder-Wise says they are always striving for more. Their overarching goal is to get Science North in every single part of Northern Ontario. "Our summer camps are one of the many ways we bring science education across the north", she states.
Such efforts correlate with the Growth Plan for Northern Ontario (2011), which details the need for outreach to under-represented groups, including youth. A major goal for Northern Ontario is to support these groups by providing them with education, training and experiences to realize their full potential in whatever career they may choose, and Science North's summer camps are one way to instill that confidence early in youth and children as young as four.
About the camps
This year, these week-long camps accepted kids from ages 4-13 and prices varied from $162 - $250 per camper per week. The camps took place during the day, starting at 9 am and finishing at 4 pm, with camp counselors on site half an hour before open and after close each day. Day camps in larger cities like Thunder Bay, Sault Ste. Marie and Sudbury (among others) offered extended hours for campers and their families.
For the thousands of families who register their children in summer camps, they often have one major question: who are the supervisors or counselors? Science North typically hires counselors who are in post-secondary studies, as either Education or Science majors. Given the range of locations, some camps require bilingual staff as Science North strives to deliver camps in English or French based on community demand.
The science behind it all
These summer camps provide a full day packed with science-related activities. From kid-friendly science experiments to learning about people who have shaped the world of science throughout the ages, their days are chock-full of fun activities. The staff try to utilize their outdoor space as much as possible (weather permitting) and teach the campers about safe cleanup after outdoor experiments. Recently, Science North has implemented an all-girls science camp as one of the 14 different program choices families had to choose from in 2018. The camp is called Girls' Science and it offered young campers an opportunity to learn about the contributions women have made to science throughout history. Indeed, such a camp is valuable because according to Statistics Canada, men with lower marks in high school were still more likely to choose a career in STEM (science, technology, engineering, and mathematics or computer science) than women who received higher marks. Stadder-Wise says that these camps encourage girls to take an interest in science at an early age, and gives them a sense of confidence in what they are learning.
In addition to expanding the camps to encourage girls in science, Science North has updated their 5-year strategic plan, which details their goals for outreach in communities, including increasing its presence in more than 104 First Nation communities in Northern Ontario. They also want to grow student involvement during science events held at schools and build on local partnerships.
Although the summer has ended, day camp registration for next year will open in February 2019 and Science North encourages families to register early to guarantee spots and confirm their desired week(s). To find the Science North Summer Science Camp nearest you, or to learn more about the camps visit sciencenorth.ca.
Elektra Papadogiorgaki is a former Policy Summer Placement with Northern Policy Institute.
---
The content of Northern Policy Institute's blog is for general information and use. The views expressed in this blog are those of the author and do not necessarily reflect the opinions of Northern Policy Institute, its Board of Directors or its supporters. The authors take full responsibility for the accuracy and completeness of their respective blog posts. Northern Policy Institute will not be liable for any errors or omissions in this information, nor will Northern Policy Institute be liable for any detriment caused from the display or use of this information. Any links to other websites do not imply endorsement, nor is Northern Policy Institute responsible for the content of the linked websites.
Northern Policy Institute welcomes your feedback and comments. Please keep comments to under 500 words. Any submission that uses profane, derogatory, hateful, or threatening language will not be posted. Please keep your comments on topic and relevant to the subject matter presented in the blog. If you are presenting a rebuttal or counter-argument, please provide your evidence and sources. Northern Policy Institute reserves the right to deny any comments or feedback submitted to www.northernpolicy.ca that do not adhere to these guidelines.
0 Reader Comments