School of the Airwaves: Wahsa Distance Education – from Radio to Social Media
November 25, 2016 - Over the past twenty-five years, Wahsa Distance Education Centre (WDEC), has pushed at the limits of technology in the Northern education frontier. Since his arrival as Principal in 1995, Darrin Head has seen WDEC through a succession of dramatic technological changes in the delivery of its programs – from comparatively crude instructional radio to SMART board technology and social media.
Twenty years ago, it was essentially a radio high school on the Wawatay Communications network accustomed to flying teaching modules in and out of remote First Nations communities. Today Wahsa's Sioux Lookout broadcast headquarters is the nerve centre for a multi-platform distance learning network, combining SMART technology online instruction, radio broadcast lessons, and social media chat room discussion.
Operated by the Northern Nishnawbe Education Council (NNEC) since 2000, Wahsa now enrolls some 850 students, registered in 21 different Nishnawbe Aski Nation communities. With a teaching staff of ten, Principal Head provides continuous year-round learning, serving an older population than its Fort William First Nation counterpart, KiHS. Over the past five years, the number of registered students has grown from 650 to between 850 and 1,000 with the advance of Internet connectivity in the North.
Almost all of the Wahsa students are adult learners seeking to complete high school in their remote communities. The Centre serves two types of adult learners: students with no high school credits and those seeking completion credits. It is financed by an Indigenous and Northern Affairs Canada (INAC)-funded grant support ranging from $1,500 to $5,000 per student.
Like most distance learning programs, Wahsa faces the challenge of increasing its course completion and graduation rates. About one out of four adult students perseveres through independent study and finishes a high school course, taking up to a year.
"All of our students returning to complete high school would be considered 'at-risk,' Head says. "One violent death sends shock waves through a community disrupting people's lives and lasting for months."
Given the formidable obstacles, Wahsa Distance Education Centre is proud of the 440 adult learners who graduated through the program from 1990 to 2015. Depending upon the year, the numbers of graduates has hovered between 17 and 33 per year.
Adopting SMART technology and software has produced a real breakthrough in terms of variety and quality of online instruction. Since 2012, Head and his team of teachers have been utilizing a SMART Board interactive whiteboard and Brigit conferencing software to provide lessons to students accessing Wahsa programs on desktop computers or iPads.
Students working individually or in small groups in the 21 different school locations can see everything that's being taught online and can even write over the content to highlight concepts or exchange ideas. Learning support is provided by NNEC staff to assist students in connecting and by responding to their questions.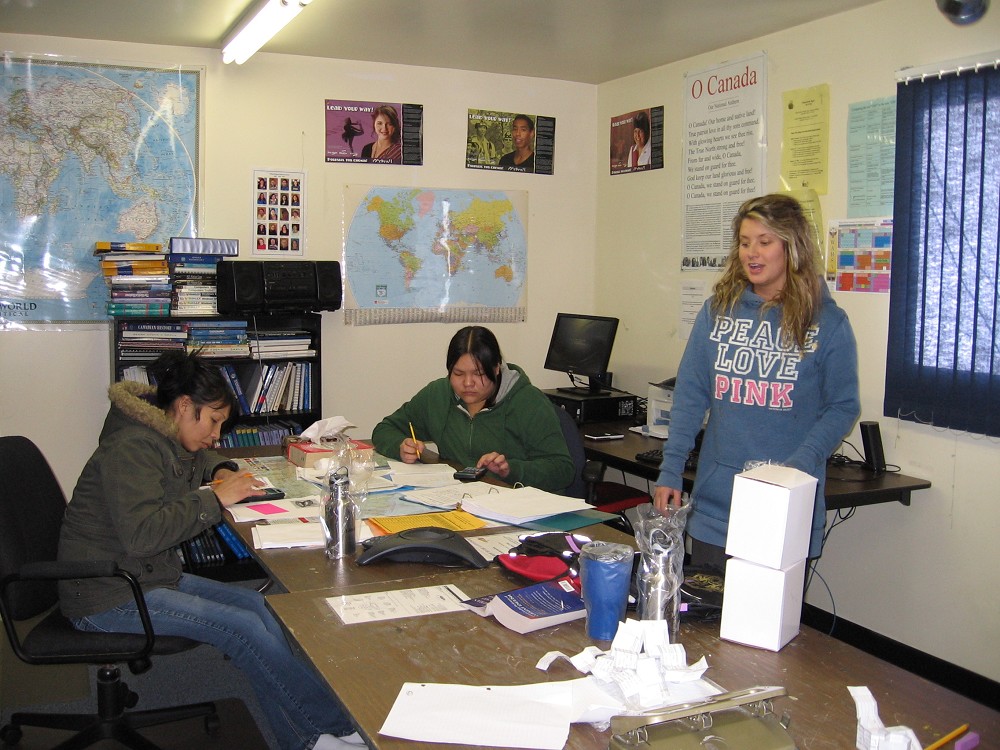 Tutoring Students: A WDEC Tutor and Her Students (Photo: Darrin Head)
One of the remaining obstacles facing Head and his teachers is the reliability of Internet communications lines. Out of the 21 community schools served by WDEC, most if not all are now connected with Fibre Op installed by Bell Canada. Internet interruptions and broadband issues are less common, but still hit on a weekly basis. A few of the most remote schools experience daily problems with connectivity and rely more on radio delivered lessons.
All Wahsa teachers and support staff now use social media to communicate regularly with their registered students and to help keep them on task. "We've learned," Head says, "that social media such as Facebook and Twitter are critical in communicating with today's students. Students that cannot be reached by phone respond immediately on social media."
Teaching and learning have also changed dramatically in Wahsa Distance Learning programs. One-way analog radio communications of daily lessons on Wahsa Radio 91.1 FM are no longer the only delivery model. SMART Board conferencing and social media exchanges are now part of the teaching and learning repertoire.
Flexibility is the order of the day in today's technological world and especially so in far-flung First Nations schools. "Learning in schools is uncomfortable for all our young adult learners," Darrin Head notes. "So we need to respond in ways that reach them. Social media is now one of our best engagement tools."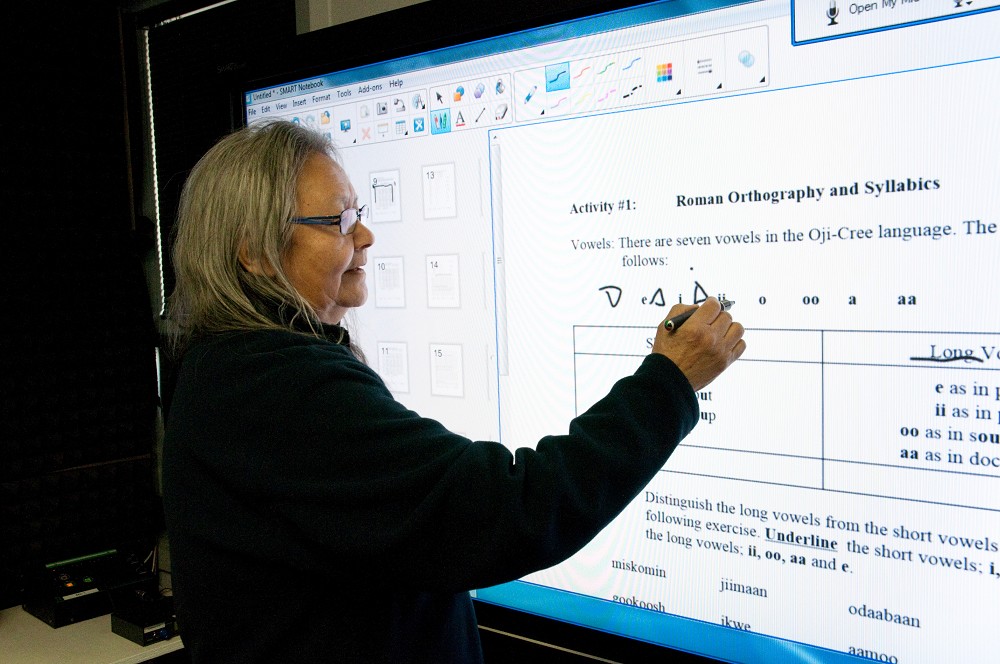 Teaching at Wahsa: A WDEC Teacher demonstrates Native Languages using a SMART Board (Photo: Darrin Head)
---
Dr. Paul W. Bennett is a Fellow in Education Policy at the Northern Policy Institute and Rick Garrick is a Thunder Bay-based news reporter.
This featured article is part of a four part series celebrating innovative and resilient success stories of First Nations Education in Northern Ontario communities. This series can be found within the commentary After the Healing: Safeguarding Northern Nishnawbe First Nations High School Education by Paul W. Bennett.
The content of Northern Policy Institute's blog is for general information and use. The views expressed in this blog are those of the author and do not necessarily reflect the opinions of Northern Policy Institute, its Board of Directors or its supporters. The authors take full responsibility for the accuracy and completeness of their respective blog posts. Northern Policy Institute will not be liable for any errors or omissions in this information, nor will Northern Policy Institute be liable for any detriment caused from the display or use of this information. Any links to other websites do not imply endorsement, nor is Northern Policy Institute responsible for the content of the linked websites.
Northern Policy Institute welcomes your feedback and comments. Please keep comments to under 500 words. Any submission that uses profane, derogatory, hateful, or threatening language will not be posted. Please keep your comments on topic and relevant to the subject matter presented in the blog. If you are presenting a rebuttal or counter-argument, please provide your evidence and sources. Northern Policy Institute reserves the right to deny any comments or feedback submitted to www.northernpolicy.ca that do not adhere to these guidelines.
0 Reader Comments