I North What You Did Last Summer
August 29, 2016 - As another summer draws to a close, another Experience North program is in the books. This year, Northern Policy Institute welcomed ten policy and communications interns into the fold. Hailing from different educational and professional backgrounds, these interns provided Northern Policy Institute with new perspectives on existing research and innovative ideas of ways to grow Northern Ontario.
They spent their summer in five locations spanning Northern Ontario, from Kenora to Sudbury, where Northern Policy Institute provided them with the opportunity to improve their research, communications, and policy analysis skills. Whether they were exploring the region firsthand as part of a collective road signage project or rolling up their sleeves to tackle some of the region's unique policy questions, they truly had the opportunity to experience the North. We know that the knowledge they gained this summer will be put to good use in their future endeavours, and we can only hope that includes Northern Ontario.
What follows is their experience at Northern Policy Institute, told in their own words.
Kenora Office: Adam Patrick and Jarrod Sundmark
This summer has been a whirlwind of research, data sorting, writing, and amazing times with some pretty special people. As our internship wraps up, we wanted to look back on our time at this great organization.
1,400 kilometers. That's the distance between Sudbury and Kenora. That's almost a quarter the width of the entire country. And it's within one province. Within one region of one province. As we have discovered, Northern Ontario is a vast and varied land.
How do you manage to hold a team together in five different locations spread across the province? How do you keep them motivated and task oriented? How do you keep the lines of communication open? Logistical questions like this are typical in Northern Ontario. But thanks to an intern skype chat and a week spent together in Thunder Bay, we leave this experience feeling as if we were all in the same office every day.
The other interns are clever and quick witted conversationalists. We couldn't have asked for better counterparts to discuss public policy and to lighten up the sometimes dismal science of economics. The core staff were always there to steady the ship any time the waters were rough, and we thank them for their endless guidance, help, and patience.
This experience has bestowed upon us a great deal of confidence for the future of Northern Ontario, we have come to learn that with sound research and an optimistic outlook, there is great hope for the region heading forward.
Coworkers Adam and Jarrod spent time together both inside and outside of the office. Seen here are pictures from their fishing trip and from their presentations at the Thunder Bay staff gathering in June.

Sault Ste. Marie Office: Kaylie Dudgeon and Mandy-Jean Masse
We had a great summer in the Sault Ste. Marie office working out of the NORDIK Research Institute in Algoma University. Many policy-fueled conversations were had, and we are very happy to have been given the opportunity to think about and experience Northern Ontario in a valuable and place-based way.
We travelled to Northern Policy's headquarters in Thunder Bay and observed the northern landscape for ourselves. It also provided us with a great networking opportunity that allowed us to meet the entire Northern Policy team in person and learn about each person's contributions, and build new friendships. We also had the chance to assist in road-signage research, travelling to Wawa and visiting the Agawa pictographs on the rock cuts of beautiful Lake Superior.
In the office, we were able to bring our skill sets together and discuss the details and challenges of our projects. As members of the policy and public relations team, our office was a dynamic environment that enabled us to peek into the inner-workings of each other's work and help each other out. Whether discussing the woes of Survey Monkey, the finer details of conference planning, land development policy or internet connectivity, there was never a dull moment.
Working with such a dedicated staff, from management to coordinators and other interns pushed us to give our best so that we could contribute to the organization's success. It was incredible to see all the hardworking people behind the scenes who believe in the North and want to see it prosper.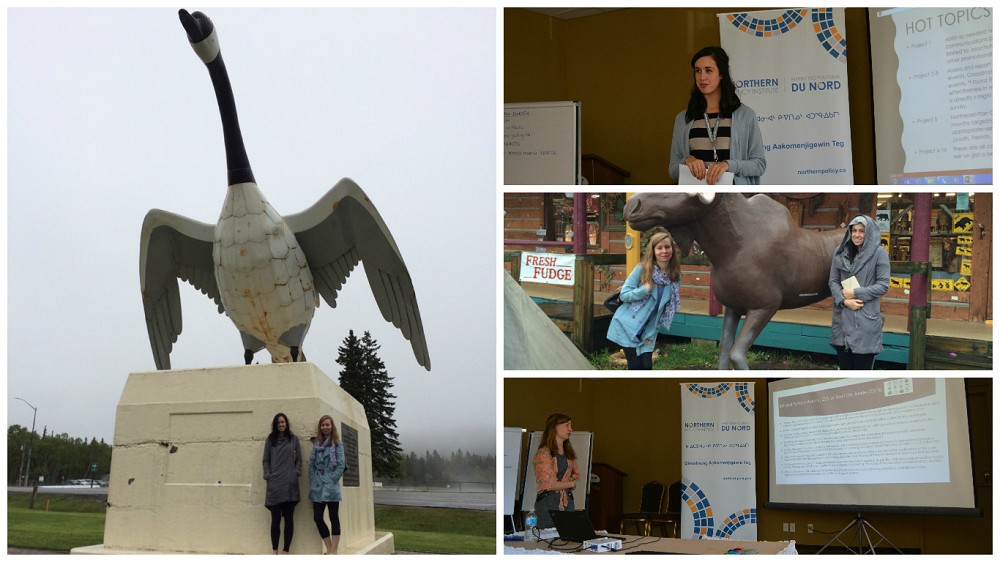 Mandy and Kaylie had the opportunity to travel through Wawa twice this summer. Pictures were taken with the famous Wawa Goose, and with the moose at the Agawa Indian Crafts rest stop. The girls also participated in the intern presentations at the Thunder Bay gathering.
Sudbury Office: Jamie McIntyre and Lauren Rainsford
This year, we graduate from "knowing the north" to experiencing it, as we come to the end of our second year working with Northern Policy Institute. The Experience North program had us and our colleagues in the field uncovering policy opportunities in and for Northern Ontario. Lauren and I were either disseminating quantitative data on immigration, or having conversations with community leaders to gather more qualitative data on research practices. Needless to say, we were both busy experiencing the north first hand.
What did we learn? Perhaps that it takes two; Quantitative data and qualitative research are both essential to getting to the root of any problem in Northern Ontario. We found we are lacking in both areas, as census data is suppressed for many communities, and there are generally low participation rates for supplementary research initiatives. We encourage Northern Ontarians to have their voice heard more often, by attending council meetings in your community or completing surveys done by local organizations who make it their mission to improve your community. We are stronger together.
Northern Policy Institute is a family of bright, spirited individuals who are dedicated to uncovering policy opportunities for Northern Ontario. And though we were kilometers apart between Thunder Bay, Kenora, Sault Ste. Marie, Timmins and Sudbury locations – we were united by working towards the common goal of improving the social and economic landscape of an area we all love.
Lauren and Jamie took the opportunity to take part in the #whatHATruwearing campaign. Throughout their travels they donned not only their NPI hats, but some unique headwear from an antique store in North Bay during their road signage assignment.
Thunder Bay Office: Lindsay Campbell and Emma Tranter

This internship brought us home to Thunder Bay for the summer. Although we both spend eight months of our school year in Ottawa, returning to Northern Ontario in the summer was an exceptional opportunity to learn about the place where we grew up. Our experiences both inside and outside the office this summer opened our eyes to how passionate people are about making Northern Ontario a better place to live. As a result, we discovered and developed our own deep appreciation for the north.
Although NPI's interns are scattered throughout Northern Ontario, we could not have felt more connected this summer. The highlight of the summer took place in June during a week-long event in Thunder Bay where the entire NPI team came together. It was a great time to have valuable discussions, forge new friendships, and build upon the relationships we had already made across endless emails, phone calls, and Skype messages.
As two journalism students, we were initially unsure of what to expect. We quickly realized that although our backgrounds seemed to contrast with the communications world we were walking into, they weren't really all that different. The storytelling abilities and media training we already possessed transferred into promotion efforts and creative marketing.
We could not have asked for a better summer experience to launch us into our final year of university. This internship has given us new knowledge, new confidence, and above all, new friends. We are so thankful for the opportunity to not only have reconnected with our hometown, but also to have worked for a place that helped us appreciate where we come from.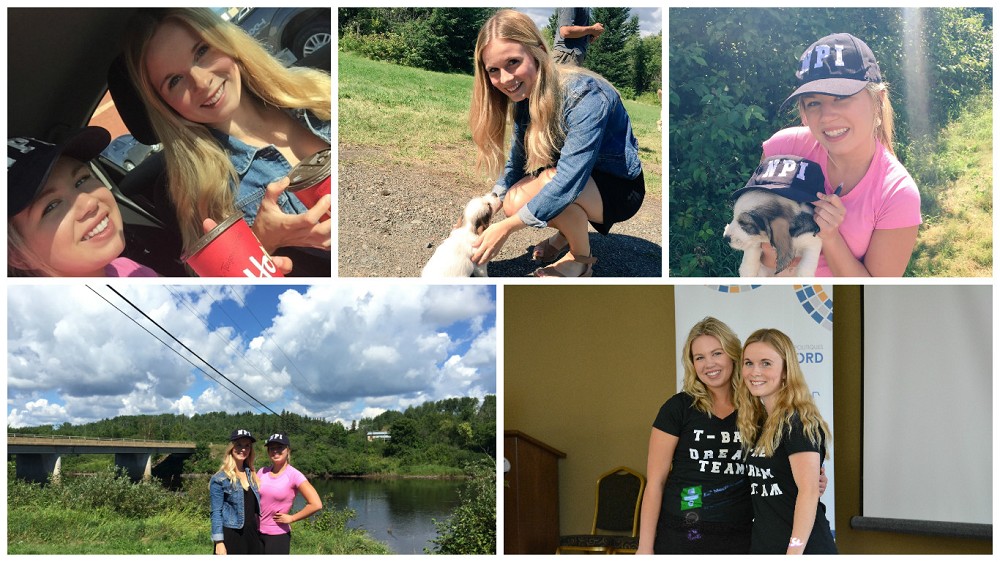 Emma and Lindsay participated in outreach activities over the summer and became ambassadors for the organization. On a road signage assignment they found puppies in Nolalu, Ontario, and made them our unofficial mascots.
Timmins Office: Rachel Beals and Leah Cartan
For one of us, it was coming home. For the other, it was being in an entirely new place. Despite our different levels of familiarity with the nuances and issues that are of concern to Northern Ontario, we learned a great deal this summer – and in more ways than one. For example, Northern Policy Institute and Northern College gave us many opportunities to stretch our legs as researchers, whether that was to conduct interviews, code data, and design a field research study, all of it proved invaluable.
Beyond the research aspect though, one of our favorite experiences (among many, many others) was talking to people and listening to what they had to say. As we were told at the beginning, some of the best people to talk to are everyday folk. It's true. Whether it was from the people who work in the campus bookstore, students, or Elders, we took what we learned and let it shape a new lens to view the North.
So to this, we say thank you. To all of the individuals at Northern College, we thank you for your positivity and guidance. To all the Indigenous peoples who spoke with us, we are grateful to have learned more about your culture and historical journey. Finally, to everyone at Northern Policy Institute, we are not only thankful for the opportunities you have given us, but for opening our eyes to the wonders of Twitter. We hope we have given back as much as we have gained.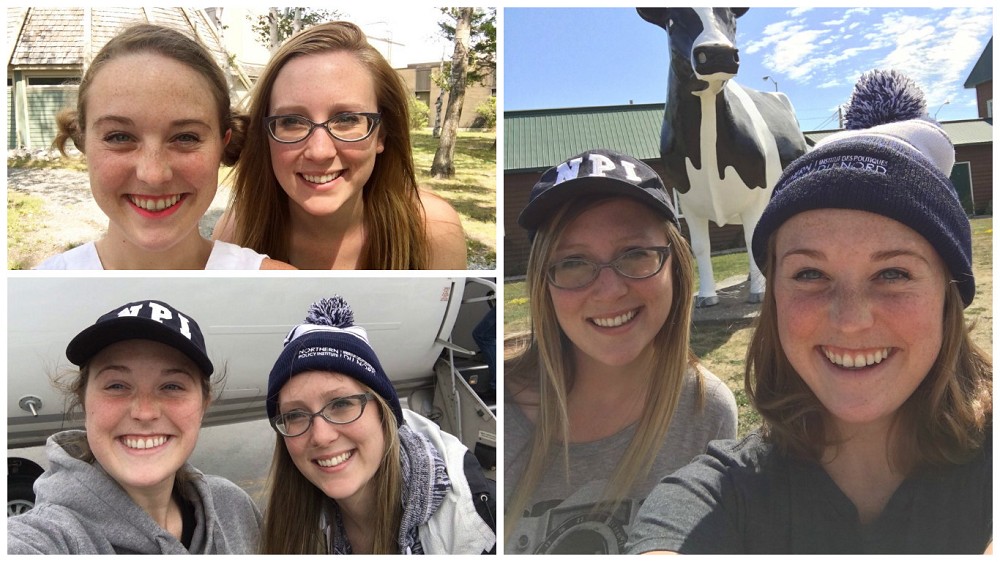 Rachel and Leah spent many days over the summer attending events in their community. On the right, the girls are seen posing with Ms. Claybelt the famous cow sculpture in New Liskeard, Ontario.
It will certainly be a lot quieter around Northern Policy's offices next week. We will miss all of the enthusiasm, dedication, and vibrancy they brought to our day-to-day activities. We wish them luck in their studies and work this year and hope to welcome some of them back, along with some fresh new faces, into the NPI family next summer. If you're interested in becoming a part of our 2017 Experience North program, please consult our website for more information and check back in with us in January when applications open.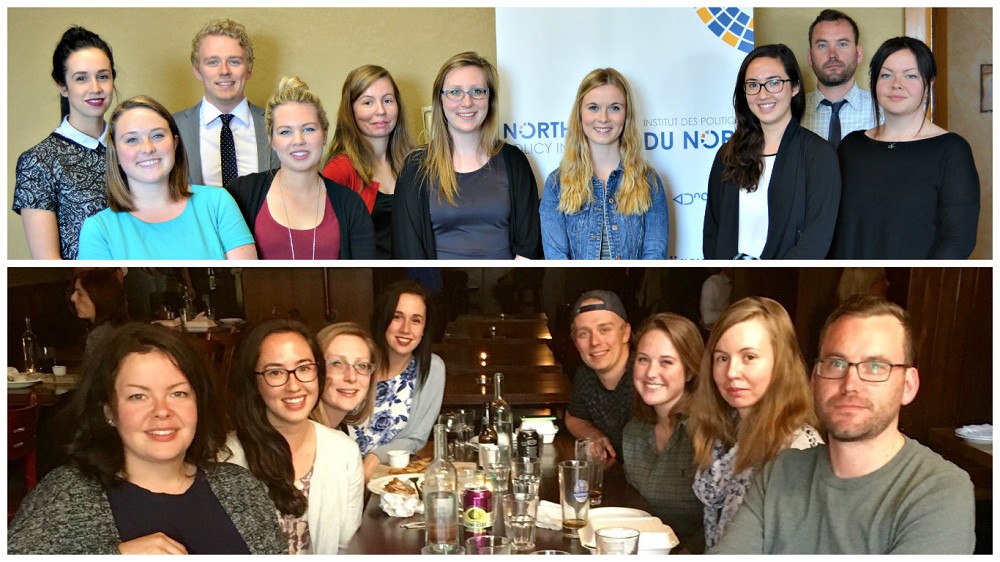 The interns are photographed at the staff gathering in June, and at The Sovereign Room, restaurant local favourite in Thunder Bay.
To see some of the work done by this summer's interns, check out the following blog posts, and be sure to keep your eyes peeled as we roll out more of their publications in the future.
Jarrod Sundmark, "Success Story: Ye Olde Chip Truck, Kenora"
Jarrod Sundmark, "Labour Market Alignment: Education in the North"
Emma Tranter, "Should I Stay or Should I Go? Why leaving Northern Ontario is hard, but coming back is easy"
Rachel Beals, Lindsay Campbell, Leah Cartan, Kaylie Dudgeon, Mandy-Jean Masse, Jamie McIntyre, Adam Patrick, Lauren Rainsford, Jarrod Sundmark, and Emma Tranter were all interns at Northern Policy Institute.
The content of Northern Policy Institute's blog is for general information and use. The views expressed in this blog are those of the author and do not necessarily reflect the opinions of Northern Policy Institute, its Board of Directors or its supporters. The authors take full responsibility for the accuracy and completeness of their respective blog posts. Northern Policy Institute will not be liable for any errors or omissions in this information, nor will Northern Policy Institute be liable for any detriment caused from the display or use of this information. Any links to other websites do not imply endorsement, nor is Northern Policy Institute responsible for the content of the linked websites.
Northern Policy Institute welcomes your feedback and comments. Please keep comments to under 500 words. Any submission that uses profane, derogatory, hateful, or threatening language will not be posted. Please keep your comments on topic and relevant to the subject matter presented in the blog. If you are presenting a rebuttal or counter-argument, please provide your evidence and sources. Northern Policy Institute reserves the right to deny any comments or feedback submitted to www.northernpolicy.ca that do not adhere to these guidelines.
1 Reader Comments