Do we need a Common Voice Northeast?
January 21, 2019 - Does Northern Ontario (or maybe just northeastern Ontario) need to speak with a single voice?
Does Northern Ontario (or maybe just northeastern Ontario) need to speak with a single voice? Would hashing out our priorities amongst ourselves first, and then going to Toronto or Ottawa, make for greater success when it comes time for transformational investments?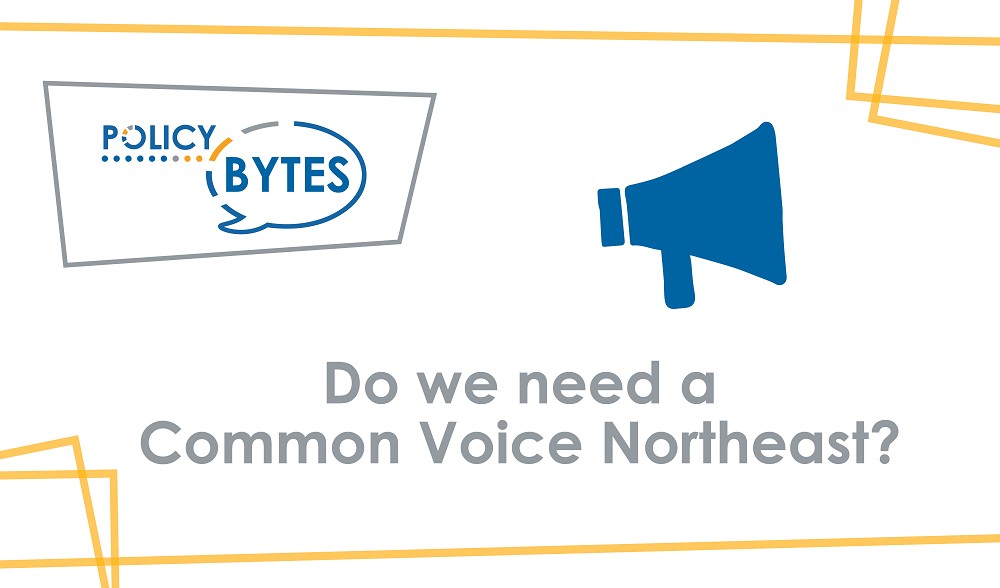 Common Voice Northwest thinks so and, historically, they have had some success at getting things done (they helped found Northern Policy Institute – NPI) for one, and have had recent success securing local transportation subsidies for another). The folks who put together the Transforming Ontario's North Summit in Cochrane a few months ago also think a single voice for the North is a pretty good idea.
Full disclosure, NPI is an observer at Common Voice Northwest and we helped promote the Transforming Ontario's North Summit. We support these types of efforts because we know when our community representatives go "south" they will eventually be asked the all-important question: "What do you people want?"
It is a common refrain from politicians and political staff eager (or not so eager) to give a "fair share" to the North. Generally, it is heard after they have met with the seventh, or eighth, or 20th regional delegation. Yet they are still unable to make head nor tail of the myriad wish lists coming into their offices.
This isn't an exclusive problem of Ontario's North. It is, however, a big issue for small (at least politically) areas like ours, Atlantic Canada being another region with similar challenges. In communities where you can count MPPs or MPs on the fingers of your two hands, you get only a few "targeted" asks.
Thunder Bay just relearned this in relation to their pellet-based power generation plant. Maybe that natural gas refit on offer in 2004 was a pretty good deal after all, especially in light of the new provincial government's eagerness to see natural gas access expand. But, can't go back now, and the plant is set to close.
There are, of course, existing regional voices, the Federation of Northern Ontario Municipalities and the Northwestern Ontario Municipal Association being among the biggest. The Northeast Community Network links economic developers along the Highway 11 corridor and the Community Futures Development Corporations have two regional networks operating.
The chambers of commerce are also a good collective regional voice, as are the unions, the coalition of Northern colleges and universities, and the regional First Nations and Métis organizations. There are also provincial associations with regional chapters or members like the Association of Indigenous Friendship Centres or the Economic Developers Council of Ontario. There are many, many more.
What Common Voice Northwest had in its heyday, that these groups do not have, was cross-sectoral representation on a broad geographic basis. At one table were leaders from First Nation and Métis communities, municipal leaders, federal and provincial regional representatives, the chamber, the unions, the university, the college, the workforce planning boards, immigration experts, tourism specialists, and others. This type of coalition is remarkably hard to collect and even harder to hold together, of which the present state of Common Voice Northwest is an all too blunt reminder.
That does not mean it can't be done in a sustainable way. The Pacific NorthWest Economic Region (PNWER) has functioned as an institution for almost 30 years. It is funded and operated on a blended public-private basis with its primary role being as a convener of regional interests. There is no way that our 780,000 people could generate the same resources that PNWER's 24-odd million people have, but a scaled down version is well within our grasp. 4Front Atlantic is a small scale PNWER for the Atlantic Region and that model is certainly doable here.
We could start by opening up and reinvigorating membership in Common Voice Northwest. We could follow that up by linking together a few conversations going on in the northeast, deciding if, as a whole, we are ready to Transform the North, have a northeastern common voice, or do something entirely different to clarify our regional aspirations.
A vision and message not just to guide Toronto and Ottawa, but to connect Attawapiskat, Chapleau, Vermilion Bay, Pikangikum and all the rest of us, too.
Charles Cirtwill is President and CEO of Northern Policy Institute. An independent social and economic think tank based in Northern Ontario with offices in Thunder Bay, Sudbury and Sault Ste. Marie. This column first appeared in Northern Ontario Business.
---
The content of Northern Policy Institute's blog is for general information and use. The views expressed in this blog are those of the author and do not necessarily reflect the opinions of Northern Policy Institute, its Board of Directors or its supporters. The authors take full responsibility for the accuracy and completeness of their respective blog posts. Northern Policy Institute will not be liable for any errors or omissions in this information, nor will Northern Policy Institute be liable for any detriment caused from the display or use of this information. Any links to other websites do not imply endorsement, nor is Northern Policy Institute responsible for the content of the linked websites.
Northern Policy Institute welcomes your feedback and comments. Please keep comments to under 500 words. Any submission that uses profane, derogatory, hateful, or threatening language will not be posted. Please keep your comments on topic and relevant to the subject matter presented in the blog. If you are presenting a rebuttal or counter-argument, please provide your evidence and sources. Northern Policy Institute reserves the right to deny any comments or feedback submitted to www.northernpolicy.ca that do not adhere to these guidelines.
0 Reader Comments