Bridging the Distance: A Pioneering First Nations Internet High School
November 29, 2016 - Tapping into the Internet has tremendous potential for bridging the vast distances in First Nations education – and opening up new horizons for students in remote, fly-in communities.
Keewaytinook Internet High School (KiHS), founded sixteen years ago and based in Fort William First Nation, is ahead of the curve. Without leaving home, First Nations high school students in eleven far-flung communities gain access to teachers and courses previously out of reach.
For one recent KiHS graduate, it was a life changing experience. "He was living in a trailer where you couldn't stand up — no water, no heat, no electricity and he came to school every day," says Cathy Rodger, KiHS classroom teacher. After completing his high school courses, he is now pursuing a millwright apprenticeship.
KiHS brings a true personalized online education to students living in their home communities. "Because the environment is smaller," Rodger adds,"you don't have those social pressures, say, if you were going to school in town where there are a thousand students. There is a level of comfort here, and there is a high level of respect between the students and myself."
As a teacher and Fort William band member, Rodger has been developing and teaching science courses at KiHS for the past 10 years. "My job is to take the curriculum and make it meaningful to the student," Rodger says, noting the Ministry of Education scrutinizes and approves all of the KiHS courses. "I try to make content that is culturally appropriate and also relevant to living in the north."
In addition to teaching her science classes to students across the KiHS network in northwestern Ontario, Rodger also assists students in the Fort William KiHS classroom with their other classes. "If the content of the course is something I can't help with, let's say a Grade 12 math or a Grade 12 university prep lab course, we have an IP phone and the student can put the headset on and talk to their teacher directly," she says.
KiHS was originally created as a pilot program in 1999 by Keewaytinook Okimakanak to provide a high school education for students in its remote First Nation communities. Connected classrooms are currently located in Bearskin Lake, Deer Lake, Fort Severn, Fort William, Keewaywin, Mishkeegogamang, Neskantaga, Nibinamik, North Spirit Lake, Poplar Hill, Sachigo Lake and Weagamow.
Fort Severn is a success story particularly because it has kept Grade 9 and 10 students in school. "Without the online programming that we offer," KiHS principal Kevin Dempsey points out, "there aren't enough high school-aged students to run a full high school program there."
Some 25-30 students in Weagamow register every year for KiHS courses, averaging about 24 credits per term, and earning some 100 credits a year. Students receive all of their lessons online and submit their work online. One recent student graduated with a quality transcript that included university English.
Teacher Raj Budhram says the KiHS modal platform is "very interactive" because it allows students to post questions about their lessons. "And the teacher will respond very quickly," Budhram says. "We have a system in how we provide feedback to students."
KiHS employs fifteen teachers situated in twelve different small communities. Each community has its own certified teacher who provides assistance to students for all of their courses while also teaching their specific courses to students across the KiHS network.
"This is a good way to offer good programming to a lot of small communities," Dempsey says. With fifteen staff, they are also able to offer many different courses. KiHS currently offers 65 Grade 9-12 courses in all streams: locally developed, applied, academic, workplace, college, or university preparation.
Fluctuating student enrolment numbers remains one of the challenges. When class numbers fall below five or six students, KiHS either absorbs the costs in higher enrolment sites or, in rare cases, makes other online tutoring arrangements.
"We have a teacher who is living in the community," Dempsey says, and that's a real strength of KiHS. "(The teachers) have lived and worked in the north so in general they know the student body they are working for."
The future of First Nations high school education may rest with KiHS and the next generation of schools providing blended learning, combining face-to-face teaching and online course programs.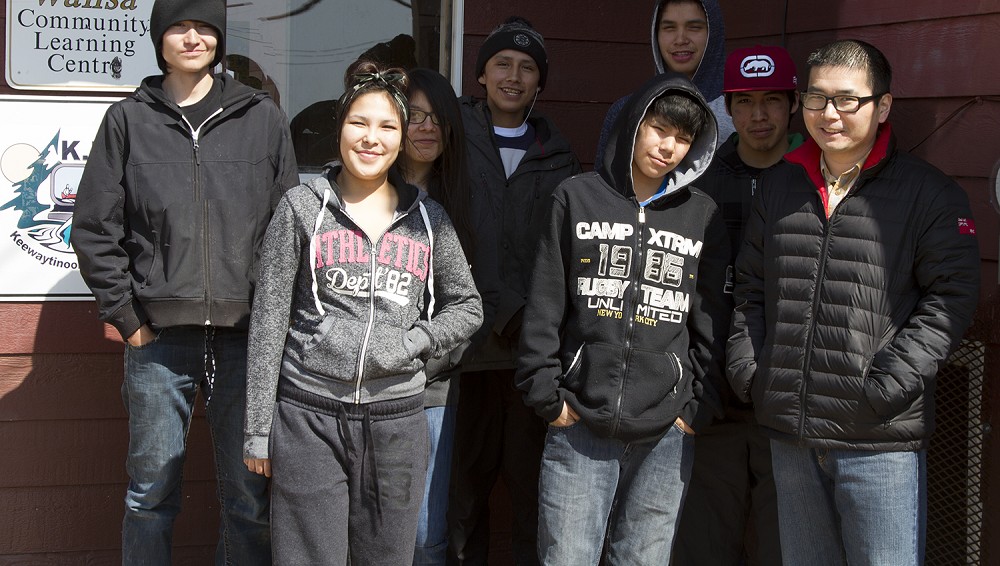 Students at Sachigo Lake First Nation take a break in the sun
---
Dr. Paul W. Bennett is a Fellow in Education Policy at the Northern Policy Institute and Rick Garrick is a Thunder Bay-based news reporter.
This featured article is part of a four part series celebrating innovative and resilient success stories of First Nations Education in Northern Ontario communities. This series can be found within the commentary After the Healing: Safeguarding Northern Nishnawbe First Nations High School Education by Paul W. Bennett.
The content of Northern Policy Institute's blog is for general information and use. The views expressed in this blog are those of the author and do not necessarily reflect the opinions of Northern Policy Institute, its Board of Directors or its supporters. The authors take full responsibility for the accuracy and completeness of their respective blog posts. Northern Policy Institute will not be liable for any errors or omissions in this information, nor will Northern Policy Institute be liable for any detriment caused from the display or use of this information. Any links to other websites do not imply endorsement, nor is Northern Policy Institute responsible for the content of the linked websites.
Northern Policy Institute welcomes your feedback and comments. Please keep comments to under 500 words. Any submission that uses profane, derogatory, hateful, or threatening language will not be posted. Please keep your comments on topic and relevant to the subject matter presented in the blog. If you are presenting a rebuttal or counter-argument, please provide your evidence and sources. Northern Policy Institute reserves the right to deny any comments or feedback submitted to www.northernpolicy.ca that do not adhere to these guidelines.
0 Reader Comments