Athletics Prowess: First Nations Role Models and Youth Sports
November 11, 2016 - Athletics and sports play a formative role in the education of First Nations youth. The 2016 Nishnawbe Aski Nation Summer Sports Festival, held this past June, provided another living example.
International Pan-American kayak medalist Keir Johnston, born and raised among the Chippewa of the Thames, not only welcomed the high school athletes from all over NAN, but held them in rapt attention.
Surrounded by athletes and coaches, Johnston captured their attention with exciting tales from his kayaking experiences and personal lessons learned about demonstrating leadership in sports. "I've competed for Canada about eight times all over Europe and South America," he said, noting that he returned with "a couple of Pan-Am championship medals (from) down in Mexico and Puerto Rico."
Johnston told the audience it was "awesome" to participate in the two Pan-Am championships, where he won one silver and three bronze medals. "It's eye opening to see how many people are in the sport and how competitive it is," he noted. "It's great to see all the different countries, get to meet lots of new friends and travel the world. It's a great way to do it."
Like the great Six Nations Mohawk long-distance runner Tom Longboat of an earlier era, he provided living proof that athletics can set an example that can be transformative for First Nations children and youth. It was easy to see why he's now a roving ambassador for the Aboriginal Sports and Wellness Council of Ontario.
Young athletes in NAN are emerging to follow in his footsteps. Fort Albany's Keifer Scott is one of many First Nations high school students from across northern Ontario who are finding different ways to excel in sports.
"I had an instinct telling me I should be running," says Scott, who attends Peetabeck Academy in Fort Albany. "I'm really active at sports and I'm really good at sports."
He came home from the 2016 Summer Sports Festival with seven medals in four races, the high jump and the canoe and kayak races, held at four different sports venues in Thunder Bay. "It was a great experience meeting new people and friends," Scott reported. "I did track and field, I did running, high jump, I did almost all of the running events."
Sachigo Lake's Darr McKay and Eabametoong's Alyssa Lentz, who both attend high school in Thunder Bay, have also found success in sports.
McKay, a Superior Collegiate and Vocational Institute student, won the 1,500 metre race and four other medals at the NAN Summer Sports Festival."I pushed through it to get the win," McKay says. "Just push yourself, just keep pushing until you get to the finish line."
Lentz, a Pope John Paul II School student, won the 400 metre race and four other medals at the most recent festival. "When I run, I keep a slow pace at first, like just a medium pace, and then right at the end when everyone is done sprinting and they are getting tired, I sprint as hard as I possibly can," Lentz says. "And that usually gives me a little bit of an advantage."
Keir Johnston's organization, the Aboriginal Sports and Wellness Council of Ontario (ASWCO), plays an instrumental role in supporting First Nations student athletes. The Council entered two teams in the Native American Basketball Invitational Tournament, held from June 26 to July 2, 2016, involving 112 teams and attracting more than 1,200 Indigenous players from across the United States and Canada.
Dennis Franklin Cromarty High School basketball player Keelan Meekis, a student from Deer Lake, and Beaver Brae Secondary School basketball player Daniel Cameron, a student from Dalles, are two recent beneficiaries.
"It was great ball," Meekis told Anishinabek News. "It was awesome playing against all those teams." Fellow basketballer Cameron was especially impressed with the caliber of play on the court. "It was a big experience and an eye opener for me," he said. "Just to see the skill levels and the pace of the game compared to my high school, it's so much faster and it's so much more intense and more aggressive."
With such raised aspirations, it may not be too long before NAN produces its own Keir Johnston making his mark in the world of international amateur athletics.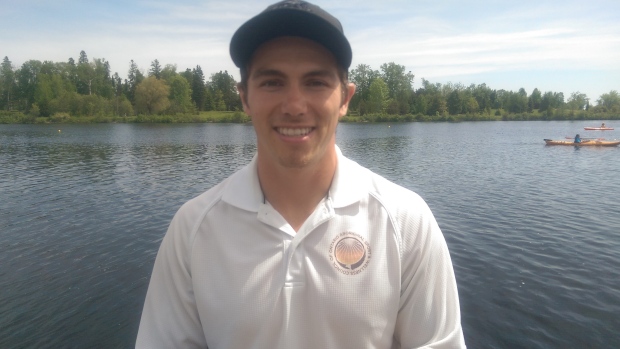 Kier Johnston, Pan-American Games kayak medalist, at NAN Summer Sports Festival, 2016 (photo: Rick Garrick)
---
Dr. Paul W. Bennett is a Fellow in Education Policy at the Northern Policy Institute and Rick Garrick is a Thunder Bay-based news reporter.
This featured article is part of a four part series celebrating innovative and resilient success stories of First Nations Education in Northern Ontario communities. This series can be found within the commentary After the Healing: Safeguarding Northern Nishnawbe First Nations High School Education by Paul W. Bennett.
The content of Northern Policy Institute's blog is for general information and use. The views expressed in this blog are those of the author and do not necessarily reflect the opinions of Northern Policy Institute, its Board of Directors or its supporters. The authors take full responsibility for the accuracy and completeness of their respective blog posts. Northern Policy Institute will not be liable for any errors or omissions in this information, nor will Northern Policy Institute be liable for any detriment caused from the display or use of this information. Any links to other websites do not imply endorsement, nor is Northern Policy Institute responsible for the content of the linked websites.
Northern Policy Institute welcomes your feedback and comments. Please keep comments to under 500 words. Any submission that uses profane, derogatory, hateful, or threatening language will not be posted. Please keep your comments on topic and relevant to the subject matter presented in the blog. If you are presenting a rebuttal or counter-argument, please provide your evidence and sources. Northern Policy Institute reserves the right to deny any comments or feedback submitted to www.northernpolicy.ca that do not adhere to these guidelines.
0 Reader Comments