Animal programs help over 130 cats from Northern Ontario find forever homes
September 6, 2018 - When it comes to animal wellness services, many barriers exist in remote Northern Ontario communities. Resources and access to animal wellness services, such as veterinarians and spay/neuter services, are often limited. Getting supplies to many of these communities comes with obstacles, as many can only be accessed by air. Extreme winter weather also complicates the delivery of supplies and services.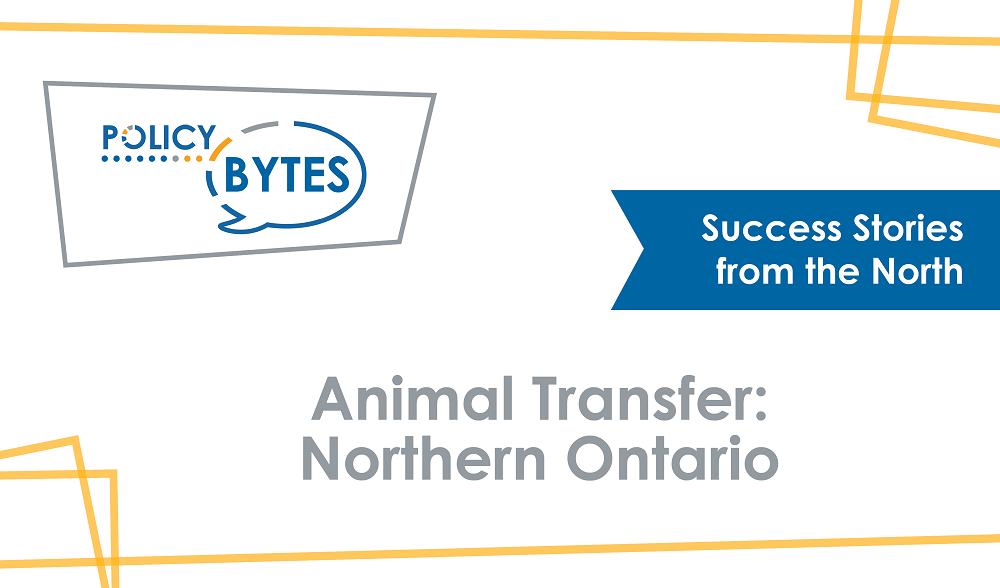 As a result of the lack of basic animal wellness services, pet overpopulation is a growing issue in many northern communities.
When a cat shelter in Northern Ontario reached capacity and reached out for support, the Ontario Society for the Prevention of Cruelty to Animals (SPCA) and their partners stepped up to help, finding over 130 cats their forever home.
In the spring of 2018, the Kenora Cat Shelter and Second Chance Pet Network reached capacity, so they reached out to their friends at the Welland SPCA for assistance. Before long, numerous animal wellness partners had pledged their support, including Beat the Heat Kenora, a volunteer-based animal wellness group, who assisted with the transfer. The group picked up 50 cats and travelled to Wawa, where they met the Welland SPCA's transport team. On the journey back, the Welland team stopped at a partnering Indigenous Community on Manitoulin Island to pick up four kittens.
"The mission was a true collaboration and dedication to animal wellness," says John Greer, Executive Director, Welland & District SPCA. "These cats have been given a second chance thanks to all the community partners involved: Beat the Heat Kenora, Ontario SPCA, Kenora Cat Shelter, Second Chance Pet Network, North Star Air Ltd. and the Wikki Rez dog group. The Welland & District SPCA looks forward to working with these community partners in the future in providing essential services to the North."
A team with the Ontario SPCA made the trip to Dryden to pick up 85 cats from Second Chance Pet Rescue before making the long trip back to Stouffville. They stopped at the North Bay and District Humane Society to provide the cats with care and a place to rest. There, they met the Georgian Triangle Humane Society, who brought ten of the cats back to Collingwood to find homes through their adoption program.
The remaining 75 cats completed their journey to the Ontario SPCA Provincial Education & Animal Centre in Stouffville to be rehomed. The rest of the cats made their way further south to be adopted at the Welland & District SPCA.
"The Ontario SPCA is proud to have such wonderful partners in animal wellness," says Daryl Vaillancourt, Senior Director, Humane Programs & Community Outreach, Ontario SPCA. "Partnerships like this truly do make a difference in the lives of animals."
This story is just one example of the animal wellness work being done in the North. The Ontario SPCA and its partners have developed a network of individuals, organizations and communities interested and willing to assist in rehoming animals and sharing resources with Northern communities.
While this transfer saw over 100 cats find new homes, often it is community dogs in need of support. These dogs are cared for by their entire community, but due to the lack of resources, often need support through spay/neuter services, vaccinations, or at times, new homes. Transferring them to Central and Southern Ontario, where there is a greater demand for adoptable pets, gives these animals a second chance and helps Northern communities manage pet overpopulation.
Transfers, however, are only one piece of the puzzle. Northern communities are also in need of basic animal wellness services, such as spay/neuter services. In response to many caring and compassionate Northern communities, the Ontario SPCA declared 2018 the Year of the Northern Dog. This initiative is intended to bring awareness, attention and action to the serious animal wellness issue of northern dog overpopulation.
The Ontario SPCA believes everyone has a chance to create a healthy community for pets and people. You can get involved by:
Learning about pet overpopulation in the North and telling others about it on social media using the hashtags #YearOfTheNorthernDog and #SupportTheNorth
Donating much-needed funds, supplies or resources to a program Partner.
Adopting a northern pet.
Volunteering to become a volunteer driver, a volunteer dog walker, or volunteer with your unique skills.
For more information on animal wellness initiatives in the North, visit northerndog.com
Emily Cook is a Communications Coordinator at the Ontario SPCA Provincial Office.
---
The content of Northern Policy Institute's blog is for general information and use. The views expressed in this blog are those of the author and do not necessarily reflect the opinions of Northern Policy Institute, its Board of Directors or its supporters. The authors take full responsibility for the accuracy and completeness of their respective blog posts. Northern Policy Institute will not be liable for any errors or omissions in this information, nor will Northern Policy Institute be liable for any detriment caused from the display or use of this information. Any links to other websites do not imply endorsement, nor is Northern Policy Institute responsible for the content of the linked websites.
Northern Policy Institute welcomes your feedback and comments. Please keep comments to under 500 words. Any submission that uses profane, derogatory, hateful, or threatening language will not be posted. Please keep your comments on topic and relevant to the subject matter presented in the blog. If you are presenting a rebuttal or counter-argument, please provide your evidence and sources. Northern Policy Institute reserves the right to deny any comments or feedback submitted to www.northernpolicy.ca that do not adhere to these guidelines.
0 Reader Comments