Panel 1 - Northern Confidence: Youth Vision of Ontario's Future North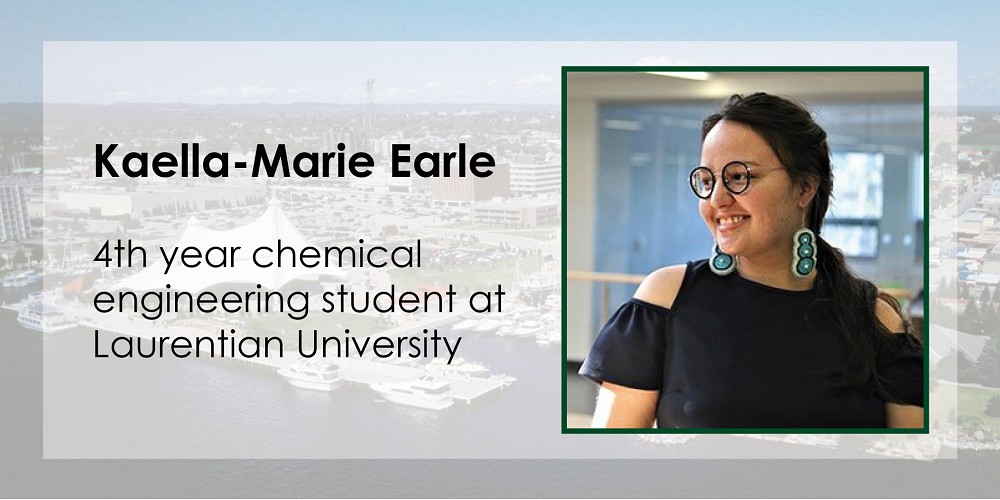 Azhiinikwe Newatchegiizhik (Angel Woman Light Coming Over the Clouds), otherwise known as Kaella-Marie Earle is an Ojibwe/Odawa/Potawatomi Anishnaabekwe from Wiikwemkoong Anishnabek and Aroland First Nation.
Since she was small she wanted to be a scientist and engineer. Her dad inspired her throughout her childhood by bringing her to tour industrial factories and electrical power generation plants.
She studied chemical engineering technology in college. There she completed an engineering internship in Northern China where she studied extractive metallurgy of copper ores at Shenyang Research Institute for Nonferrous Metals. She graduated a Cambrian Scholar and transferred to Laurentian University Bharti School of Engineering to study chemical engineering with interests in industrial processing, mining and environmental management.
In her spare time she tries to change the narrative on Indigenous people in Canada by running cultural revitalization and allyship training camps in the summer. She is the director of Maamiwi Gibeshiwin Indigenous Cultural Training Camp and this year the camp had 50 participants and took place in Wahnapitae, Ontario.
She also likes to rant about Indigenous inclusion and participation at every level of operations in mining and natural resource industry to people in the mining world at conferences like the Canadian Aboriginal Mining Association. She has also discussed the importance of providing culturally-relevant healthcare to support the future of the labour market in Northern Ontario at the Sudbury Chamber of Commerce/SNC Lavalin Procurement Employment Partnerships, as the Indigenous population is expected to rise significantly in the next decade.
For the past year, Kaella has worked as a district engineering intern with a team of amazing people in the Construction Northern Region of Enbridge Gas Inc. She ran the first National Indigenous Peoples Day celebrations for the district and continues to help the company with Indigenous cultural competency through UG's Indigenous Champions program.
She wants to inject her cultural values into industrial process operations and mining to build stronger, equitable and respectful relationships between Indigenous people and mining/natural resource companies. She believes the key to reconciliation can be found in these relationships and has high hopes for the future.