NPI Fundraising Breakfast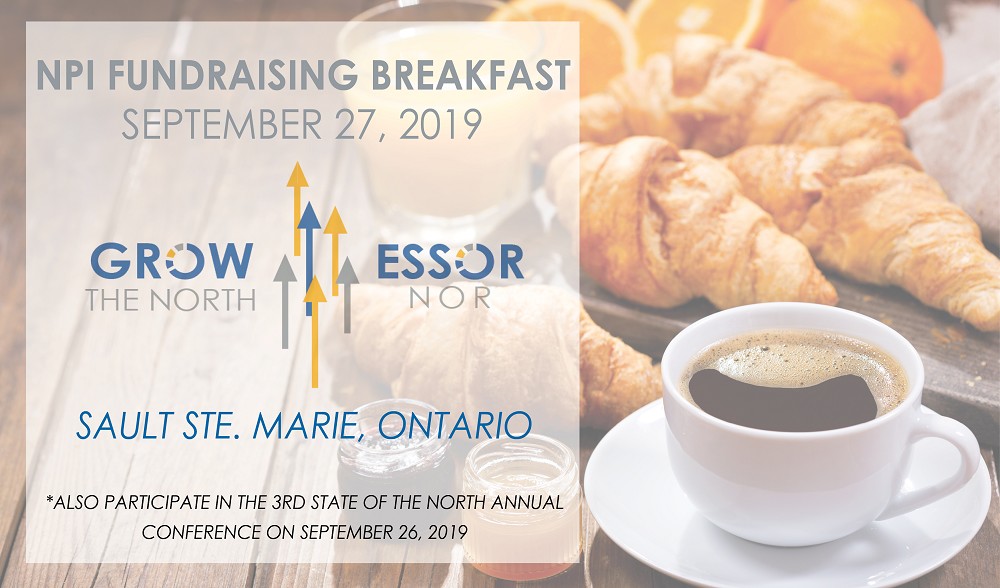 #

GrowTheNorth

was NPI's first networking and fundraising breakfast. Attendees enjoyed their morning coffee while listening to

NPI's President and CEO Charles Cirtwill
give his annual update and answer their questions about progress in Ontario's northern regions. This was a great opportunity to learn about the work that NPI has been doing and the current state of Northern Ontario. It was also a great networking opportunity among the many partners and friends of NPI.
The breakfast took place in Sault Ste. Marie, Ontario, September 27, 2019 at the Delta Hotels by Marriott.
About the Speaker
His published works focus on government structure and organization, business-government relations, inter-governmental relations, performance measurement and accountability. He has spoken across Canada and the United States on the role of think tanks in society, the appropriate assessment of government activities, and the use of school performance data to improve classroom practice and fully engage all education stakeholders.
He has worked in the public, private and not-for-profit sectors as a program manager, policy analyst, senior administrator, consultant and entrepreneur. Charles has also served as policy advisor to several political campaigns and has provided non-partisan advice and direction to provincial and municipal administrations across Canada.
He currently serves on the editorial board of the Mowat Centre and he has had leadership roles in multiple community organizations including Civitas, IPAC, Scouts Canada, local school associations and local homeowners associations. He attended Dalhousie University, earning a BA in Political Science, a LLB, and a MPA with a focus on quantitative and qualitative assessment of public policy and programs.
View Charles Cirtwill's Talk in 2018
View Charles Cirtwill's Talk in 2017