What is Northern Policy Institute?
Let's start with what Northern Policy Institute is NOT:
Northern Policy Institute is not an advocacy agency.
We do not have a predetermined stance in any political, economic or social system.
We will not be a "voice" on behalf of any particular interest.
We are not a consultant.
We do not assess predetermined decisions, nor engage in decision-based evidence-seeking endeavours.
Take for example the following terms of reference:
• "Assessing the impact of a provincially owned and operated road to the Ring of Fire"
• "Assessing whether the province should own and operate a road to the Ring of Fire"
The former inherently assumes the provincial government should own and operate the road to the Ring of Fire. On the other hand, the latter approaches the issue objectively, letting the evidence determine if the province should in fact own and operate the road or not. As such, this approach embodies what the Northern Policy Institute is.
Northern Policy Institute is an institute which conducts independent policy work, to be used as evidence-based analysis for effective decision making.
Our Approach:
Our philosophy is based on the "evidence-driven/permission-giver" approach. This is the model that most think-tanks claim, but rarely achieve – a truly evidence-driven response to policy issues on a case-by-case basis. Often, evidence will lead to an answer that is broadly politically unpopular, or just unpalatable to particular groups or interests. In many cases, only the tip of the iceberg is revealed for certain issues. Northern Policy Institute intends to go where the evidence leads us – to uncover the full story, seeking impacts and effects that are drowned out by political bias and rhetoric. In doing so, Northern Policy Institute acts as "permission givers" to those holding constrained positions – such as, politicians seeking re-election, or public servants tasked with delivering on the mandate the elected government provides – allowing them to discuss or explore issues they would otherwise not explore for fear of the negative impacts on them, the "government, or their "party" or their other "interest".
Northern Policy Institute will pull the unpopular subjects and solutions out from under the carpet, encouraging the public – the ultimate arbiters of what particular public policy is, or is not, acceptable – to reconsider the constraints they have placed on policy actors. Although this approach can be a tough job, can be slow to deliver results and requires a change in direction when new evidence comes to light, it tends to deliver truly lasting change that is sustainable.
Definitively, Northern Policy Institute is a non-partisan, not-for-profit institution providing fair, balanced and objective assessments of policy issues in a pan-Northern context. Northern Policy Institute is committed to working with and for all of Northern Ontario: not just the big cities nor just the small towns; and not just the NE, or the NW, or the far north. And of course, Northern Ontario is not a closed economy either – in some cases our efforts may extend to issues beyond our regional, provincial and national borders should the issues affect or be of interest to Northern Ontarians.
Northern Policy Institute seeks to deepen the understanding about the unique challenges of Northern Ontario, while embracing and utilising the unique opportunities that also come with our region.
We are an institute which provides evidence-based solutions,

for

and from Northern Ontario.
Our organizational structure:
Northern Policy Institute depends, for its success, on effectively engaging with not just policy makers but with opinion leaders and the general public. As "permission givers" Northern Policy Institute must be able to communicate its findings swiftly and in a format readily usable by all of the stakeholders in our community. Those findings must be based on the most relevant and accurate evidence available, and this too requires regular and direct contact with the community around us at all levels.
The Northern Policy Institute working model then can be summarized something like this: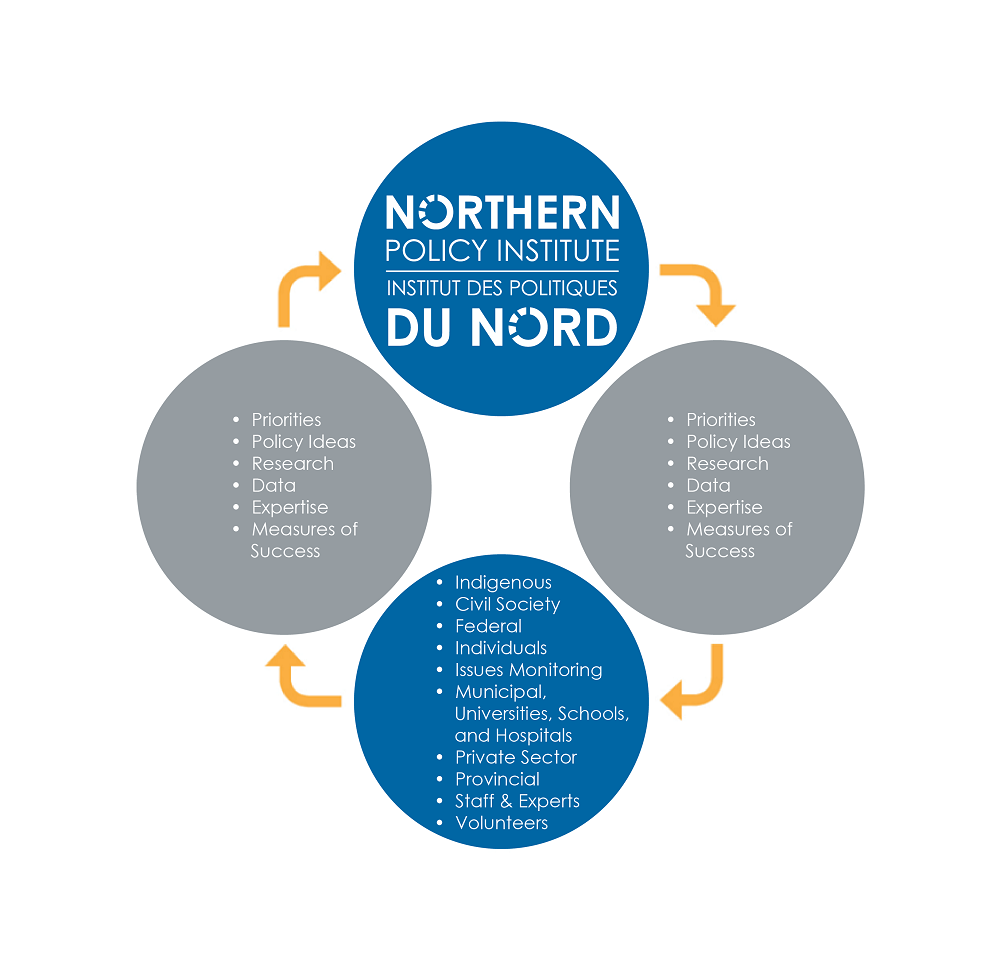 Internally, Northern Policy Institute seeks to be as "flat" as possible with much of the work contracted out to experts in the fields under consideration. This approach avoids the risks associated with large bureaucratic organizations. It also allows Northern Policy Institute to flexibly respond across a wide range of issues while also building up in house and regional expertise by matching bright young minds on temporary placements and project specific work with talented experts who can supply guidance and coaching.