Accessible Data to Drive Development: How Nextfor's Platform is Informing Forestry Investments
January 13, 2021 - Data, whenever possible and available, should be used to drive public policy formation and inform decision-makers at all levels. But, not everyone has the resources, capability, or time to shift through thousands of data points on an Excel spreadsheet (Figure 1) – which is where asset mapping comes in handy.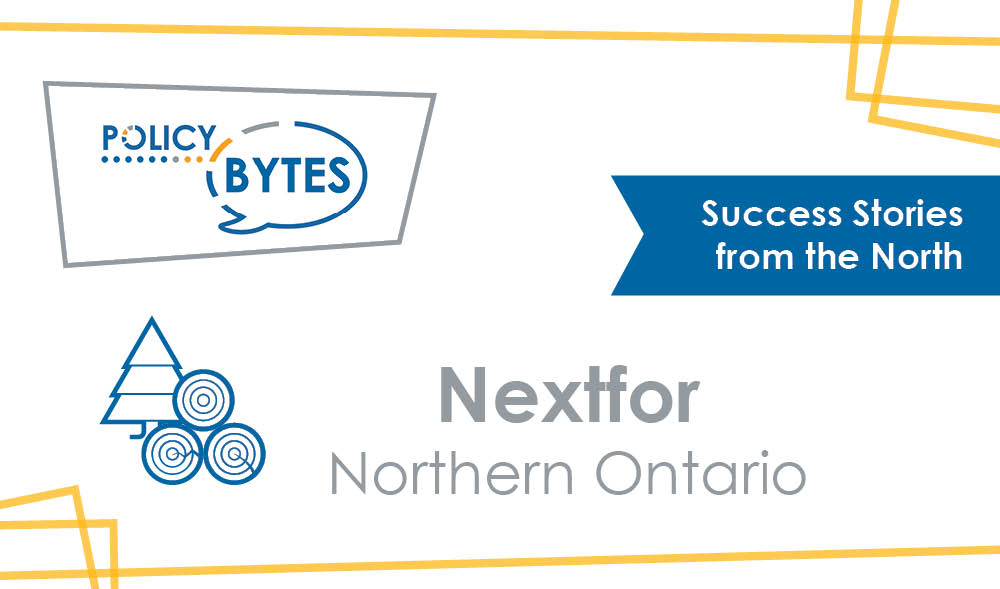 Data, whenever possible and available, should be used to drive public policy formation and inform decision-makers at all levels. But, not everyone has the resources, capability, or time to shift through thousands of data points on an Excel spreadsheet (Figure 1) – which is where asset mapping comes in handy. Asset mapping helps centralize and display information in an easy-to-read, accessible way. In the case of the Nextfor platform, they take data already publically available through the Ministry of Natural Resources and Forestry and the Government of Ontario and make it more accessible for the average reader (Figure 2).
The Nextfor platform is a project run by Ontario's Centre for Research and Innovation in the Bio-economy (CRIBE) to promote economic development and investment opportunities in Ontario, and to provide investors with decision-support tools and information related to the province's forest resources. Nextfor's primary focus is the promotion of economic development in Ontario's forestry sector, but its tools can be used for much more. In fact, the Innovation Hub has been used to help drive technology benchmarking, investment and attraction in a regional case study in Northeastern Ontario.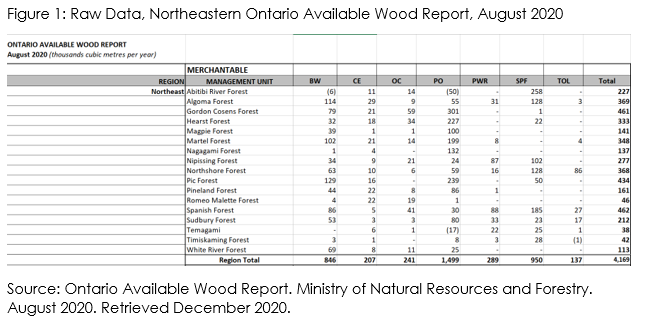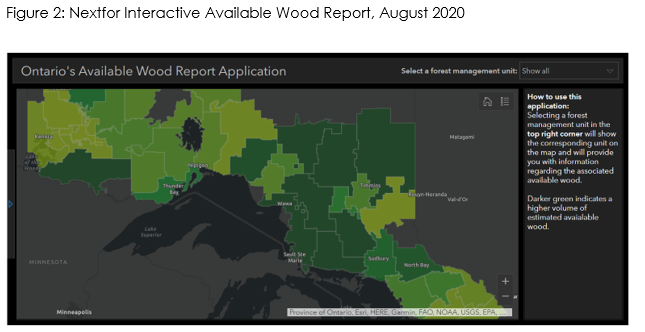 Source: Data gathered from the Ministry of Natural Resources and Forestry Available Wood Reports, August 2020. Graphic from Nextfor's Innovation Hub – Available Wood Report Application. Retrieved December 2020.
CRIBE has worked on this tool for the past year, engaging numerous actors throughout the process. The stakeholders include industry professionals throughout the entire value chain, as well as regional actors and those using forest by-products. The end result: a geo-spatial tool showcasing and promoting Ontario's forest product sector and beyond. In fact, Nextfor's collaboration approach has successfully been used in other sectors, such as lignin commercialization.
Nextfor's Innovation Hub is an outcome of the Forest Sector Strategy: Sustainable Growth: Ontario's Forest Sector Strategy. A 2018 study commissioned for the United Nations indicates that the global demand for forestry products is expected to increase by more than 30 per cent by 2030. The Ministry of Natural Resources and Forestry recognized that "[r]eaching the allowable sustainable harvest of about 30 million cubic metres by 2030 will require quantifying the types and locations of unused wood supplies by volume, location, species and quality with estimations of costs." This step will help investors and communities identify options for expanding existing forest production and finding new markets, while also prioritizing the sustainability of the forests.
CRIBE developed multiple tools under the Nextfor umbrella to provide insight into specific components of the province's forestry sector, including: available wood supply, estimated delivered cost by site location, residual biomass availability, and more. Knowing where and what is available for harvest aids the sector in reaching its full harvesting capacity while also driving Ontario's forestry sector competitiveness. With the added dimension of transportation costs and management units, strategic investment and interaction with the sector is further simplified. Again, the successful partnership between the provincial government and CRIBE illustrates how collaboration can enhance sector competitiveness and long-term planning.
What's Next for Nextfor?
Moving forward, the Nextfor Innovation Hub looks towards regional partners – such as municipalities, Community Futures, economic development offices, and industry professionals - and the data they can provide to further elevate their platform. The potential for expansion could extend to include regional and economic development profiles, as it pertains to forestry and bio-economy.
In addition, there is interest in expanding supply chain resources to include processing, trucking, and warehousing. Business supports are already indicated on one of the tools, but the more information available, the clearer the development profile becomes. Nextfor can build on its platform of collaboration to continue to improve and refine these tools and establish their place as a one-stop tool for anyone interested in engaging with the forestry sector. With the comprehensive baseline established by CRIBE and the solid partnership between Nextfor and the Ministry of Natural Resources and Forestry, there are many uses, and opportunities for expansion, with this tool.
Mercedes Labelle is a Policy Analyst at NPI.
---
The content of Northern Policy Institute's blog is for general information and use. The views expressed in this blog are those of the author and do not necessarily reflect the opinions of Northern Policy Institute, its Board of Directors or its supporters. The authors take full responsibility for the accuracy and completeness of their respective blog posts. Northern Policy Institute will not be liable for any errors or omissions in this information, nor will Northern Policy Institute be liable for any detriment caused from the display or use of this information. Any links to other websites do not imply endorsement, nor is Northern Policy Institute responsible for the content of the linked websites.
Northern Policy Institute welcomes your feedback and comments. Please keep comments to under 500 words. Any submission that uses profane, derogatory, hateful, or threatening language will not be posted. Please keep your comments on topic and relevant to the subject matter presented in the blog. If you are presenting a rebuttal or counter-argument, please provide your evidence and sources. Northern Policy Institute reserves the right to deny any comments or feedback submitted to www.northernpolicy.ca that do not adhere to these guidelines.
0 Reader Comments