Let's Talk: Spotlighting Anti-Racism and Discrimination Initiatives
February 15, 2022 - Conversations about racism and discrimination are not supposed to be easy. There can be a frankness to them that is easy to turn away from and file "For Later". The paper Addressing the Cuts Left Behind, spotlights those conversations.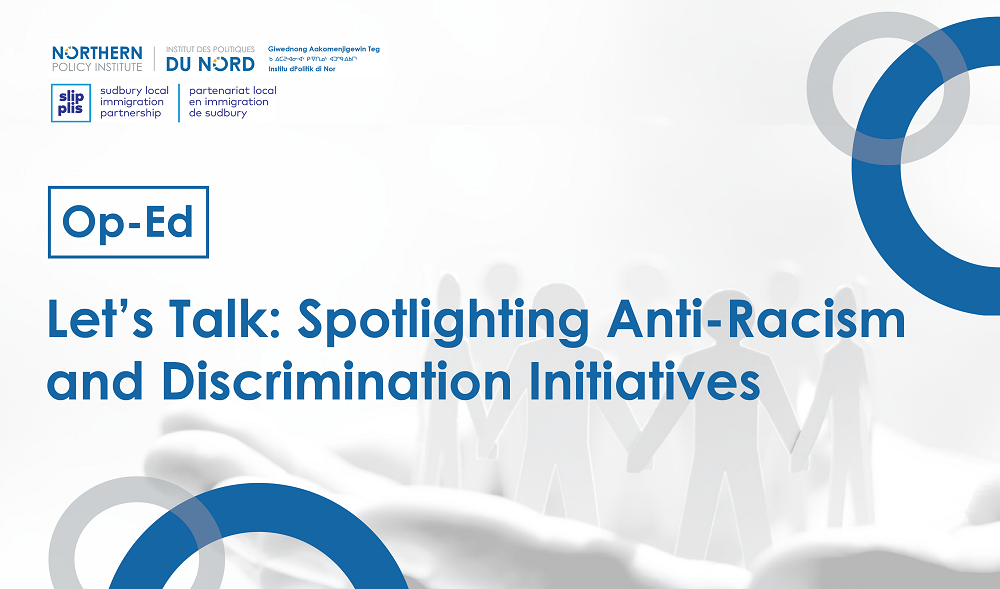 As racism and discrimination are occurrences that both First Nations, Métis, and Inuit (FNMI) populations, and immigrant populations experience in Canada, the case studies included in the paper illustrate what others are doing to improve relations among long-term settlers, FNMI communities and more recent immigrants. What the case studies seem to agree upon is that individuals, community organizations or services, and municipalities can organize successful anti-racism initiatives. In Brantford, it only took one art curator to organize an exhibition where FNMI and newcomer artists collaborated on projects for the purpose of exploring their shared experiences with colonization, and sharing those lessons with the broader community.
While individuals have the power to facilitate anti-racism programming, organizations and services have also made great strides in this area. The City of Saskatoon created a public awareness campaign to spread awareness about racism in their community. This led to the construction of a cultural space under a bridge. In Hamilton, an organization created a social media campaign to demonstrate what it means to be an inclusive resident in their city. This initiative and their other efforts have contributed to a reduction of hate crimes. And, a community service in London sought to address the more underlying systemic racism within their housing and rental sector by training landlords on fair rental practices. They also designed translation cards to that newcomers could communicate more effectively with their landlords.
Of course, municipalities have and should also play a key role in developing appropriate programming to address racism. The City of Vancouver, in conjunction with local Indigenous communities, created a program to encourage dialogue and education among newcomers and Indigenous peoples. Each of the case studies had some level of importance placed on dialogue, however this program's foremost aim was to promote dialogue between newcomers and Indigenous people. They realized that there was often misinformation between newcomers and Indigenous people, and to minimize racism in the broader community, they first have to maximize understanding to promote a sense of allyship among FNMI and newcomers. Dialogue, in all of the case studies, led to a greater understanding of similarities and differences, including shared experiences with colonization, oppression, and societal exclusion.
The key take-aways of these examples can be strengthened in Northern Ontario communities. Dialogue needs to be made a priority in anti-racism programming and initiatives. Anti-racism policies need to be continuously developed and reviewed. And perhaps most importantly, programming needs to occur with participation by, and in consultation with, Indigenous peoples and others who identify as marginalized groups. The experiences of Indigenous peoples do vary from that of racialized communities, and so placing equal importance on active participation from both groups is fundamental to program success.
Ultimately, we need to be consistent in recognizing that goals for reconciliation and immigration retention should not be competing for importance and are heavily impacted by racism and discrimination. Efforts for reconciliation and immigrant retention need to occur side by side. When we fail, and when there are victims of racism, they need to be supported by their community. This, the developing of effective anti-racism programming, is a feat that we (neighbours, volunteers, employees and or policy makers) need to prioritize for the strength of northern communities.
Addressing the Cuts Left Behind: Anti-Racism and Discrimination Initiatives for an Inclusive Northern Ontario was published by Northern Policy Institute in partnership with the Sudbury Local Immigration Partnership.
---
The content of Northern Policy Institute's blog is for general information and use. The views expressed in this blog are those of the author and do not necessarily reflect the opinions of Northern Policy Institute, its Board of Directors or its supporters. The authors take full responsibility for the accuracy and completeness of their respective blog posts. Northern Policy Institute will not be liable for any errors or omissions in this information, nor will Northern Policy Institute be liable for any detriment caused from the display or use of this information. Any links to other websites do not imply endorsement, nor is Northern Policy Institute responsible for the content of the linked websites.
Northern Policy Institute welcomes your feedback and comments. Please keep comments to under 500 words. Any submission that uses profane, derogatory, hateful, or threatening language will not be posted. Please keep your comments on topic and relevant to the subject matter presented in the blog. If you are presenting a rebuttal or counter-argument, please provide your evidence and sources. Northern Policy Institute reserves the right to deny any comments or feedback submitted to www.northernpolicy.ca that do not adhere to these guidelines.
0 Reader Comments