It's time to 'Wake the Giant'
August 27, 2019 - Every September, Indigenous students across Northwestern Ontario travel to Thunder Bay to attend high school. While they are there, some report experiencing harassment and racial slurs when out in the community, among other experiences. Staff at Dennis Franklin Cromarty High School (DFC), students, and leaders in the community knew change was needed.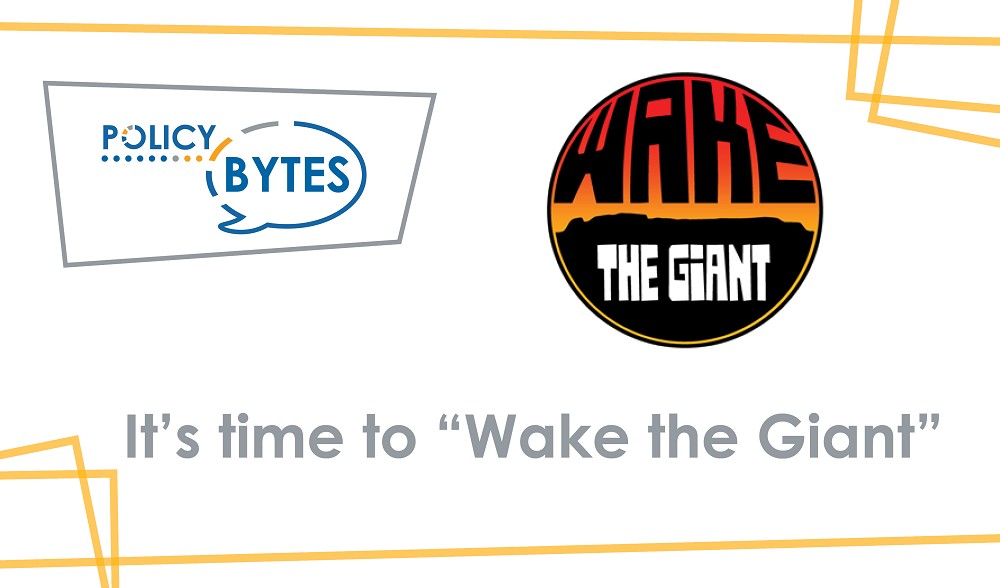 "Wake the Giant" is an awareness-raising project that is engaging with businesses, organizations, and people in Thunder Bay to make the city a more welcoming place for Indigenous people. According to Sean Spenrath, First Nations Student Success Program Coordinator at DFC and one of the founders of Wake the Giant, the idea to Wake The Giant and make Indigenous students feel more welcome in Thunder Bay came out of a song some students wrote with the band "July Talk". This song led to a relationship with the band and an idea to raise awareness for a new school and living centre for the students through a music festival. Additionally, an offer by a local tour company to help show new students around helped inspire the idea to get the business community involved.
The first phase of the initiative involved developing a Cultural Awareness Guide, which outlines steps businesses and organizations can take to make their space more inclusive with the long-term goal of making Indigenous students feel more welcome in Thunder Bay. Businesses show their commitment to the project by posting the Wake the Giant logo in their windows, signaling to the public and Indigenous people that their staff are educated on cultural awareness. It also signifies an inclusive space that will aid Indigenous youth if needed.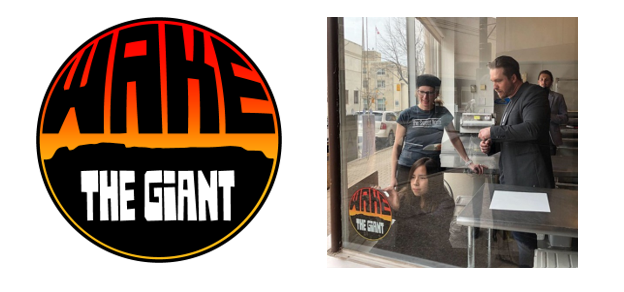 Source : Wake the Giant, https://wakethegiant.ca/.
Sean was proud to note that 287 organizations have signed on to the project and some businesses are even going a step further, such as Sweet North, Rose N'Crantz Coffee, Lakehead University, MNP, the City of Thunder Bay, and various local restaurants, by offering workshops, holding fundraisers, and providing volunteers. One such event, a charity dinner in September called Feed The Giant, is being supported by seven local restaurants who are supplying food, servers, and the venue. The DFC catering team will also get the opportunity to cook with the chefs. As Sean states, "a lot of people don't get to see that part, and I think that's the biggest part of this entire project. Yeah, they're putting a sticker up but how are they involved in these kids' lives. And there will be a lot of opportunities for them in the next year."
The next phase involves hosting a series of events in September geared towards welcoming new students to Thunder Bay. On September 12, DFC will host their yearly "Amazing Race" to help Indigenous youth navigate the city using transit. It also will include students from other schools to give them a chance to learn more about the experiences of their fellow Indigenous students and aims to foster new relationships. The second event is called "The DFC Experience." The day will feature a series of workshops put on by partnering businesses and individuals to showcase what the school offers to new and future students, other schools, Northern communities, and the City of Thunder Bay. Over 300 students are expected to attend workshops on music, tree planting, welding, construction, dance, art, science, culinary, and many others.
Last (but certainly not least), Wake the Giant will hold a music festival on September 14, 2019, that will feature a mixture of Indigenous and non-Indigenous artists. The festival aims to bring together the community under a shared love of art while promoting Indigenous musicians and bringing attention to the need for a new school and living centre for students. It will also give the Thunder Bay community an opportunity to welcome the students. Spenrath also explained that the festival seeks to target the next generation of community leaders and future parents. By directing a message of inclusivity, stereotypes and racist behaviours can be drowned out by positive ones: "We like to use the analogy of a garden. There's a lot of people pulling the weeds, but not a lot of people watering the garden. That's what we want to do."
In the future, Wake the Giant wants to develop partnerships to connect students to part-time and summer jobs to ensure their success, continue the music festival on an annual basis, and design a more comprehensive professional development course for businesses to use to educate their staff.
Education and awareness on the experiences of Indigenous peoples are an essential starting point for opening meaningful conversations. The work being done by Wake the Giant is an example of how communities can help Canada be a more inclusive and safer place for Indigenous peoples. To learn more about Wake the Giant, sign up to volunteer, or join the movement, please visit https://wakethegiant.ca/how-to-participate/.
Jessica Bevilacqua was a Summer Policy Analyst at NPI.
Thank you to our Experience North Sponsor

---
The content of Northern Policy Institute's blog is for general information and use. The views expressed in this blog are those of the author and do not necessarily reflect the opinions of Northern Policy Institute, its Board of Directors or its supporters. The authors take full responsibility for the accuracy and completeness of their respective blog posts. Northern Policy Institute will not be liable for any errors or omissions in this information, nor will Northern Policy Institute be liable for any detriment caused from the display or use of this information. Any links to other websites do not imply endorsement, nor is Northern Policy Institute responsible for the content of the linked websites.
Northern Policy Institute welcomes your feedback and comments. Please keep comments to under 500 words. Any submission that uses profane, derogatory, hateful, or threatening language will not be posted. Please keep your comments on topic and relevant to the subject matter presented in the blog. If you are presenting a rebuttal or counter-argument, please provide your evidence and sources. Northern Policy Institute reserves the right to deny any comments or feedback submitted to www.northernpolicy.ca that do not adhere to these guidelines.
0 Reader Comments